Senate Moves Against Public Servants With Unexplained Sources of Wealth
The Nigerian Senate has moved to clip some activities of civil servants and their sources of wealth
The Senate is considering two bills that would provide a framework to tackle money laundering and illegal financial activities of civil servants
According to the lawmakers, once the bill is passed, every civil servant whose source of wealth cannot be explained would be prosecuted
Lawmakers of the Ninth Senate on Tuesday, November 10, considered two bills seeking to facilitate the swift prosecution of money launderers and terrorist financiers.
A statement by Ezrel Tabiowo, a special assistant, press to the Senate president, said the bills once passed into law would provide the framework required for the prosecution of public servants who cannot explain the source of their wealth.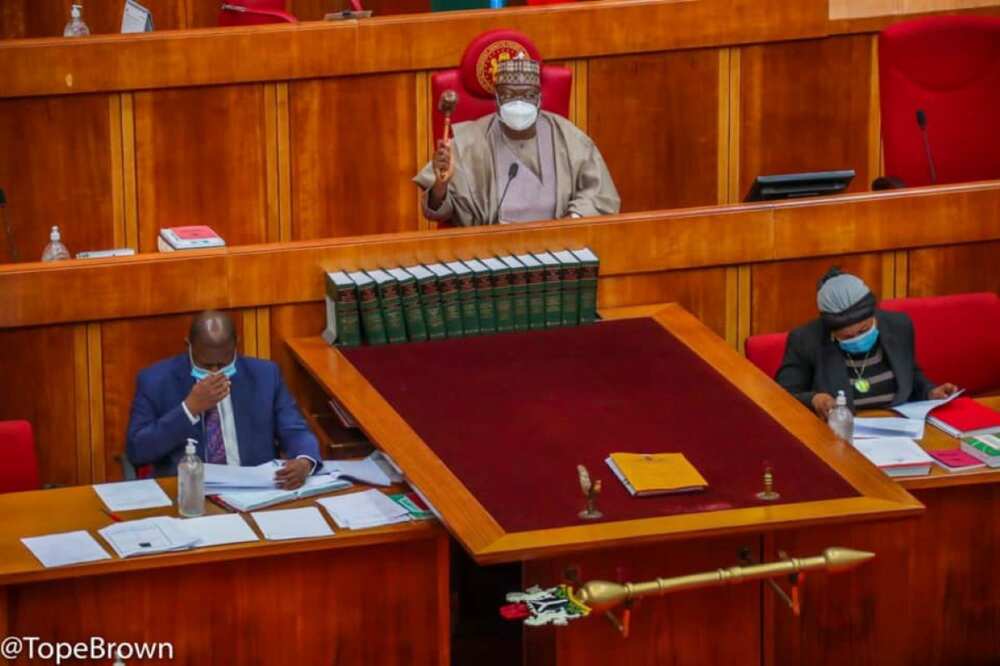 The two bills being sought by the Senate are the Money Laundering (Prevention and Prohibition) Bill, 2021, and Money Laundering (Prevention and Prohibition) (Repeal & Re-enactment) Bill, 2021.
Providing a framework for prosecuting civil servants with unexplainable wealth
Tabiowo said the bills that have already scaled the second reading were sponsored by Senator Suleiman Umar (APC, Kwara north) and Suleiman Abdu Kwari (APC, Kaduna north).
According to Tabiowo, Senator Umar had explained that the first bill seeks to repeal the extant Act and enact the Money Laundering (Prevention and Prohibition) Act, 2021.
This, he said would provide a more comprehensive legal and institutional framework for the prevention and prohibition of money laundering in Nigeria.
Throwing his weight in support of the bill, Senator Smart Adeyemi, said the bill when passed into law would allow the government to investigate individuals who have held public offices in the past who cannot explain the sources of their wealth.
Adeyemi said:
"Anybody who has held public in times past, should be ready to give account."
"Our country is bleeding, there is no job, people are dying of poverty. I support this bill."
Both bills after consideration were both referred to the Committee on Anti-Corruption and Financial Crimes for further input by the Senate president, Ahamd Lawan.
The committee led by Senator Abdu Kwari was given four weeks to report back to the Senate on the matter.
PDP's reaction to harmonisation of Electoral Act Amendment Bill
Meanwhile, Legit.ng previously reported that the national publicity secretary of the Peoples Democratic Party (PDP) had reacted to the harmonisation of the Electoral Act Amendment Bill by the National Assembly.
The party said it will give a robust response on the matter within the next 48 hours after the action by the lawmakers.
According to the party, it is unconstitutional for a party to impose its internal political processes on another party.
In other news, the Senate had urged the inspector general of Police, Usman Baba, to set up a special investigation into the disappearance of the journalist, Tordue Salem.
The Senate said in a resolution made by Senator Orker-Jev Emmanuel Yisa who represents Benue northwest senatorial district said Tordue Salem has been missing since October 13.
The resolution was made by the Senator after a point of order was made at the plenary on Tuesday, November 9.
Source: Legit.ng