COP26: There's Need to Include Reproductive Health in Climate Change Plans, Group Says
A group has called for the inclusion of sexual and reproductive health and rights in climate change discussions
The group said its review of the National Action Plan on climate change show that there is only one mention of SRHR
According to the group, the mention of SRHR in the document is in relation to the proper disposal of waste
As discussions on the impact of climate change takes the centre stage across the globe, a civil society organisation, Balanced Stewardship Development Association (BALSDA), has called for an improved approach to addressing some of its challenges.
The executive director of BALSDA, Adeleye Adewale, stressed the need for the Nigerian government to include sexual and reproductive health in its climate change discussions and planning.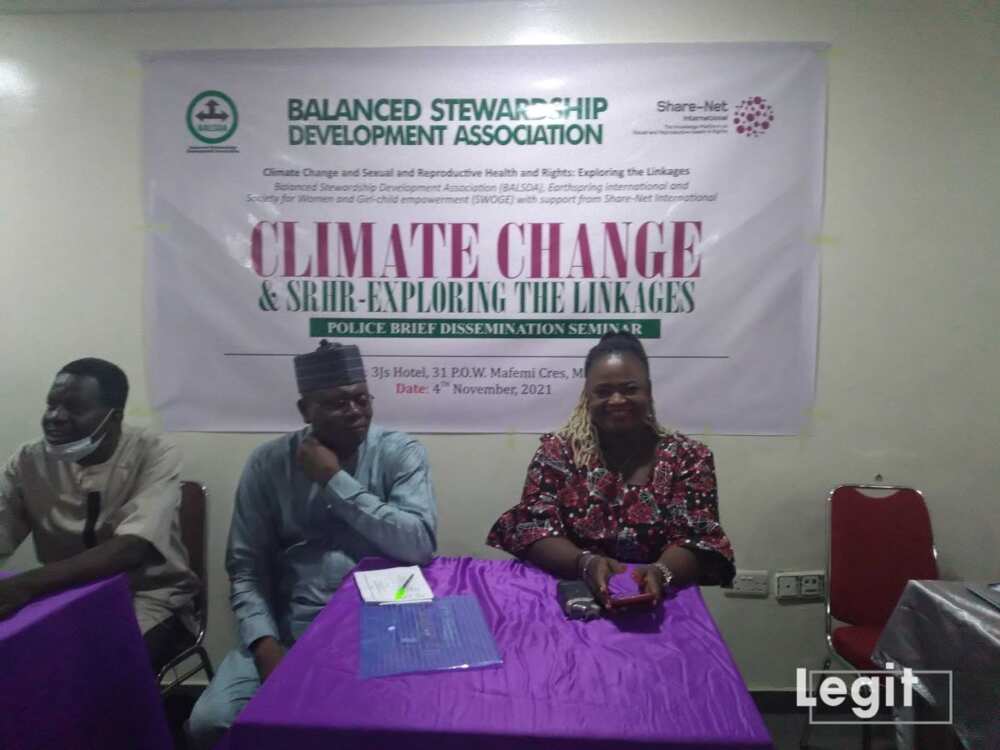 BALSDA is an independent evidence-based policy analysis and development organisation focused on campaigns and advocacy for reproductive health improvement within the health sector.
Speaking in Abuja on Thursday, November 4, at the organisation's policy brief dissemination workshop themed; 'Climate Change and Sexual Reproductive Health and Rights: Exploring the Linkages', Adewale said there is a strange omission of the issue of SRHR from Nigeria's National Adaption Plan.
Do you have a groundbreaking story you would like us to publish? Please reach us through info@corp.legit.ng!
The National Adaptation and Strategy Plan for Action on Climate Change seeks to minimize risks, improve local and national adaptive capacity and resilience, leverage new opportunities, and facilitate collaboration with the global community.
The plan also seeks to improve collaboration between the government at all levels with a view to reducing Nigeria's vulnerability to the negative impacts of climate change.
However, Adewale said like other African countries, Nigeria developed her NAP for climate change mitigation with no mention of women as it pertains to SRHR.
He noted that with the impact of climate change, efforts to address them negatively affect SRHR both, directly and indirectly.
Adewale said these effects are suffered mostly by girls, women and individuals who already experience multiple barriers to the realization of their SRHR.
According to Adewale, adolescents, people living with disabilities among other vulnerable groups face significant barriers in accessing SRHR information and services, including in humanitarian settings.
He said that efforts made by BALSDA to review the government's policy document on climate change showed that gaps in the linkages between climate change and SRHR are not addressed.
Adewale said:
"As climate change and SRHR issues are interrelated, impacting women's health and livelihoods, it is important to have policy coordination and integrated response to these realities from the government's side."
He said to address the lapses, BALSDA and its partners developed a policy brief that clearly identified the link between climate change and SRHR.
For BALSDA, the policy brief which would be disseminated to stakeholders and policymakers will increase the government's attention to gender issues in the nation's adaptation action.
Adewale said the policy brief presents an opportunity to ensure that Nigeria's NAP processes take SRHR issues into consideration to avoid missed opportunities for synergies.
It would also ensure that various adaptation actions to climate change do not negatively affect SRHR.
Further describing the ongoing 26th United National Climate Change Conference of Parties (COP26) in Glasgow, Scotland as a welcome development, Adewale said decisions taken at the meetings would be of great benefit to low-income countries.
He called for an urgent review of the NAP to capture issues surrounding sexual reproductive health.
In his reaction, the deputy director of the federal ministry of environment, Aliyu Yauri, said the adaptation strategy policy is an open document that is not cast in stone.
Yauri said that there is always room for improvement on such documents in line with new findings and changing times.
He said:
"The ministry of environment is ready to collaborate further even beyond your expectation with your organisation and other partners to seek better ways to ensure that this document serves the purpose for which it was produced."
Yauri also said that the ministry would inculcate and reflect the changes pointed by BALSDA to highlight SRHR in the policy.
He assured that the ministry would continue to fill the gaps in the existing policy to the satisfaction of every stakeholder.
Yauri said that the department of climate change at the ministry of environment will continue to collaborate with BALSDA to meet the needed expectations.
Also speaking, Anaza Ngozi of the Society for Women and Girl Child Empowerment said it is important for the government to create a separate ministry for climate change.
According to Ngozi, such a move would help the country tackle the issues of climate change and the adaptation process effectively.
He said:
"In countries like Pakistan, there is the ministry of climate change and this helps to unbundle the challenges of the burden placed on various ministries to tackle the impact of climate change.
He also called on advocacy groups to prevail on the federal government to unbundle some of the ministries in order to help address specific issues and roles.
Meanwhile, Legit.ng previously reported that experts across the country had called on the Nigerian government to pay attention to the issues of climate change.
The experts also said that there is a strong link between climate change and issues of insecurity across the country and the globe.
They said the impact of climate change on the nation's security, women, youths and critical roles played by the challenge in driving armed conflict.
Also, a lecturer at the Nigerian Defence Academy, Dr Sunday Adejoh, said climate change is as much a security challenge as Boko Haram, ISWAP, banditry and kidnapping that are currently witnessed in Nigeria.
Source: Legit.ng