Carrot oil for skin lightening: Facts, tips and recipes
Carrot oil is rich in beta-carotene and vitamin A and E. It has many benefits, such as in hair growth. It also nourishes the skin, making it smooth and bright. Nevertheless, despite all of the properties of the oil, it is contraindicated for pregnant women. Carrot oil peculiarity is that it increases the resistance of the skin to sunlight. It is one of the best natural skin lighteners. So it is better to buy a cream which includes carrot oil.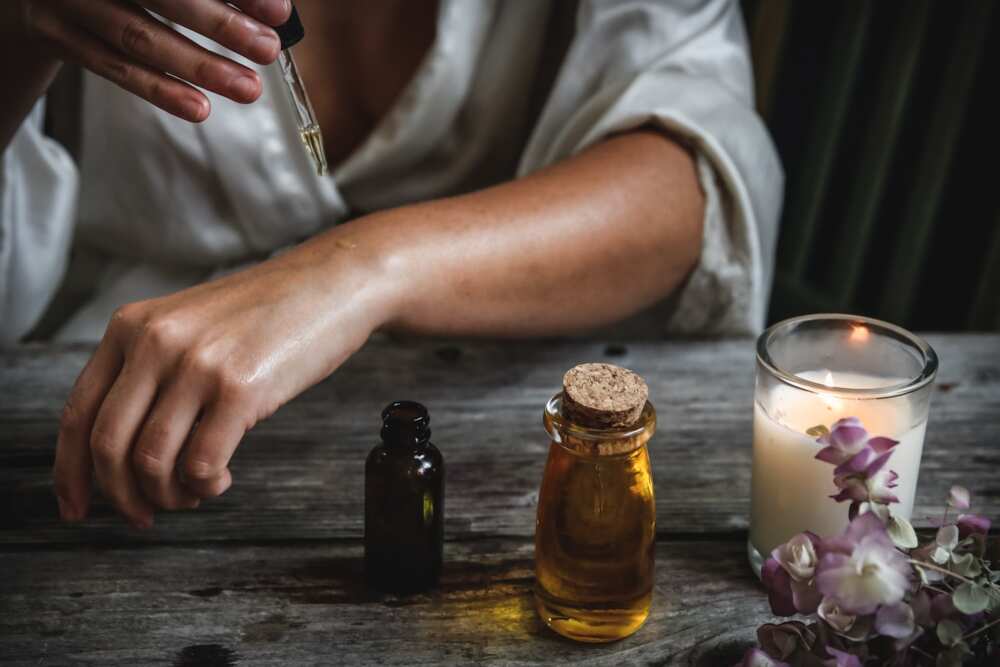 Essential carrot oil
People grow carrots for about 4000 years, and all this time it is used not only in food but also as a mean to maintain health, youth, and beauty, as evidenced by the many benefits of carrot. We learned about the carrots as a medicinal plant from the scientific works of the founder of numerous sciences, pharmacology and the Roman army doctor Dioscorides. He has written about the properties of the essential carrot oil that we know today.
Essential oil is obtained from carrot seeds. Its healing properties are also known since ancient times: in Greece, Rome, the Middle East and later in Europe - even the medieval alchemists knew that they could treat the skin diseases and diarrhoea using carrot seeds.
Today, carrot, from which the major part of all of the essential oils in the world market is made, is grown in Poland and France. It is produced from the mature seeds using the steam distillation method – the seeds are pre-kneaded on a special machine.
The composition of the carrot oil cannot be described definitely: it depends on the place where the carrot was grown, and on its sort - and there are several tens varieties of carrots in the world and they are all different in taste, shape and even in colour - there are almost white carrots and also purple. Usually, it contains natural acetic acid, alcohol karotol, terpenes pinene, limonene, bisabolene, fragrant substance asarone and a lot of other components, but in smaller quantities.
In Moldova people grow cultural carrot and make the essential oil from its seed: Moldovan oil contains geranilatsetat - a substance with the scent of geraniums or roses. It is often used in perfumery.
Oil carrots are usually yellow or orange-amber with a spicy taste and pleasant aroma. Most often, however, essential oil is obtained from the seeds of wild carrot: in addition to Europe, it is produced in India, Egypt, and some other countries.
The cosmetic carrot seed oil is also very useful: it is a wonderful tool for healthy skincare. It can be added to a cream or used in a mixture with almond oil: it tones the skin and even removes wrinkles. It is usually enough to add 3-5 drops of essential oils of carrots to the basis of 10 g oil or cream.
In winter and early spring, it helps to compensate for the deficiency of vitamins in the skin. It can be used for skincare and the infused carrot seed oil is usually used for the preparation of the other vegetable oil - for example, linseed.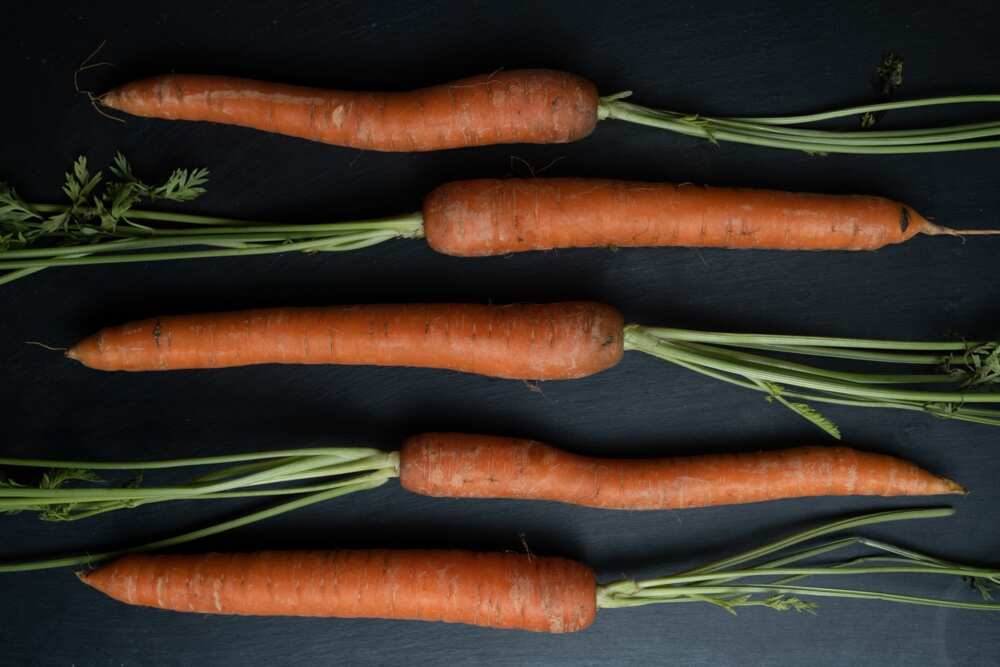 People use the essential oil of carrot for mature and dry skin. It is particularly advised to use such oil for these types of skin: it improves the functioning of the sebaceous and sweat glands, promotes cell renewal and makes the skin supple and smooth. The application of carrot seed oil improves the skin colour too - tired and pale skin is fresh and rested after its application. It is a skin bleaching product. The effect is intensified if we use it along with essential oil of lavender and wheat germ oil.
It can be used in freezing and windy weather as the protective agent. It cleanses the skin, nourishes it and restores its youthfulness.
During the summer, the carrot seed oil is also useful: it can function as a light sunscreen, but it 'attracts' a tan, so a tan becomes more smooth and beautiful - carrot seed oil is mixed with walnut or sesame oil for this purpose.
This oil should not be used for oily skin, prone to acne, as it increases the production of sebum.
Carrot oil lightens the dark spots and helps to heal the scars. It is effective for numerous skin diseases: psoriasis, eczema, boils, abscesses, itching, vitiligo. It cures even oozing sores which are not healing for a long time.
It is a good idea to combine it with other essential oils, for example, Rosemary, Petitgrain, juniper, neroli, lemon, lavender, lime, lemon balm, orange, bergamot, etc.
You should use carrot seed oil for skin lightening. As it is very effective and you'll see the results very soon.
How to extract carrot oil at home? How to produce carrot seed oil
Carrot oil can be prepared from the roots of cultural or food carrot, because the essential oils are contained not only in wild carrot but in all its subspecies and not only in seeds but also in leaves, stems, and roots. Carrot seed oil can be done at home as well as the oil from the flax seeds. At home, it is better, of course, to use the carrots, grown without the use of chemical fertilizers on your garden plot.
Carrot seed oil can be used for dry skin and as a rejuvenating mean of preventing the appearance of wrinkles, smoothing scars and stretching marks.
Recipes of carrot oil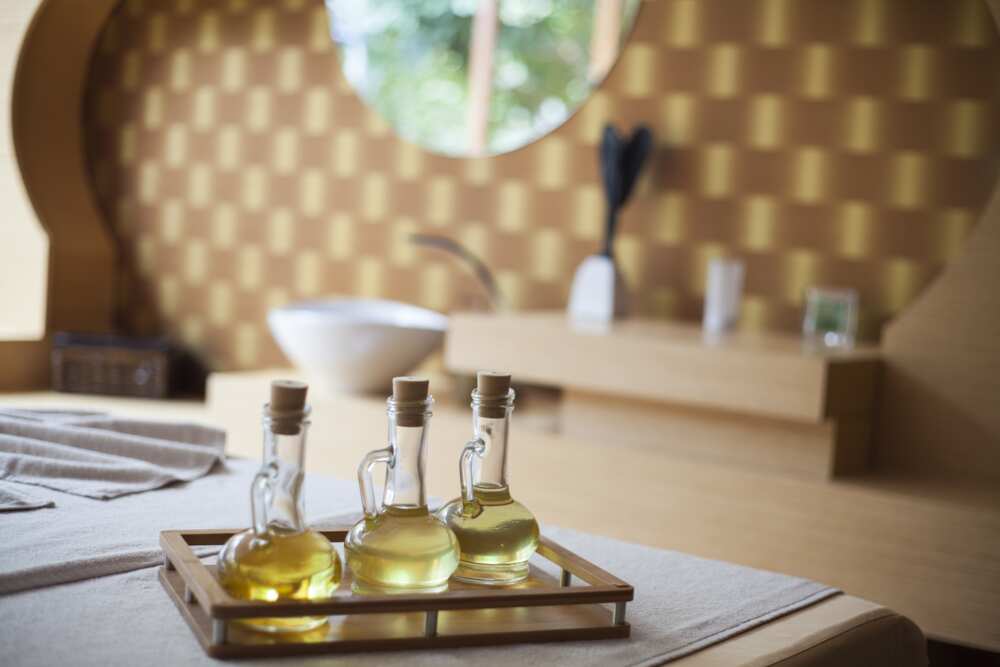 Let's consider a few recipes for infused carrot oil:
1. Recipe #1
You need:
• 1 cup of grated fresh carrots
• 1 cup of unrefined sunflower oil
Get a cup of finely grated carrots and put it in a small saucepan, pour sunflower oil so the oil completely covers carrots, cover it with lid and put on steam (water bath), held during 15 minutes before boiling. Once it is cool, you should squeeze and filter it through a double layer of cheesecloth.
2. Recipe #2
You need:
• Grated carrots
• Sunflower unrefined oil
Grated carrots put in a jar, pour sunflower oil so that oil is 1 cm above the carrots. Insist day, then squeeze and filter.
Now you know how to make carrot oil for skin. You can try the recipes at home and check up the results very soon! Carrot oil has many benefits, as listed above, and also others such as in hair growth. However, make sure that you do not have an allergic reaction to the oil before using it.
Revitalizing, rejuvenating, anti-ageing oil for the care of the face, neck and décolleté. Restores firmness and elasticity, stimulates cell renewal, slows down skin ageing, helps to eliminate wrinkles, and forms a beautiful skin tone. Brightens the skin, helps to eliminate ageing spots.
DISCLAIMER: This article is intended for general informational purposes only and does not address individual circumstances. It is not a substitute for professional advice or help and should not be relied on to make decisions of any kind. Any action you take upon the information presented in this article is strictly at your own risk and responsibility!
Source: Legit.ng