Climate Change Contributes As Much Security Challenge As Boko Haram, Others, Experts Warn
Experts in Nigeria have raised alarm on the need to pay attention to issues of climate change across Nigeria
These experts highlighted the impact of climate change on nation's security, women, youths and critical roles played by the challenge in driving armed conflict
The experts further called for local solutions to the security threats and challenges faced by citizens in adapting to climate change
Security experts have warned that the danger portrayed by climate change across the globe deserves as much attention as every other security challenge.
Speaking at a multi-stakeholders consultative forum organised by Friedrich- Ebert-Stiftung in partnership with the Coalition for Socio-Ecological Transformation (COSET), Dr Sunday Adejoh, said climate change is as much a security challenge as Boko Haram, ISWAP, banditry, kidnapping that are currently witnessed in Nigeria.
The forum which took place in Abuja on October 27 and 28, addressed issues of climate change as it relates to food sovereignty, human security, armed conflicts, gender and youth development and inclusivity.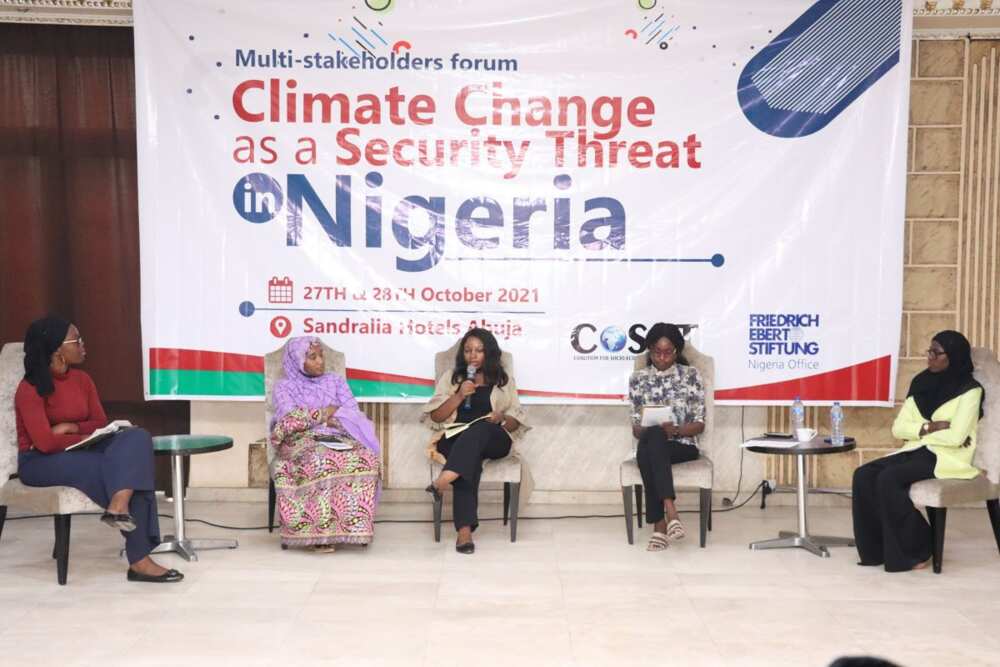 It also addressed the contributions of state and non-state actors and their responses to climate change and security challenges in the country.
PAY ATTENTION: Install our latest app for Android, read best news on Nigeria's #1 news app
For Adejoh, a defence and security lecturer at the Nigerian Defence Academy (NDA) in Kaduna, the government at all levels have failed to understand that climate change is dangerous.
"Let me ask you a question, does the government give as much attention to climate change as they do to Boko Haram, IPOB, banditry or kidnapping?" Adejoh queried.
Answering rhetorically he said:
"Your guess is as good as mine."
The lecturer warned that most of the root causes of insecurity in the country can be attributed to climate change.
Effects of the shrinking Lake Chad Region and armed violence in the Niger Delta
Also speaking, the executive director of We the People, Ken Henshaw said like other security challenges, the farmer/herders crisis experienced across the country is a direct consequence of climate change.
Henshaw said the changing climate is affecting people's productivity and ability to survive.
For instance, in the northeast, Henshaw noted that the shrinking Lake Chad region is responsible for the desert encroachment that is actively destroying the land.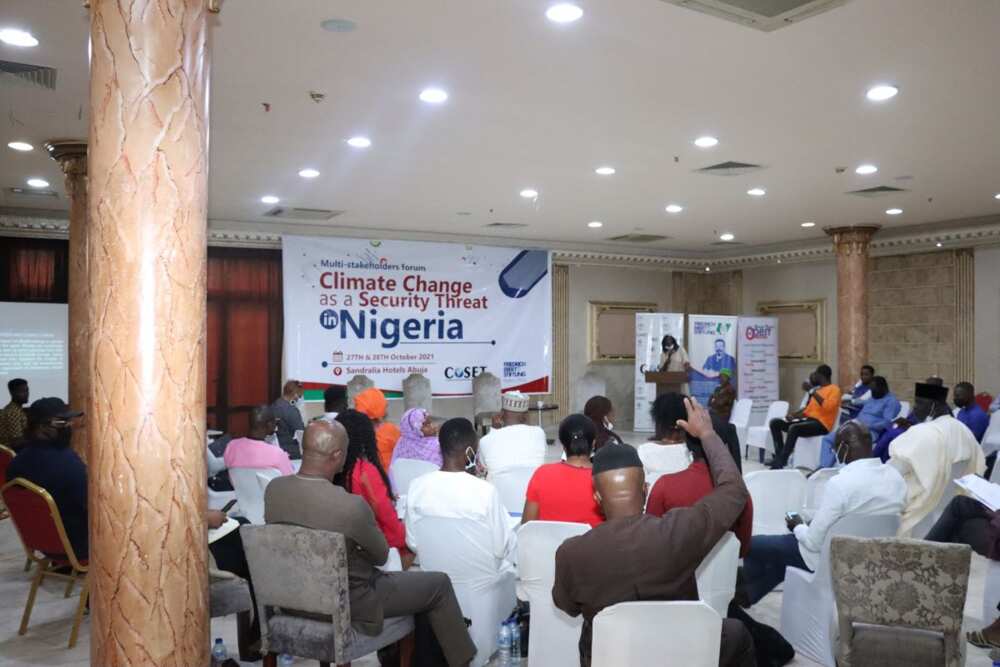 He said the effects of the desertification has made it difficult for farmers and herders in the region to survive.
The environmental activist explained that in the coastal area, the Niger Delta states have been characterised by armed violence, cultism and oil theft that have persisted due to poor food production brought about by climate change and other hazardous practices.
He said the southern part of the country is witnessing the migration of residents from lands in which they have lived for generations.
Henshaw said:
"They are moving to other places owned by other people driving them into direct conflict. Climate change is also affecting people's ability to produce food in the southern part of Nigeria."
"The changing rainfall is affecting dislocation in the farming pattern to the extent that crop yield has reduced and these people want to make up for their income fall short and this has led to armed conflict."
Address climate change, address insecurity across Nigeria
Henshaw further urged the Nigerian government to address the issue of livelihood as a way of tackling insecurity in the country.
He stressed the need for industrial development in the Lake Chad region to increase employment opportunities in the area and other regions alike.
He said:
"Government needs to understand that its current responses to these challenges are too Narrow. The government is treating the issue of banditry and Bokoharam as isolated from issues of oil extraction, pollution and climate change."
In her address, a gender advocate and conflict expert, Dr Dayo Kusa, said there have been cases of attacks and abuse of female herders.
She called for an improved approach to solving conflicts between farmers and herders across the country.
Kusa said:
"Traditional methods of resolving conflict have become very obsolete and people are seeking alternative methods of resolving disputes.
There have been cases of minors are being used - as herders - by owners of these cattle and female herders are been raped and attacked brewing more disputes. These have to be looked into."
Another security expert, Senator Iroegbu, who spoke to Legit.ng said that climate change possess a serious security threat to Nigeria but from the policy point of view, the authorities are yet to realise that.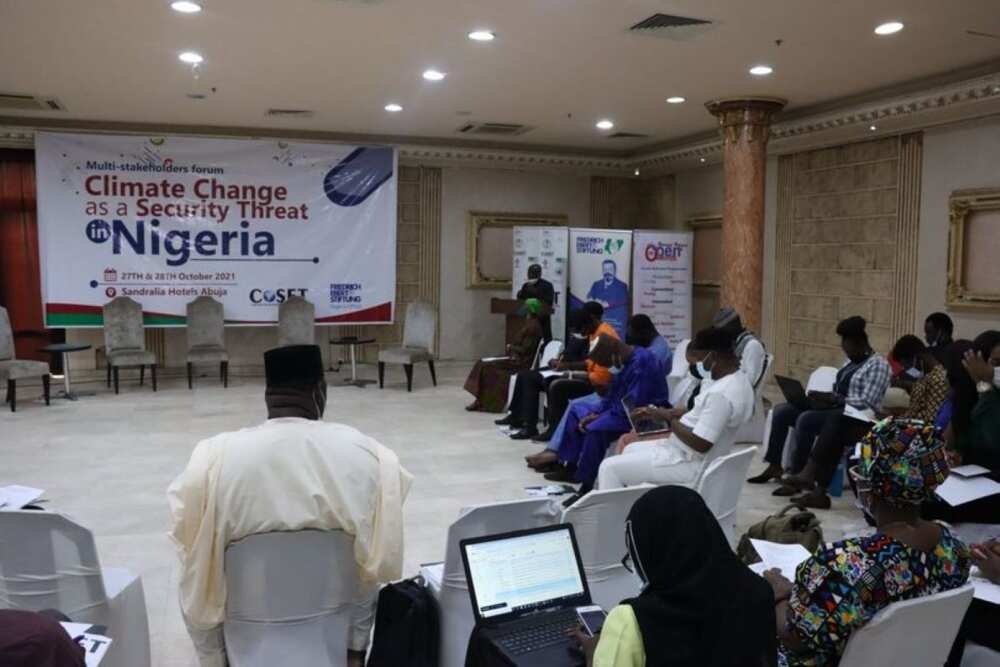 Iroegbu said some of the conflicts bedevilling the country today are directly or indirectly linked to climate change and environmental degradation or pollution.
He said the crisis between farmers and herders has metamorphosed into transnational crimes of armed banditry and terrorism which are tailored around competition for lands and grazing areas, occasioned by dessert encroachment of the Sahel regions.
He said:
"In the same vein, the Niger Delta militancy is a direct response to years environmental pollution from oil exploration in that region."
"Also the southeast which is one of the region with highest population density is threatened by erosion, shrinking further the available land for grazing for cattle herders."
"Across the country, most states especially along riverbanks have come to experience almost a yearly flooding that destroys farmlands and cash crops leading to food insecurity with it's attendant security threats."
Fixing Nigeria's governance structure
In addition, Patrick Okigbo III, the founding partner, Nextier said the difference between Nigeria and other developed countries is a clear cut governance system addressing issues appropriately.
Okigbo said:
"When COVID-19 came everyone came out, the president, his VP, they brought the good heads to do the job of curbing the spread of the disease because it affects them and they all knew that no where was safe including Europe."
"Responses to issues are majorly driven by the state and if you have a state that don't react well to climate change, there's not much the non-state actors can do."
Insisting that having a clear cut approach to addressing issues is dependent on governance, Okigbo said across Nigerian agencies, there is no demarcation as to where roles begin or end.
He added:
"There is replicationof roles for various agencies, you can find one agency of government doing the same thing that another agency is doing and then when such things happens you find people abandoning their duties because they believe the other agency will take care of it."
Meanwhile, Legit.ng previously reported that President Muhammadu Buhari is set to depart Nigeria for Glasgow, Scotland on Sunday, October 31.
The president would be attending the 26th Conference of Parties (COP26) to the United Nations Framework Convention on Climate Change (UNFCCC), a statement released by Garba Shehu has said.
He would further depart Glasgow to Paris on an official visit to reciprocate an earlier one to Nigeria by the French president, Emmanuel Macron, among other duties.
Source: Legit.ng