Ikoyi Building Collapse: Developer's 26-Year-Old PA Trapped Under Collapsed High-Rise 1 Week after Employment
The family of Onyinye Enekwe, one of those trapped in the collapsed 21-storey building in Ikoyi expressed hope of her safe rescue
Enekwe, according to her cousin, had just been employed as a second personal assistant to Femi Osibona, owner of the building
The 26-year-old was said to have taken a picture of herself at the site and sent it to her sister before the incident happened
Ikoyi, Lagos - Four days after the collapse of the 21-storey building in Ikoyi, Lagos, Onyinye Enekwe, a second personal assistant to Femi Osibona, owner of Fourscore Homes, is trapped under the rubble.
Enekwe, a graduate of the Nnamdi Azikwe University, had on Monday, November 1, left for Ikoyi where she worked, The Cable reported.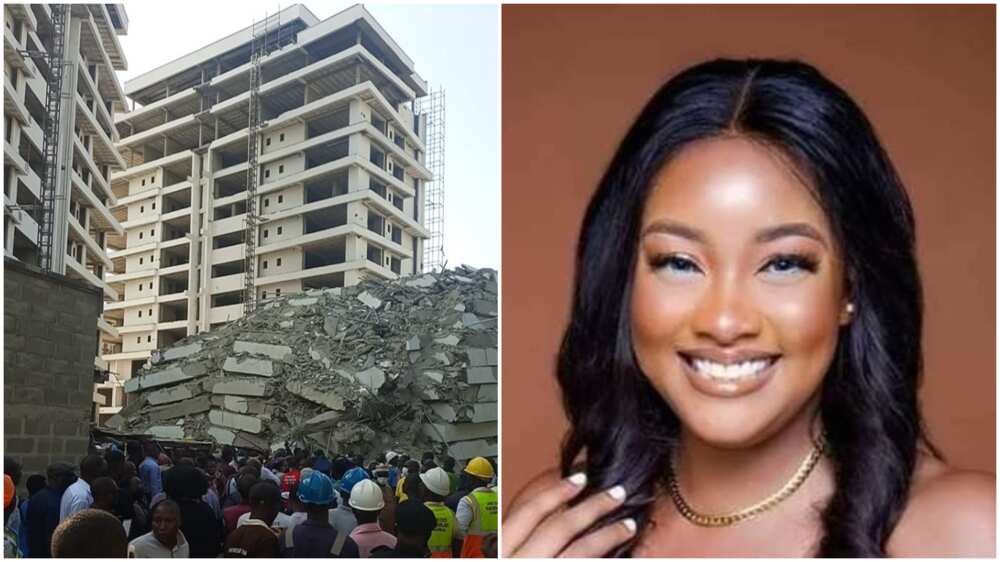 According to Chinedu Enekwe, her cousin, she had joined Fourscore Homes the week before.
Around 2pm on Monday, the building collapsed. Onyinye and several others are still trapped in the rubble.
PAY ATTENTION: Install our latest app for Android, read best news on Nigeria's #1 news app
Chinedu said the family has heard nothing from Onyinye since the building collapsed. He added that Onyinye had taken a picture of herself at the site, which she sent to her older sister just as she arrived at work.
He said the family has received "no information" from the Lagos State Emergency Management Agency (LASEMA) or other rescue workers concerning her whereabouts.
Family remains hopeful
Chinedu, however, said the family members are praying for her safe return.
He said:
"We're hopeful. We believe she will be found. We are in prayers for her to be found."
Osibona is also believed to be trapped in the rubble as he hasn't been seen since the day of the incident.
As of Wednesday, November 3, the death toll had risen to 22, while nine persons have been rescued.
Nigerians mourn
Adeyemi Shogo Festus commented on Facebook:
"Too many innocent souls gone. Every souls lost or still trapped in the ill-fated building were on mission-daily bread. Quite heart wrenching."
James Alika said:
"So sad....I feel for her people...it's so painful...Nigeria..a killer of dreams."
Johnson Kessington said:
"Many have been wasted unnecessarily in that doomed land! Who changed approved plans of the foundation that could support 15 levels to 21! Nigeria is another place in this 'planet'!"
Legit.ng, however, notes that Lagos state deputy governor, Obafemi Hamzat, has said the building got approval for 21-storey, not 15 as earlier claimed.
US Returnee, Bob Oseni, falls victim on planned return day
In a similar development, a United States-based Nigerian businessman, Wale Bob-Oseni, is reportedly among the victims of the building collapse.
The real estate dealer was said to be on his way back to the US on Monday, when he got a call from the owner of Fourscore Homes, Osibona, to check out the ongoing development at Ikoyi.
Bob-Oseni's sister, Damilola Otunla, age 29, sat on the pavement across the street engaging in a three-day vigil for her brother who was believed to have been inside the high-rise building when it collapsed.
Source: Legit.ng