After Ikoyi Building Collapse, Another Tragedy Strike in Lagos
Some buildings were damaged on Wednesday, November 3, around the Owode Onirin, along Ikorodu Road
Although nothing is known about the cause of the inferno, the management of the Lagos state fire service has confirmed the incident
Reliable sources gathered that there was a sort of disagreement between some youths in the area and operatives of the fire service over their alleged late response
Owode, Ikorodu - There was chaos on Wednesday, November 3, as huge flames engulfed some buildings and shops on Owode Onirin, along Ikorodu Road area of Lagos.
Vanguard reports that when operatives of the Lagos State Fire Service and Rescue Team, arrived at the scene they were attacked by a group of angry youths.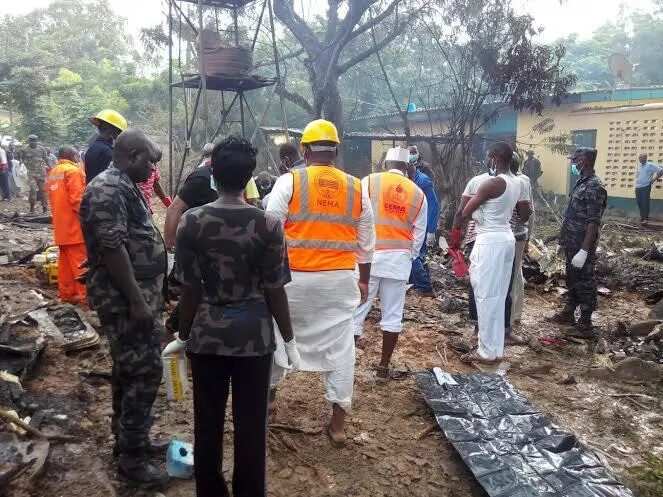 The youths are said to have attacked the officials for reportedly getting to the scene late after the distress calls were made. This made the inferno to nearby buildings.
The fire outbreak has been confirmed by the state's fire service, Sakiru Amodu, who said all efforts are being made to quench the flames.
Ikoyi building collapse: Photos emerge as Governor Sanwo-Olu arrives scene
Meanwhile, Governor Babajide Sanwo-Olu was at the site of the collapsed building in Ikoyi to inspect the level and progress in the ongoing rescue missions.
The Lagos governor also appreciated first responders and others who were part of the rescue team.
He disclosed that the government has set up a help desk for people seeking information about their relations who may have been victims of the tragedy.
Governor Sanwo-Olu on his verified Instagram page on Wednesday, November 3, added that an independent panel is to probe and investigate the remote and immediate causes of the collapse and to also make recommendations on how to avoid a recurrence.
The governor said:
"We will get to the root of how it all went wrong, and we will leave no stone unturned in making sure this does not happen again.
"There will be absolutely no cover-ups in the search for truth in this incident. If anyone is indicted, they will definitely face the full wrath of the law."
Source: Legit.ng