COVID-19: How I Was Prevented From Entering Nigeria From France, Prof. Soyinka Narrates Ordeal
Professor Wole Soyinka has decried the kind of treatment meted to him while travelling from France to Nigeria
The Nobel laureate said a travel permit was required from him before he could be allowed to gain access into his own country
Soyinka called on the Nigerian government to review the COVID-19 travel portal needed to be accessed by travellers for easy use
Renowned writer and Nobel laureate, Wole Soyinka, on Thursday, October 28, narrated his ordeal at the Charles de Gaulle Airport in Paris, France for failing to obtain a permit to travel to Nigeria.
Punch reports that the writer who spoke in Lagos on, COVID, technology and citizen banishment, said he was prevented from boarding the aircraft in France by airline staff.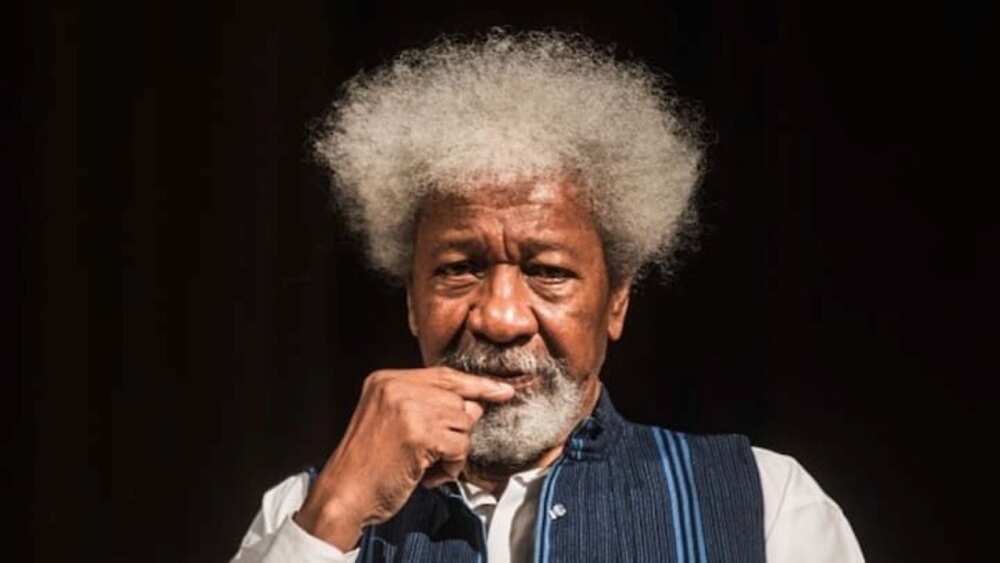 Unfair treatment to Nigerian travellers at airports
Noting that he understands that there are situations where a passenger cannot do anything due to the circumstances on the ground but being prevented from entering your own country due to lapses created by others is unfair.
He said although no attempt was made to banish him, he felt like he was being served a decree of banishment for 48 hours that the event lasted.
Recounting two experiences, the writer said he had his vaccination, took the 72 hour COVID test and was tested negative.
Soyinka said:
"But apparently, there was one more, a new one called PCR (Polymerase Chain Reaction), which the Nigerian government had begun to insist upon."
According to him, he was away from Nigeria at the moment and had no knowledge about this particular requirement.
He said that after spending three extra days in Paris and getting his result, the incident happened for the second time to him and several other passengers expected to board the aircraft.
His words:
"This time, I had my PCR, and I still remained vaccinated. And of course, it did not happen to me alone; there were other Nigerians who passed the night at the airport."
"They couldn't leave the airport because they had already passed through immigration. But at the gate, they were also turned back."
He said this time around, it was no longer PCR but what the Nigerian government called the Nigerian Travel Porter and obtained a permit to travel.
Soyinka said:
"Again, it was my turn. I said I have got everything, that I have the PCR. But they said no, that there was one more item that the Nigerian government now requires."
"So, I had to go back into Paris. Then I was directed where to go through a machine, and pay the necessary amount and then permission will be generated from Nigeria so that I could travel back to my own country."
He said he had to rebook his flight and was back to Air France the next morning after several hours of trying to get through the FG's portal to upload his result but could not.
According to him, almost all the airline officials had their hands on deck - from 10 am to 2 pm - each and every one of them trying separately with his passwords to help him access the FG's travel portal.
When the attempt to upload the needed documents failed, he requested to be put on any other flight heading to any West African country.
Delay caused by hard to access FG's portal
This was after they had succeeded in with the receipt and acknowledgement of his payment with a failure of the portal to generate a bar code.
He said:
"The process itself is really remarkable. I don't believe that it was the Ministry of Health who created that questionnaire. I think it must be the Ministry of Internal Affairs."
He said they found one going to Lome, Togo, for 4.30 pm. But while they were trying to put him on the Lome flight, an airline official appeared smiling at him. He said the staff informed him that he has "been given special permission to enter my country."
He added:
"I don't believe that I or any Nigerian should require special permission to enter his or her own country."
He further made an appeal to Nigeria's ministry of health and internal affairs to review the portal and ensure citizens do not go through this ordeal.
He said:
"Stop treating Nigerians like criminals and illegal immigrants who end up sleeping on couches or on the floor of the airport.''
Meanwhile, Legit.ng previously reported that the Nigerian government had released fresh conditions for travellers arriving in the country.
The FG's updated travel guideline followed the relaxation of COVID-19 travel restrictions for fully vaccinated Nigerians by the United Kingdom.
Boss Mustapha, the Secretary to the Government of the Federation and chairman of the COVID-19 Presidential Task Force said the protocol will take effect from Monday, October 25.
According to Mustapha, all travellers arriving in Nigeria must present a negative COVID-19 test conducted not more than 72 hours before boarding.
Also, the Kaduna state government had barred all workers in the state from accessing offices until they are fully vaccinated.
The state government said that those who have started the process of their vaccination or have registered in a health facility for the vaccination would be allowed entry into offices in Kaduna.
It also warned that only visitors who can show evidence of their negative COVID-19 tests would be allowed to access state-owned offices.
Source: Legit.ng