Facebook Shutdown: Nigerian Entrepreneurs Reveal Their Biggest Fear, Seek Other Options
On Monday, October 4, Facebook, and its owned apps, WhatsApp and Instagram, was down for several hours and millions of people worldwide experienced a global outage
Facebook attributed this six-hour outage to faulty configuration changes on its routers as the root cause but business owners had a story to tell
This week, Legit.ng had a chat with some business owners and they explained how their businesses were affected by the outage
Facebook experienced one of the worst outages in history on Monday, October 4, as users around the world were unable to access its platforms, including owned apps Instagram and WhatsApp.
These social media platforms have emerged as a popular alternative to text messages, especially where telecommunications services can be very expensive.
Since the arrival of the coronavirus pandemic, they have become more than just a messaging platform, as they are an in-app directories for business transactions and information updates around the world.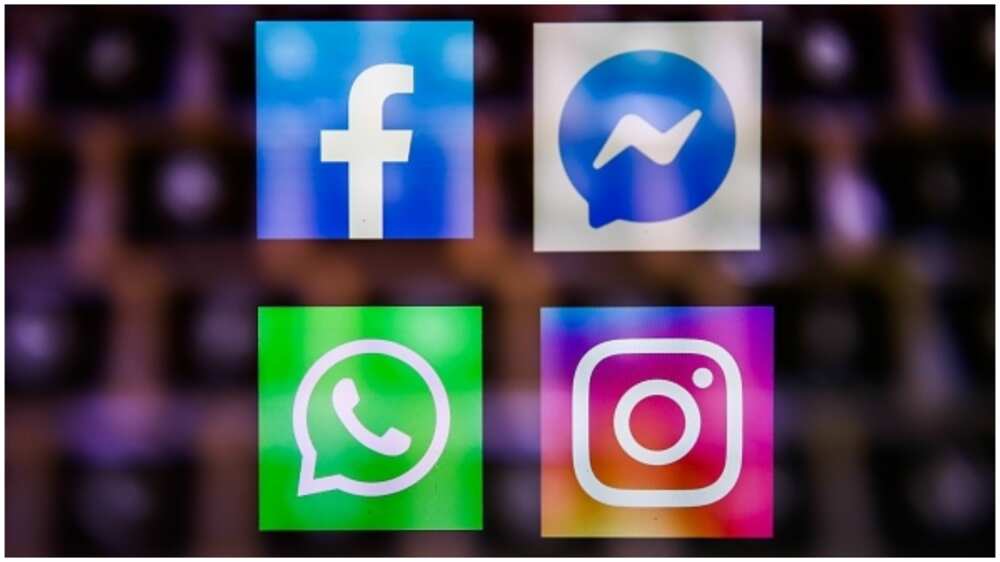 As the most preferred messaging platforms, the global outage fear became the order of the day for many, as lives and even businesses were brought to a standstill. But this was the first in the history of its existence, as Facebook attributed the issue to faulty configuration on its routers.
Interestingly, the app's centrality is enormous as business owners thrive daily to connect with clients, following the service disruption, the tech company stated users data was not compromised in any way.
This week, Legit.ng had a chat with business owners and they shared their experiences so far, a few weeks after the outage.
For Mary, a mother of two, the outage did not affect her business as when it occurred, she had an alternative means of reaching out to her clients.
The fashion designer said:
"I had already created an avenue through which I reach out to my client asides social media platforms. Yes, I used social media to reach out to some of my clients but I made sure I communicate with them via phone calls and text messages.
"So, I used the WhatsApp platform to basically showcase my already made wears and fabrics that I sell online too. When there was a global outage, I did not really feel it because I call my clients regularly and send them SMS too. So the outage did not really affect my business because on that particular day it happened, I sent them messages and called those that needed my services urgently. That day, I didn't lose any client because they are aware of happenings too."
Meanwhile, for a caterer and activist, Mrs. Anthonia Ojenagbon, the situation made her panic because she had some of her loyal customers who gives her referrals on her Facebook page.
She said:
"The shutdown was for a day. I was just in panic that it should not exceed a more, that time."
For a student at a federal university in Nigeria who pleaded anonymity, the outage affected her business to a large extent because it's an avenue she has used so far to build her brand.
The student expressed deep worry but feared more of losing her major clients who assess her items before making orders.
She affirmed thus:
"Firstly, I'm based in the east and I school here too, you know most people selling online like myself, we do online trading and most of us have no offline store or address because if you think of it, selling online is more lucrative, for one, we do not need to pay for any store rent or light bills or those billings that are associated with offline shops
"And secondly, the amount of people we can reach daily via Facebook and Instagram is mind blowing. Most people these days don't go to market again, they just come online and search from stores to stores for the store that sells the cheapest as regard to what you want. You know sometimes when you go to the market, you end up walking around the market without getting exactly what you want but online, you can literally ask somebody to order that particular thing for you, so that's the advantage and the edge we have now with the social media platforms.
"With all these, more people are really abandoning the idea of offline store and focusing more on online stores. And how do we get access to online stores, most popular platform right now is the Facebook, Instagram and WhatsApp; Which is owe by one person, now take for instance, in regards to what happened previously, same thing was to happen again and this time permanently.
"A lot of online business will fold up, transactions processing will cut and a lot can go wrong within hours, If we want to go extra, dollar can be affected too. A lot of business will be crumble and I'm not just talking about those that deal category online even those with offline stores will be affected too as they have come to appreciate the online marketing. It will be neck break for us in this aspect of business.
"Goods that will take just 2days to sell off might end up, staying weeks and months before being sold out except if because we want to go back to stocking goods in buses and paying people to walk around, selling it for you.
"So, the outage created fear at first for me as an individual and for my business, those clients that had ordered were scared of the payment they had already made and were calling to be on a safe end, so, I really hope such situation would not occur again as some of us who survive daily selling online might just end up on the sick bed. It was my biggest fear o. because I did not see it coming, at all. We hope we get other options, good ones, asides these platforms to make better sales."
Although some business owners who were selling through the platforms and delivering orders were left in the dark for hours as they also get important information from the platforms until they received calls from loved ones that there was a global outage then they started seeking for alternative means of reaching their customers, families and loved ones, this was the case for Dolapo, a Lagos- based businesswoman who sells fashion items of luxury brands online.
She explained to Legit.ng how she coped and handled the situation. She said:
"At first, I did not know it was a global outage. I had taught it was a network issue until I couldn't make calls, I couldn't send message on Whatsapp and I'm unable to receive calls. Thank God for my partner who came around and told me it was not a network issue, that moment, I was weak and speechless. I became numb and asking questions like, what if it is not resolved, how do I make refunds, how do I connect back to my clients and loyal customers?, how do I get their orders delivered to them and more.
"I don't sell through Facebook or Instagram but I sell through WhatsApp alone. I don't sell through Instagram because my Instagram account, since it has been hacked over four times, it was blocked. But during the shutdown of WhatsApp, I couldn't cope with my selling, as those who had ordered in Lagos and outside Lagos, I couldn't reach them, the dispatch and the moment was troubling for me, everything became abortive that period, because the dispatch goods couldn't get to the clients that ordered and paid already. It wasn't good enough. So, without WhatsApp, I couldn't cope.
"So, without the social media platforms, entrepreneurs would struggle, they won't make it easily, and there won't be food for people to eat. Even a lot of people that have shop, they sell via WhatsApp, Facebook and Instagram. Our mothers are the ones I can tell you don't sell online.
"For the few hours that WhatsApp did not work, it was a terrible experience for us because MTN network was also bad that same day, we couldn't make or receive calls for several hours, and it was really one incident I hope doesn't repeat itself again. So, without these social media platforms, we cannot make sales, not just sales but good sales too. Because we don't have other options presently."
For Mrs Onwuanyi, a businesswoman who sells jewellery, perfume and body spray, the outage affected her to an extent but she made use of other alternatives earlier.
According to her, most of her customers were around her location, only a few are online. So there was no cause to panic over the incident.
She stated thus:
"I don't really use the social media platforms often but I have customers all around me and sometimes if I don't reach them on phone, I visit them in their shops or we meet at any location suitable for us. So the outage did not really affect my business rather the MTN network did. It affected me because my main line was an MTN line, and I couldn't call, send SMS or receive calls or text messages too.
Proffering a solution, she said:
"The lesson I think one can derive from such experience is for business owners to explore all options so that when caught in such web, you'll be able to bounce in and out without fear. Because I know of close friends and partners who had issues with the outage that they thought the world would come to an end because their lives and all revolves around social media. My advice for all business owners both young and old is that, you should be visible, explore all available means."
6 things you need to know as WhatsApp rolls out new feature
Meanwhile, Legit.ng had earlier reported that Mark Zuckerberg, the founder of Facebook Inc, on Thursday, October 14, announced a new feature rolled out to secure WhatsApp chats; end-to-end encrypted backups.
Though WhatsApp chats are already encrypted, that is, it's only the sender and the receiver who have access to the chats, the new feature ensures the chats remain encrypted even when backed up on cloud servers, the internet messaging app company said.
The new feature improves WhatsApp's security and ensures users privacy, conversations, video calls, and voice calls dey secured.
Source: Legit.ng