BBNaija's Phyna Reacts to Claims of Abandoning Family After Show: "You'll Hear From My Lawyer"
A report surfaced recently that BBNaija Level Up winner, Phyna, abandoned her family after winning the TV show
In a series of tweets on social media, the reality show star threatened legal action against the media house responsible for the news
Phyna's reaction to the reports of her abandoning her family raised a series of mixed feelings among fans
BBNaija Level Up winner, Phyna 'Josephina' Otabor, has cried out on social media following reports that she has abandoned her family.
It was earlier reported that the reality show star's father, Felix Otabor, claimed he had not seen Phyna since she won the show and that he needed financial support.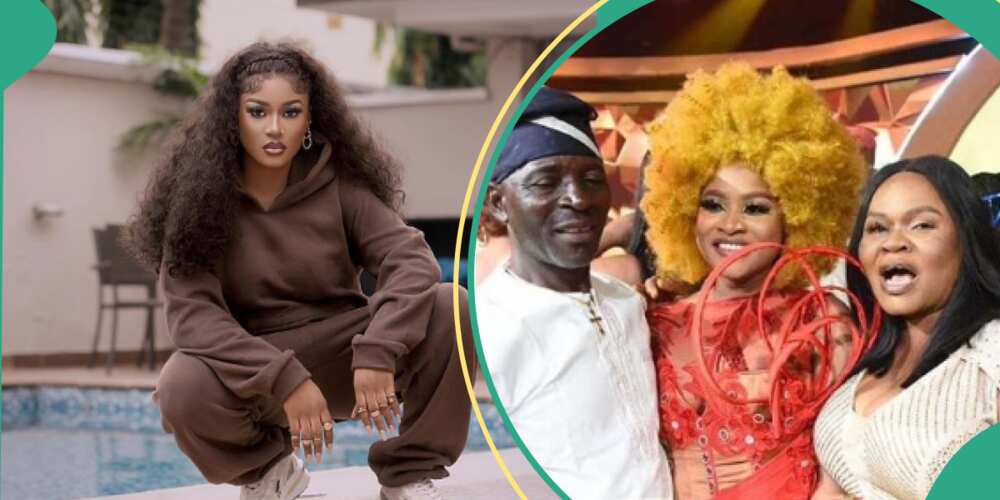 After the reports about Phyna's alleged treatment of her family went viral online, the reality star reacted on social media.
In a series of now-deleted tweets on X, formerly known as Twitter, Phyna called out the media house responsible for the publication. According to her, she would be taking legal action and suing them.
Phyna explained that a staff of the media house had been tormenting her with calls and messages that she refused to respond to. The BBNaija Level Up winner noted that the organisation would hear from her lawyers.
See a screenshot of her now-deleted tweets below:
Phyna also posted on X about how it was the first time she actually cried for being dragged on social media. She invited her fans to hear her side of things when she goes live on Instagram.
See the tweet below:
Reactions as Phyna blows hot over claims of abandoning her family
BBNaija star Phyna's heated reaction to the reports of her abandoning her family soon sparked an online discussion after it trended online.
Read what some netizens had to say about it below:
Balo_ng:
"This one go sweet chichi."
toxicbuddy':
"A journalist called to hear your own side of the story before going ahead to publish, but you ignored him. What do you expect? He went ahead and published the story as he was told by your own father. The text exchange between the both of you is enough evidence that he did his due diligence as a journalist to reach out before putting out the story. Please don't waste your money on any lawyer."
this_is_debee:
"She is just an educated illiterate. Look at who y'all voted for to win such huge amount of money. That's how journalism works in any part of the world. Vanguard is a reputable media organization that reports facts. It is not a blog or an online platform without office that scribble anything for clicks. They have more than enough readers worldwide. After hearing from her father, the reporter was trying to balance the story to hear her part but because it is the truth, she was ashamed and couldn't defend herself and now she's pretentiously throwing tantrums here. Did you or did you not abandon your parents after winning the grand prize?"
Aemaekaaar:
"Inasmuch as it is a family issue, phyna failed to mention in her response whether that was her father's statements or not . Did Njoku make a false post? You can go on with the rest ...."
coco_ria_02:
"Nigerians always patiently waiting for any bad news to believe so they can hide their own sorry lives and shame you."
haarnnarh:
"You run commot for house Abi you no run. The fact you didn't even debunk the allegations. go and help your family oo cos one of the reasons we voted you was because of your poor background so you will leave the ghetto so help your family if nah to fight your imaginary enemies you go type from morning till night Toor."
cheeckar:
"The journalist may have even interviewed her dad before calling her. In all of phyna's outburst, she didn't address the crux of the matter. You abandon your family Abi you no abandon them?
Saying the journalist contacted you to start bombarding you with questions and later sent a message to apologize even further agrees with what the journalist said."
amazingronke:
"This is so wrong. Everyone in the comments bashing her like Vanguard has a right to publish this nonsense… if you don't like Phyna put it aside and see the truth first. What stupid statement is that at the end."
Phyna apologises for bad behaviour since winning BBNaija
In other related news, Legit.ng earlier reported that Phyna spoke about the way she has been behaving after winning the reality show.
In a viral video on Instagram, the reality star revealed that she had gone through a lot of training to turn a new leaf because a lot has happened in the past six months.
Phyna tendered a heartfelt apology to anyone she must have offended since she left Biggie's house and urged people to see that it was a lot for her bagging fame and money with her kind of background.
Source: Legit.ng