Kristian Alfonso bio: age, husband, net worth, salary
If you are a huge fan of Hollywood movies, then Kristian Alfonso is one that needs no introduction. She starred in the NBC dramatic serial Days of Our Lives in which she played Hope Williams Brady. She further starred in MacGyver, Baywatch, Full House and many other TV shows and movies. So, how old is Kristian Alfonso, and what additional information is worth finding out about her?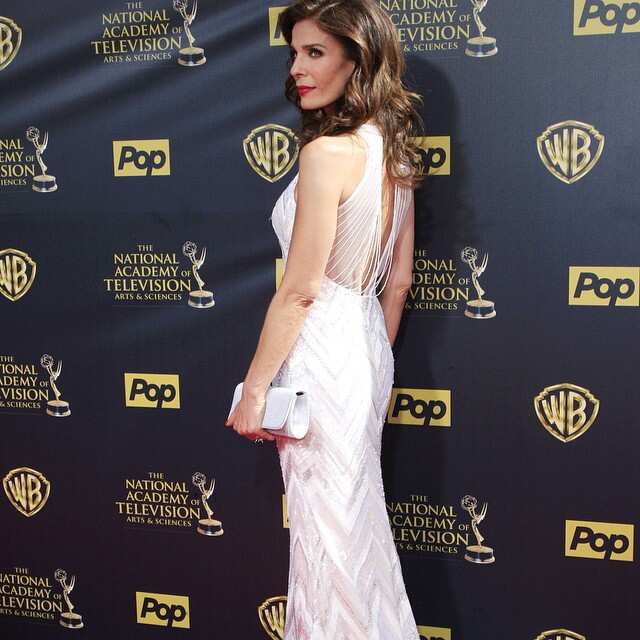 The Italian-American born Alfonso started her career as a figure skater, participating and claiming gold in the junior Olympics figure skating championship. This was before she was forced to quit after an accident at the age of 13 years. When she was getting married to her first husband, Simon McCauley, she reportedly had the same wedding dress that she wore when she starred as Hope in Days of our Lives on.
Kristian Alfonso's profile summary
Full name: Kristian-joy Alfonso
Date of birth: 5th of September, 1963
Age: 56 years old
Birthplace: Brockton, Massachusetts, USA
Height: 1.63 m
Hair colour: Brown
Zodiac sign: Virgo
Eye colour: Green
Profession: Actress, Fashion model, former figure skater
Nationality: American
Ethnicity: Italian-American
Net worth: $5 million
Weight: 54 kg
Ex-spouse: Simon Macauley (m. 1987- 1991)
Spouse: Danny Daggenhurst (m. 2001)
Children: Gino William, Jack, and Spartan
Background information on Kristian Alfonso
Alfonso is a former figure skater, American actress and fashion model. She was born in Brockton, Massachusetts, USA, to Gino and Joanne. She also has an older sister by the name Lisa. When she was younger, her passion for dancing and ice skating became known to her parents and everyone around. Eventually, she started her career as a figure skater when she won gold after participating in the World Junior Figure Skating Championships category.
But then, Alfonso was soon forced to retire after she had a tobogganing accident at the age of 13. After then, she started her fashion modelling career, and by age 15, she had already covered the front page of major magazines including ovation. She kicked off her acting career in 1981 when she starred in The Starmaker.
In November 2006, Kristian Alfonso jewelry line was created, which she called Hope Faith Miracle. Interestingly, she made productions and recorded massive profits. But then, as at the 11th of November, 2016, she was reported to have tweeted that she has sold the jewelry line and was no longer involved in it.
How old is Kristen Alfonso from Days of Our Lives?
Kristian Alfonso age is 56 years. She was born on the 5th of September, 1963 in Brockton, Massachusetts, USA.
Who is Kristian Alfonso married to?
Till date, the former ice skater has been married twice. She first got married to Simon Macauley in 1987, and they have a son, Gino William. The child was born in October 1990 before the parents divorced in 1991.
Currently, Kristian Alfonso husband is Danny Daggenhurst. After the soap star's divorce with Simon, she married her new love on the 6th of October, 2001. On the 18th of July, 2002, the lovebirds, together with their sons, Gino and Spartan, welcomed Jack. Kristian Alfonso family lives in their New York residence.
How much is Kristian Alfonso worth?
According to Celebrity Net Worth, Kristian Alfonso net worth is estimated at $5 million. She has a successful career as a fashion model and an actress. As a successful businesswoman, also, she has made this much. Kristian Alfonso salary is reportedly $0.03 per second, $1.57 per minute, $94.18 per hour and $2,260.27 per day.
Kristian Alfonso plastic surgery
Even though most news and media outlet reported that the Hollywood star did a bust lift surgery at a time, she came out to refute the claims. Thirty years after she started playing Hope Williams Brady on Days Of Our Lives soap opera, Kristian said in 2014 that she would rather age gracefully than go under the knife to look youthful like some Hollywood stars.
The 56-year-old was quoted by the Daily Telegraph as saying "I want my grandchildren and children to recognize me."
Is Kristian Alfonso still on Days of Our Lives?
As against various rumours that have been flying around about the soap star leaving Days of Our Lives, she is still part of the cast members. In an effort to debunk the rumour, she took to her official Instagram page and posted a video, which she tagged, "We are still here."
More so, she said, "Today is Tuesday, November 12th, and we are still here, and we are not going anywhere. You heard it here first, folks. Don't listen to the news, always — especially that report."
Kristian's movies and tv shows
Since she picked a career in the entertainment industry, the following are some of the movies and television shows that the star actress has featured in so far:
Blindfold: Acts of Obsession;
Who's the Boss;
Amazing Stories;
Burke's Law;
Love Stories;
Army of One (also known as Joshua Tree);
She Wrote;
Baywatch;
Melrose Place;
Murder.
Kristian Alfonso attends many shows and works with many charity organizations in which she showcases their adverts on her social media pages. She is a woman with high moral standards. This is evident when she once panicked after getting to know that she was going to be shooting a nude scene, so she had to pay for a body double to shoot it in her place.
Source: Legit.ng