Nigerians Dig Up 2022 Video of Phyna Buying Her Dad a Car Amid Claims of Her Abandoning Family
BBNaija Level Up winner Phyna's father claimed recently that she abandoned their family after winning the TV show
Nigerians online have now dug up an old video from 2022 of Phyna gifting her parents a brand-new Lexus Jeep
The resurfaced videos caused a huge online stir as netizens tackled her family over their claims about her
A die-hard BBNaija fan, Miss Blessing Olayemi, spoke with Legit.ng on the drama between Phyna and her family
BBNaija Level Up star Phyna's fans have reacted to claims that she abandoned her family after winning the reality TV show.
Recall that Phyna's father, Felix Otabor, had granted an interview claiming that he had not seen his daughter since she won the show, and she had stopped picking up their calls.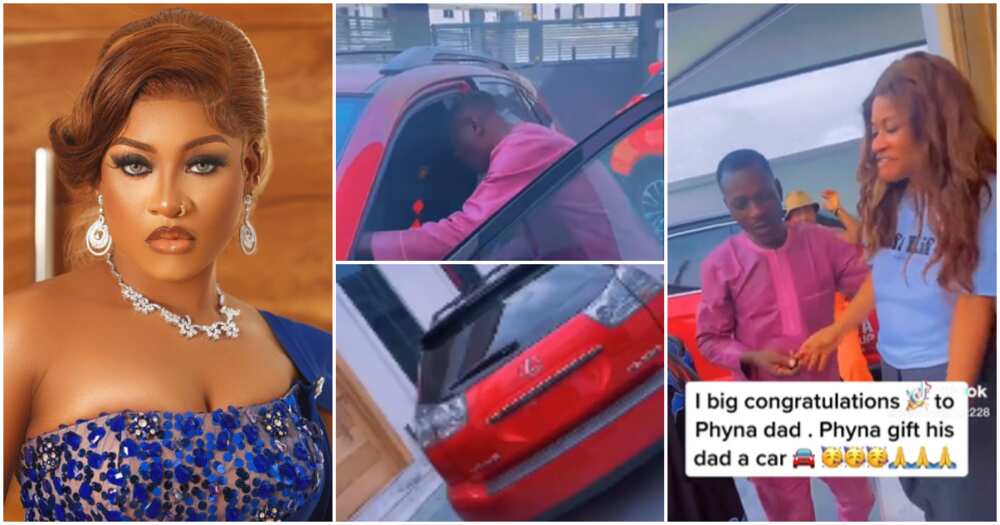 In a new development, Nigerians dug up a 2022 video showing the moment Phyna presented her father and mother with a brand new Lexus Jeep.
In the old video, Phyna's dad was seen gushing after she bought them a car identical to the one she won on the BBNaija show. He was also seen expressing surprise that he had become the owner of a 'fine car'.
See the old videos below:
Reactions to old videos of BBNaija's Phyna gifting her father a car
A number of social media users reacted to the drama between Phyna and her family after her father's claims of abandonment. Some of them bashed the reality star's family for not having her back.
Read some of their comments below:
The cutest Kimmy tweeted:
Tamara asked if it was a crime that Phyna won the show.
This tweep reacted to Phyna's dad's claims of not having a car and suffering.
Deebi said Phyna had done her best for her family at just 26.
Onyekachi said there was a plan to pull Phyna down.
Doccy called her family betrayers.
This tweep called Phyna's family entitled.
Berry wondered if the news of Phyna buying a car for her dad was fake.
Thefoodnetworknig2:
"Can't judge her on this one, seeing what happened to Mohbad… We don't know what going on internally."
iamnasboi:
"Sometimes water is thicker than blood."
Chyomsss:
"I'm not really phyna's fan but i support her on this . Sometimes families too Dey do . The level of entitlement is just so irritating."
chief_eriwa:
"Na she cause am, as a young growing gal, you no suppose buy this type of exotic car for ur parents, You don already drag their hand for where them never reach and that's why they are over demanding and feeling so much entitled."
Mrsothebrand:
"I am not a Phyna Fan! But the truth is any Parent that grants such interview about their kids is just wicked ! If you cannot cover your kids outside and scold them inside within the family what kind of parent are you? If you easily feed your kids to the vulture because of your entitled nature then you have not fulfilled your role as a parent ! Am talking from experience and I feel for Phyna because it's not a great place to be mentally ,Some Parents can ask you for 1 million and you give them 999,999 it's that 1kobo you did not add they will drag you for ! ….Look at him saying People think he is stingy is it your daughters money you want to use for Philanthropy?"
Meetemmanueljacob:
"You don't know what God has done for you if you don't have entitled and ungrateful family members. Sometimes, the relationships you make yourself (genuine friends) are far more important than the ones that you don't choose( family)."
Phyna's family failed her - Blessing Olayemi
A BBNaija fan, Miss Blessing Olayemi, has spoken with Legit.ng on what she makes of the drama between Phyna and her family.
According to the young lady, someone's family is meant to be their safe haven but Phyna's family failed her. Blessing stated that her father was wrong for granting the interview and her family feels entitled to her money.
"I think Phyna's family is wrong for granting that interview and they are just entitled to her money. Family should be your safe place but her family failed her and moreover she bought her father a car and probably gave them what she could", she said.
Phyna puts her family on blast
In other related news, Legit.ng reported that BBNaija star Phyna reacted to her father's claims of abandoning their family.
In a viral post, Phyna announced that her family members should devour her corpse after her death, and Nigerians should watch them while at it.
She also revealed that her father granted the interview simply because she declined a request.
Source: Legit.ng