"I Felt Betrayed by Ipeleng": Ex-BBTitans' Blaqboi Speaks After Eviction, Says He's Fond of Blue Aiva and More
BBTitans star, Blaqboi, was evicted from the show alongside two other housemates, Thabang and Justin
He has now spoken in an exclusive interview with Legit.ng on his time in the house and more
Blaqboi spoke on Ipeleng not choosing him to go to finals, his feelings for Blue Aiva, who he wants to win and more
Former Big Brother Titans star, Blaqboi, was one of the latest Nigerian housemates to be evicted from the show on March 26, 2023.
Blaqboi was evicted alongside two other housemates, Thabang and Justin, and he has now shared details about his time in the house with Legit.ng.
While on the show, Blaqboi was known to be in a sort of relationship triangle between Blue Aiva and Nana.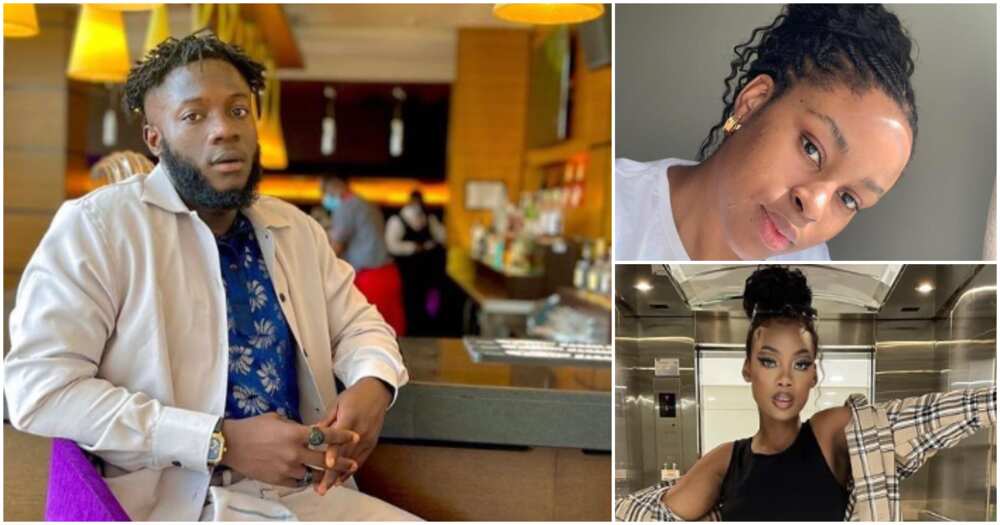 While speaking during the interview, the reality show star clarified his relationship with both ladies.
According to him, he was never in a relationship with Nana on the show. He explained that he was not looking for something serious in the house and the fellow Nigerian female housemate appeared to want something lasting.
Blaqboi explained that Blue Aiva on the other hand came in like she wanted to play and he was also down for that.
He said:
"With Nana, I just didn't really row that boat because as I told her from the beginning, I wasn't there for something serious and apparently she looked like she wanted something serious but I didn't want to do anything serious because It was a game and I didn't want to play with anybody's heart. For Blue, the way she came, she came like someone that wanted to play and I was like 'okay we can do this' so basically that was the difference between both of them."
Not stopping there, Blaqboi spoke on if he genuinely had feelings for Blue Aiva. According to him, they both got talking and grew fond of each other. He also added that something might happen between them after the show even though he hasn't gotten a chance to talk to her yet.
"I started talking to Blue and we started growing fond of each other. I have not spoken to her since we left the house, but hopefully something will happen soon."
I felt betrayed by Ipeleng - Blaqboi
One of the interesting moments on the BBTitans show for Blaqboi was when his partner, Ipeleng, who won the ultimate veto power, chose Ebubu to automatically go to the finals.
Speaking on that, Blaqboi admitted that he felt betrayed. According to him, he would have chosen Ipeleng to go to the finale if he was the veto power holder. He added that he and Ipeleng however did not have a conversation about it because there was nothing she could have said that would change things.
In his words:
"I didn't have a convo with her because I didn't think there was one to be had. There was nothing she was going to say that was going to change what happened and I felt betrayed because I would have picked her if I was in her position but we move."
He also said:
"She (Ipeleng) only kept on apologising and I never really said anything about the situation. I felt a little bit betrayed and that's probably just me being emotional because it's a game at the end of the day and she probably played her game but I won't deny the fact that I felt betrayed by her actions. At this point I think I've moved on."
Who I want to win BBTitans - Blaqboi
Blaqboi also opened up about his preferred housemate to take home the $100,000 grand prize. According to him, he supports Khosi or Kanaga Jnr to win and believes one of them will take home the prize.
He said:
"For me, I am rooting for Kanaga and Khosi and it looks like either of them will win but I'm not sure."
I and Miracle were not best of friends
On the BBTitans show, two of the housemates, Khosi and Miracle, were put up for nominations every week as a pair and even as individual players. While speaking on that Blaqboi noted that he had nothing against their pair. According to him, the only time he put them up was because he knew they were not going home.
"I put them up I think just once and it was because I knew they were not leaving. I had just two options and I knew they were not leaving so I put them up."
However, Blaqboi also admitted that he was not a big fan of Miracle. According to him, his fellow housemate moved some type of way that he did not like.
In his words:
"I felt like me and Miracle were not the best of friends because to me, he honestly moved some type of way that I didn't really like, he did some things that I didn't really like but I put them up just once when they were a group and it's because I knew they weren't leaving."
What next for Blaqboi after BBTitans
The reality show star revealed his plans to start his movie production company, Blaqboi Concepts, take up influencing gigs among other things.
He said:
"Moving on from now, I think I want to push my movie production company. I'm open to influencing, brand promotion and any other thing that comes my way that I think I want to do, I am ready to do it. Ofcos there's going to be a lot of planning and strategising here and there before taking the next step."
I'm supporting Tsatsii to win - Thabang
Thabang was one of the stars on the show who caused quite a lot of buzz on social media over his relationship with Khosi and Olivia among other things.
However, during an exclusive interview with Legit.ng, Thabang explained why he wanted Tsatsii to win the reality show and not Khosi.
He also shared his plans after the show and more.
Source: Legit.ng