BBTitans: "It Was a Roller Coaster" – Yemi Cregx & Nelisa Speak on Experiences, Relationships, Future Plans
Big Brother Titans stars Yemi Cregx, and Nelisa were among the four housemates evicted from the house on Sunday, March 5, and they have shared their experiences
For Yemi Cregx and Nelisa, their stay in Big Brother house was a roller coaster, and there were a lot of lessons to be learnt
They each spoke about their relationships in the house as Nelisa expressed her love for Thanbang and hoped things work out between them
The BBTitans eviction show on Sunday, March 5, saw Juicy Jay, Olivia, Nelisa, and Yemi Cregx become the latest housemates to be evicted.
In an interview with Legit.ng, Yemi Cregx and Nelisa opened up about their experiences, relationships, their plans after the show, among others.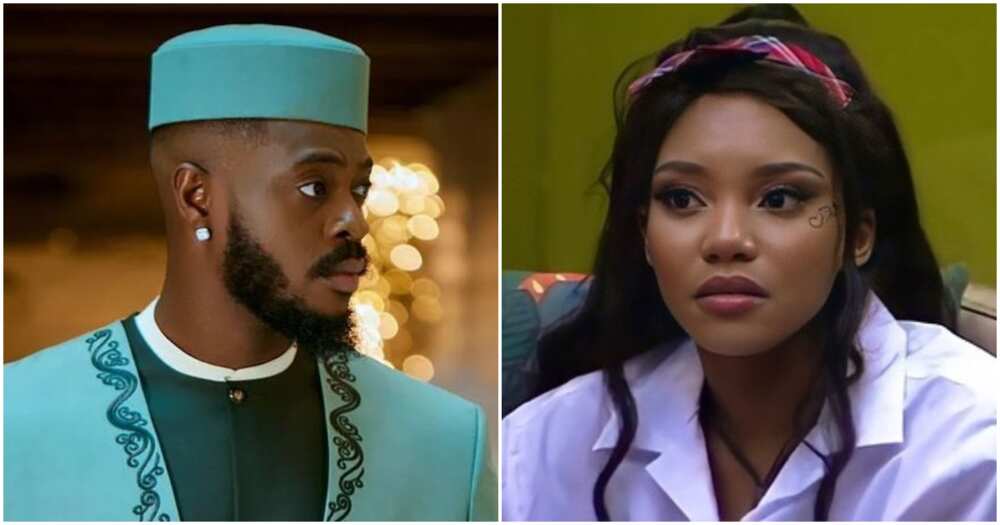 For Yemi Cregx, staying in the house was fun, even though it came with some high and low moments. He said:
"It was a roller coaster, there were high and low moments over all it was a great experience. I obviously went into the house with the sole aim of enjoying and I enjoyed every bit of it. I have no regrets, I did what I had to do."
For Nelisa, even though she had some meltdowns, she could pick herself back up.
She said:
"It was a roller coaster as well. I had some meltdowns when I had to pick myself back up. There was a lot of learning, I really loved being able to push myself up in the house. My high moments were during the wager tasks. I was feeling home sick during the last two weeks and people could tell that my spirit was so low. I was so home sick. Also the lack of privacy in the house.
Nelisa says her relationship with Thabang was yet to be defined but would be happy if they can make it work. she said:
"I really like Thabang, If things don't end up as a relationship I would love for us to be friends. We have not defined our relationship. Whatever happens in the house now is on him but I will see him when he comes out."
Yemi Cregx said he had a great connection with Khosi and Blue Aiva. He said:
"I and Khosi were good and close in the house, we had a great connection. Same with Blue."
Yemi Cregx said he and Miracle were cool, but sometimes they couldn't be, as he described himself as someone who doesn't like being fake. He said:
"Miracle and I were cool but there were places we couldn't be cool and when I try to mend back he still falls back to the same thing. I am a very honest person and I don't like being fake, if you are going to be cool with me, be cool with me 100 per cent. It was the energy."
Yemi Cregx said he didn't feel he and Thanbang were in a triangle. He, however, stressed that whatever happened in the house doesn't matter now. He said:
"Thabang and I shouldn't come up in a conversation. While it looked like we were in a triangle, I don't think we were. It doesn't matter to me now."
Yemi Cregx, while speaking about his plan outside the house, said he wants to put whatever he would be going into on a large scale while adding that he unlocked a lot of potential while in the house.
He said:
"I do a lot of lifestyles and now I might be going into production and putting it on a large scale. I have unlocked a lot of my potential in the house."
Nelisa said she would be starting a podcast after she leaves the house.
She said:
"I will be Starting a podcast, creating a platform for other creators and whatever comes knocking at my door."
Nelisa, while addressing her eviction with Yemi Cregx, said she felt it was their time to go.
She said:
"I have been nominated from day one but unfortunately it was our time to go."
Yemi Cregx tipped one of Kanaga, Khosi and Thabang to emerge as the winner. He, however, stressed that he had not thought much about it.
He said:
"Honestly I have not thought of who would win aside from myself but I think Kanaga, Khosi maybe Thabang I don't know."
Nelisa revealed she would be coming to Nigeria to mark her birthday.
"I am coming to celebrate my birthday there on April 4," she revealed.
On the possibility of continuing his relationship with Khosi outside the house, Yemi Cregx said:
"Only God knows."
Nelisa said she and Mmeli liked many similar things, but upon realising he was not so into her, she moved to Thanbang.
She said:
"Mmeli was a crush and I think it was because we liked a lot of similar things, we like the same music and when I noticed Mmeli was not that into me so I felt like let me move."
Nelisa denied being an instigator in the house. According to her, she would sometimes sit in the house in confusion when any issue arose.
"I am not an instigator. There were moments when I was seating in the house in confusion and wondering when did this happen. If I was an instigator wouldn't I be the mastermind behind everything that happened in the house? I don't think I was one, I was just there, asking questions."
Speaking on the lessons she learnt while in the house, Nelisa said she learnt not to judge a book by its cover and also not to underestimate herself.
"I learnt not to judge a book by its cover, you can never know a person. You have to get to know them beyond the first conversation. I learnt to push myself always and never underestimate myself."
Yemi Cregx on the other hand, said he was able to learn to maximize his potential to its full strength while in the house.
"Always unlock your full potential, and unpack everything. I realised while in the house that I had not been maximizing my potential to its full strength."
Yemi Cregx said he doesn't feel he was played by Khosi or Blue Aiva.
"I don't think I was being played I knew who Blue was from the moment we had our conversation. I was ok with us. It was good vibes with Blues but with Khosi I really don't think it was a game. I can't say for sure," he added.
Khosi uncontrollable after Yemi Cregx's eviction
Legit.ng reported that Yemi Cregx was among the pairs of housemates who left the reality TV show during the last Sunday eviction.
However, South African housemate Khosi, who is drawn to the Nigerian, had been sad since his exit from the show.
Khosi disclosed how miserable she was with a couple of other housemates, and the video went viral.
Source: Legit.ng