Family Releases Baba Suwe's Burial Plan as Son Apologises for Viral Video of Late Actor's Corpse
The son of veteran actor Babatunde Omidina aka Baba Suwe has been called out on social media for posting a video of his father's corpse
An internet user who blasted the young man accused him of being a clout chaser who dishonoured his father's corpse for likes and comments
Another of the actor's son later apologised for his brother's actions and told fans to disregard the video, he also revealed burial arrangements
Nigerian veteran comic actor, Babatunde Omidina aka Baba Suwe's son has been blasted on social media after posting a video of his late father's corpse.
The news of Baba Suwe's death hit social media after fans sighted the video of his son beside the actor's dead body as he cried and mourned him.
In the same video, the actor's son accused people of abandoning his father when he needed their help.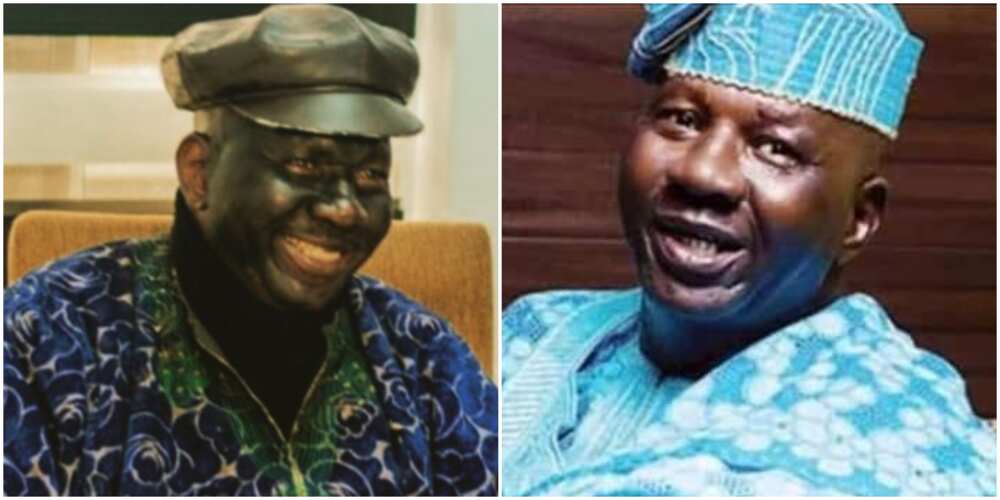 Posting the video a daft move
The comic actor's son's video drew mixed reactions online and he was criticised by an internet user, Odolaye Bàá Waki Aremu, who accused him of dishonouring his father by posting the ghoulish video.
According to Aremu, Baba Suwe's son made a daft move and people should not encourage it by reposting the video of the veteran actor on his death bed.
Aremu advised fans to show their love for Baba Suwe by expressing restraint and respect for the deceased by not sharing the video.
See his post below:
Baba Suwe's son reacts after being bashed online
After being criticised by some online users for posting the video of his late father's corpse, another of Baba Suwe's sons, Adesola Omidina finally reacted.
He denounced and condemned the video and said it was wrongly posted.
Adesola also took back his brother's words after saying his father was abandoned. He noted that Nollywood, TAMPAN, the government, religious leaders, family members and friends were supportive in their own ways.
He also apologised to those affected by the viral video and reminded fans to disregard it. He wrote:
"The Nollywood, Tampan, the Government, Prophets, family and fans has been supportive in their own ways.
"I hereby tender an apology to all the groups, people and family affected! Again, please disregard any inappropriate "Video" circulating in social media."
See his post below:
Baba Suwe's burial arrangement
Baba Suwe's son also revealed his late father's burial arrangements. He noted that it would take place at their compound on November 25 while the final burial ceremony will be communicated later.
See the post below:
Apology accepted - Fans react
Some internet users have now reacted to Baba Suwe's son's apology over the questionable video. While some people accepted the apology, others said his brother was free to mourn their father whichever way he liked.
Read some of their comments below:
Tbellz07:
"You owe nobody any explanation. Nobody can teach you how to mourn your father."
Ich_bin_davido:
"Apology accepted Agba."
Olori_adefuye:
"It's well yes you can tender apology but I feel that guy that posted that was down and frustrated they might have done so much in the industry but at times few is not enough that video got me teary if the kind post Babasuwe got today from most dignitaries are posting today stand by him to the end that state and the last breath place will not be like that is so sad it's well Eniafelamo amoenifeni."
Realrianat:
"Exactly my point the video isn't show any respect for the decease at all."
Iam_dolapoh:
"This is very important at this moment..because people are just saying rubbish, they allow their emotions to take the good part of them..May the soul of the departed rest in perfect peace."
May his soul rest in peace.
How Baba Suwe battled with ill health before his death
Meanwhile, Legit.ng earlier reported that Baba Suwe was down with an unknown illness. A video of the actor later emerged online and he was heard saying that he was battling with partial stroke with a narration of his first attack.
The actor later received the sum of N10m from a London-based preacher, Iya Adura to enable him seek treatment abroad and the actor could not contain his joy.
Comic actor Jigan also gave his widow's mite to the veteran and shared a screenshot of the report of Baba Suwe's sickness.
A few weeks after the donations were made, actor Yomi Fabiyi revealed that Baba Suwe had been discharged from the hospital as his health had improved.
Source: Legit.ng