Newbies on The Red Carpet: How 16 Big Brother Stars Made Their First Major Fashion Debut
Sixteen former Big Brother stars took their fashion game to the next level as they made their highly anticipated red carpet debut.
These newcomers showcased their unique styles, ranging from bold and glamorous to edgy and trendy, as they made their mark on the major fashion scene.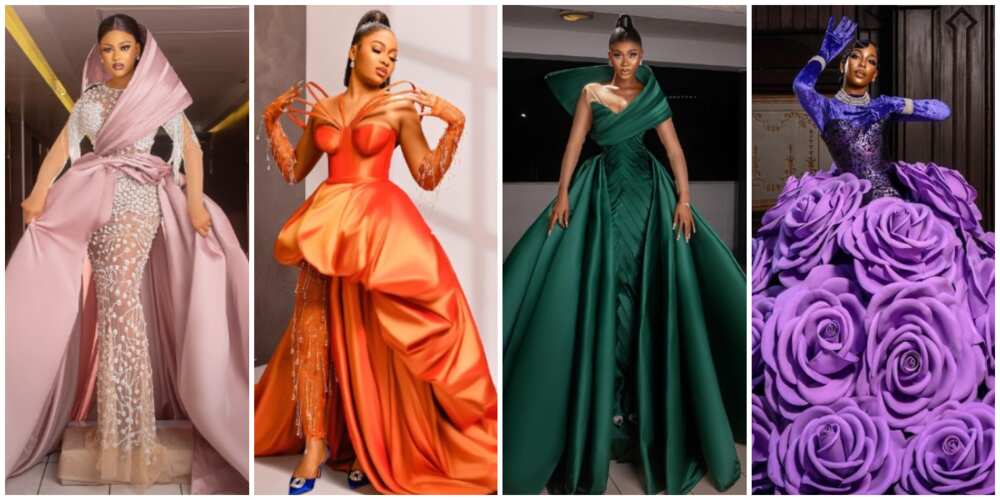 With their confident presence and stunning fashion choices, these Big Brother alumni proved that they are more than just reality TV personalities, leaving a lasting impression on the red carpet.
The ladies of the Big Brother Naija 2023:
1. Phyna in lilac dress
The winner stepped out looking like a million bucks in this gorgeous lilac CEO Luminee design.
The heavily bedazzled dress with intricate design was unarguably one of the best looks of the night. Rating this look a 9/10.
2. Beauty in aqua green dress
Beauty Tukura emerged as one of the stars who got a big win at the recently-held 2023 Africa Magic Viewer's Choice Awards (AMVCA).
As is the case with the award show, a category for the Best-Dressed stars (male and female) was announced.
The Big Brother Naija star and former Miss Nigeria was announced as the winner in the female category. Rating this look an 8/10.
3. Doyin in bedazzled look
The beautiful podcaster made her red-carpet debut in this fabulous bedazzled dress.
The blue and silver cold-shoulder dress featuring a floor-length dress was designed by Amy Aghomi. Rating this look an 8/10.
4. Modella in regal green dress
The reality TV brought her fashion game to the show and it was worth every stitch!
She sported an emerald green dress designed by CEO Luminee that did justice to her slim and tall silhuoette. A solid 10/10!
5. Bella in breastplate look
Bella opted to make her debut in a Tiannah Empire design.
While her accessories, hair and makeup were superb, the dress didn't really do her justice as it looked more like a movie costume than a dress that belonged on the red carpet. Rating this a 7/10.
6. Daniella stuns in olive green
The ebony beauty was a sight to behold on the red carpet.
She rocked a CEO Luminee dress that brought out her fierce and elegant side. Rating this a sold 9/10.
7. Chomzy in emerald green
The beauty star sported a dramatic look designed by @jenrewa.
The stunning piece featured a neckline that curved upwards framing her face, and beautiful flounce. Rating this an 8/10.
8. Diana in sheer dress
Diana Edobor attended the 2023 Africa Magic Viewer's Choice Awards (AMVCA) event looking like a million bucks.
She sported a bedazzled sheer dress by Nigerian fashion designer, Agbons, and accessorised with a dramatic fascinator.
9. Christy O
The Nigerian beauty rocked a stunned black dress by @ceolumineeofficial and she killed it!
Christy O certainly made a statement with this look.
How Big Brother Titans star Slayed
10. Blue Aiva
The reality TV star is no stranger to wearing revealing clothes and she most certainly stuck to her style for her red-carpet debut.
Unfortunately, the Smooth Operator didn't impress much with this ensemble. Rating this a 5/10.
11. Tsatsii in floor-length look
Tsatsii was a vision to behold in this classy silver dress.
The floor-length number was designed by @zackstyling_luxury_ and flattered her curves. Rating this look an 8/10.
12. Ipeleng rocks orange lace gown
The South African beauty rocked an orange ensemble by @stitchitcouture that did little to highlight her beautiful body.
The dress which looked like it was unfinished, featured differently styled sleeves, an exposed corset and an embellished sheer neckline and sleeve.
13. Jaypee recreates Cardi B's 2023 Grammy look
The BBTitans star opted for as black look which featured pleated structural details that ebbed and flowed from her shoulders, around her waist, and even to the top of her head.
The dress was heavily inspired by Cardi B's 2023 Grammy look, was designed by @jenrewa.
The lack of originality didn't exactly earn her points. Rating this look a 6/10.
14. Yvonne glows in pink gown
The ivory beauty was a vision to behold in this elegantly designed pink and silver look.
The lace dress designed by @Kikstylish, featured an exposed corsrt bodice, a fringed detail around one sleeve and a floor-length flounce.
15. Nana dons red tulle gown
The northern belle stepped out in a stunning red look designed by Sashes.
For her red-carpet debut, this ruffle tulle look with a bedazzled bustlines wasn't as impressive as many fans hoped.
For one, it appeared a bit busy and hid her gorgeous silhuoette, and appeared to wear the star instead of the other way around. Rating this a 5/10.
16. Olivia stuns in bedazzled orange dress
The beautiful star has been making fans proud with her fashion choices since leaving the show.
For her first major red-carpet appearance, she opted to go in orange. The beautiful dress partly bedazzled to mimic water drops, was made by Somo By Somo.
Her decision to rock a high ponytail was simply perfect. Though her choice of shoes could have been different, she gets a 9/10 rating!
17. Sandra in purple royalty
Right from her time in the house, the reality TV star has always taken a sassy and daring approach to fashion.
Interestingly, Sandra ditched her skin-baring clothes for a regal and mindblowing look.
The ethereal design featured a velvet gloved top over a rosette ball skirt. With pearl accessorise and a flat curly look, Sandra was no doubt the belle of the ball.
The look was designed by @styled_by_maklinscout and is a solid 10/10.
AMVCA 2023: BBNaija star Ifu Ennada responds to critics of her look, says dress took 30 days to make
Ifu Ennada is not here for anyone trying to troll her over the fashion choices she makes.
The 2023 Africa Magic Viewer's Choice Awards (AMVCA) took place on Saturday evening, May 20, and the Big Brother Naija star attended in an avant-garde statement piece.
Perhaps in a bid to outdo her 2022 look, Ennada made sure to spark a conversation around her look which featured black latex and circular designs.
Source: Legit.ng