Elton John net worth, real name, age, height, husband, children
Elton John is a very popular British musician and one of the most commercially successful artists of all time. Maybe his more recent tracks are not of your speed, but you will love the bouncy, upbeat flavour of tracks such as "Crocodile Rock". Perhaps you are not a fan of "Candle in the Wind" but "Funeral for a Friend" brings you back, or the aggressive "The B**** is Back" and "Saturday Night's Alright for Fighting". Whichever the case, Elton is one of the singers whose impact on rock and roll has been as intense as the music itself. Elton John net worth will confirm his great talent.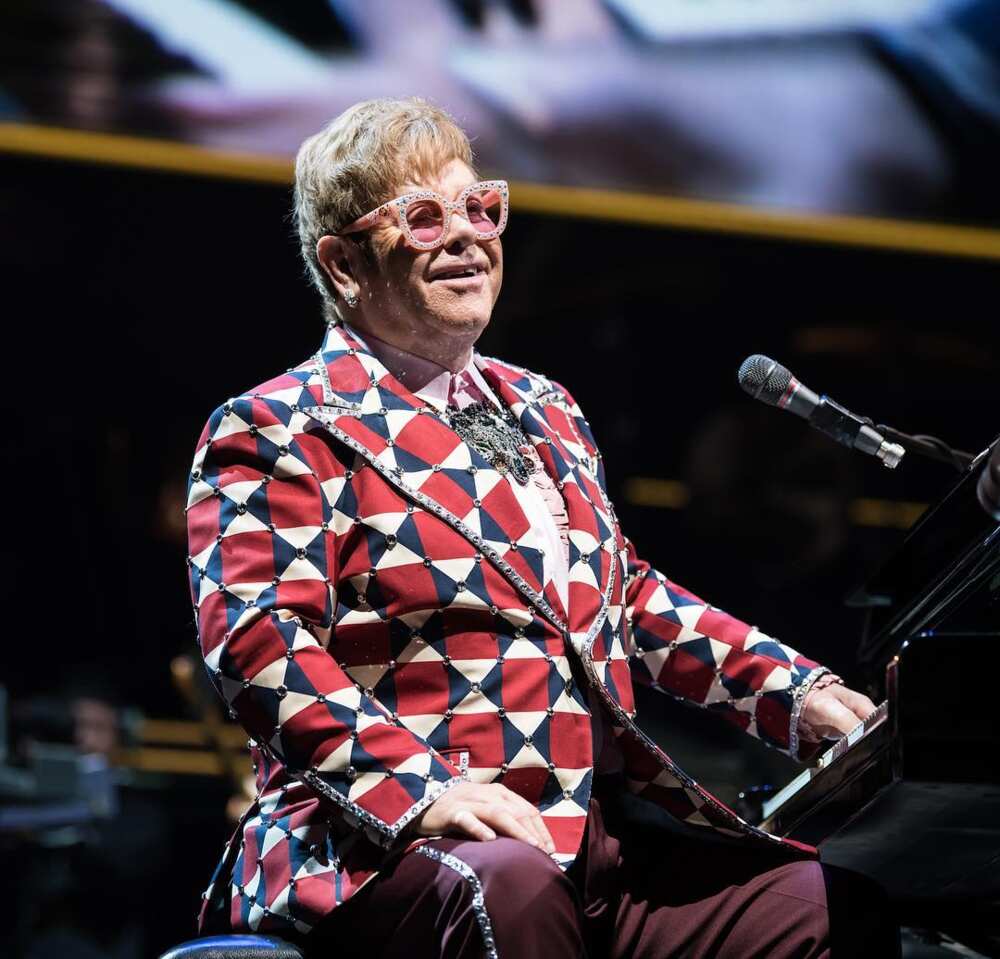 You will agree with me that Elton John is one most famous musician in the UK. Even those who do not listen to his music must have heard of the name. His piano-rocking blend on the music is hard to deny. Even if you are not sure whether you are a fan of his music, you probably are. From the early rock-glam days to the recent more sentimental outputs, Elton John net worth is a true reflection of his excellent performance over the years. Sir Elton John is the fourth richest British musician in the world as listed on Sunday Times Rich list of 2017.
Elton John profile summary
Celebrated name: Elton John
Country of origin: The United Kingdom
Nickname: Sharon
Elton John's real name: Reginald Kenneth Dwight
Birthdate: 25.03.1947
Age: 72 years
Gender: Male
Profession: Singer, songwriter, producer
Birth nation: England
Place of birth: Pinner, Middlesex
Father: Stanley Dwight
Mother: Sheila Eileen Dwight
Height: 1.72m
Weight: 87kg
Horoscope: Aries
Nationality: British
Marital status: Married
Spouse: David Furnish
Children: 2
Eye colour: Blue
Hair colour: Red
Net worth: $500 million
READ ALSO: Michael Phelps net worth, wife and children
Career journey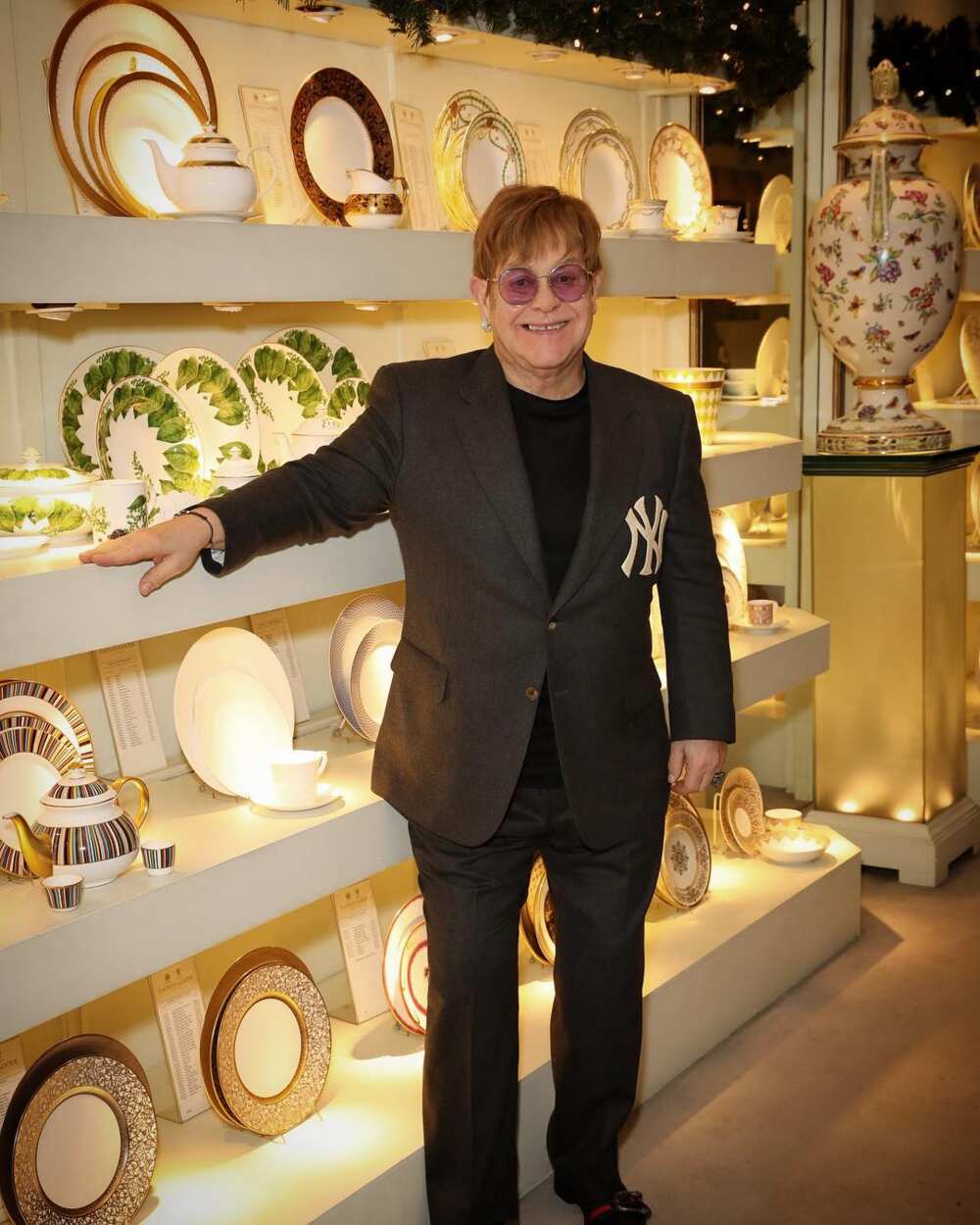 Elton John real name is Reginald Kenneth Dwight and was born on 25th March 1947, in Middlesex, England. His music career began when he was only three when he started playing the piano. By the age of seven, he started formal music lessons. He won a scholarship to the London's Royal Academy of Music at the age of eleven. The year 1966 saw him and his friends form a band by the name Bluesology, where Dwight took the name, Elton John. It is still around this time that he began his long partnership with Bernie Taupin, a songwriter.
Elton released his first album Empty Sky in 1969. His works would grow that between 1972 and 1975 he had released seven consecutive albums that were top of the chart. In 1992, John and Taupin signed a $39 million 12-year contract with the Warner Bros. Records. This cash advance was the largest on the history of music. In 1994, he would compose a soundtrack for The Lion King movie. The song was so good that it earned the Grammy Award for Song of the Year. Years later, Elton John continued doing tours and releasing the best-selling albums.
Elton John net worth
It is no secret that Sir Elton is one of the wealthiest musicians of his time. This musician has sold over 300 million records with more than 50 top 40 tracks. The year 1974 marked a good year when he made a lucrative contract with MCA which saw him pocket $8 million. He has also pocketed over $20 million from sold-out shows held at New York alone. In 2013, he held over one hundred shows which brought $204 million in gate receipts and endorsement deals as well.
Forbes rated John as one of the best selling solo artists in history. He has attained 38 gold records, 31 platinum albums and more than 50 hits that have secured top 40 on the charts. John has also sold more than 300 million records, which have contributed to his great income. He has also received 11 Grammy nominations, 4 Tony Awards and 3 Academy Award nominations. Forbes rated his 2018 annual sales to $46 million. Forbes also reports that Elton started his 3-year tour named Farewell Yellow Brick Road Tour. It explains the simple math's that John currently grosses $1.4 per tour stop according to touring industry bible Pollstar. Now that he is doing 300 arena shows, this can translate to $420 million of ticket sales alone. Celebrity Networth rated Elton John net worth to be $500.
READ ALSO: Rihanna net worth, age, full name, life before fame
Cars owned by Elton
Elton is also an avid car collector. He made almost $2 million from the sale of his Jaguar XJ220, Ferraris, Rolls Royce and Bentleys. Some of his cars include:
1993 Jaguar XJ220 (auctioned off)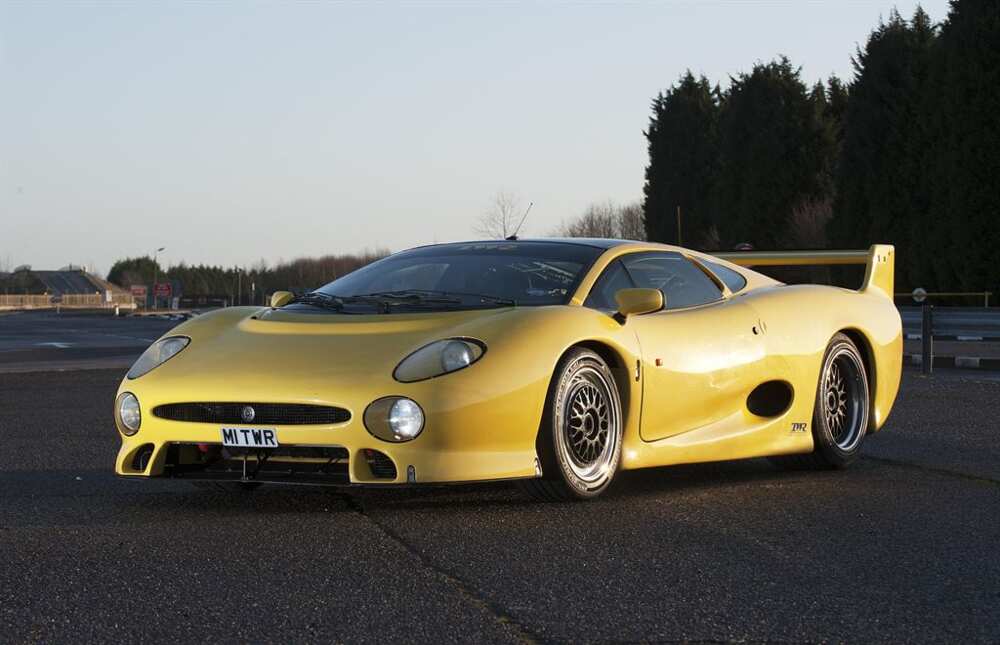 This powerhouse features a turbocharged V6 cylinder engine giving a top speed of 343km/hr (213mph). It also provides fuel consumption of 8.8 litres per 100km. It produces a max power of 543bhp at 7200rpm and a maximum torque of 644Nm. Jaguar XJ220 operates on a 5-speed manual gearbox with 4-wheel independent wishbones. The two doors car was sold from 1991-94 and is an excellent piece for those looking for 'old is gold' pieces. This singer at one time had a Jaguar XJ220 which he auctioned off. His Jaguar XJ220 fetched $324,289.14.
1973 Rolls-Royce Phantom VI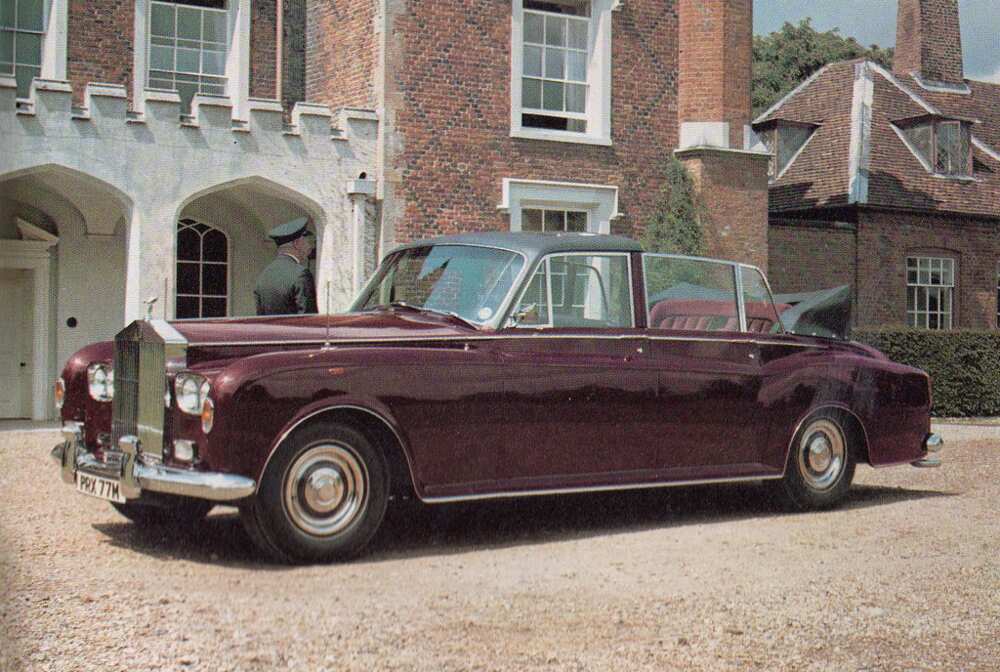 The Phantom VI model has a naturally aspirated 411.9 cui V8 engine. This engine yields good power which is transmitted to the road by the RWD (rear wheel drive) with a three-speed auto gearbox. The engine gives a top speed of 180km/her (112mph). An amazing feature of the Phantom is the accelerations speed of 0- 60 mph 12.8seconds, 0- 100 km/h 13.5 seconds. The car seems to be very efficient on fuel giving 25.3L for 100km. The other fantastic feature of the Phantom VI is the 36-speaker stereo system and the glass in the car which valued at around $151,780.64.
1956 Bentley S1 Continental (auctioned off)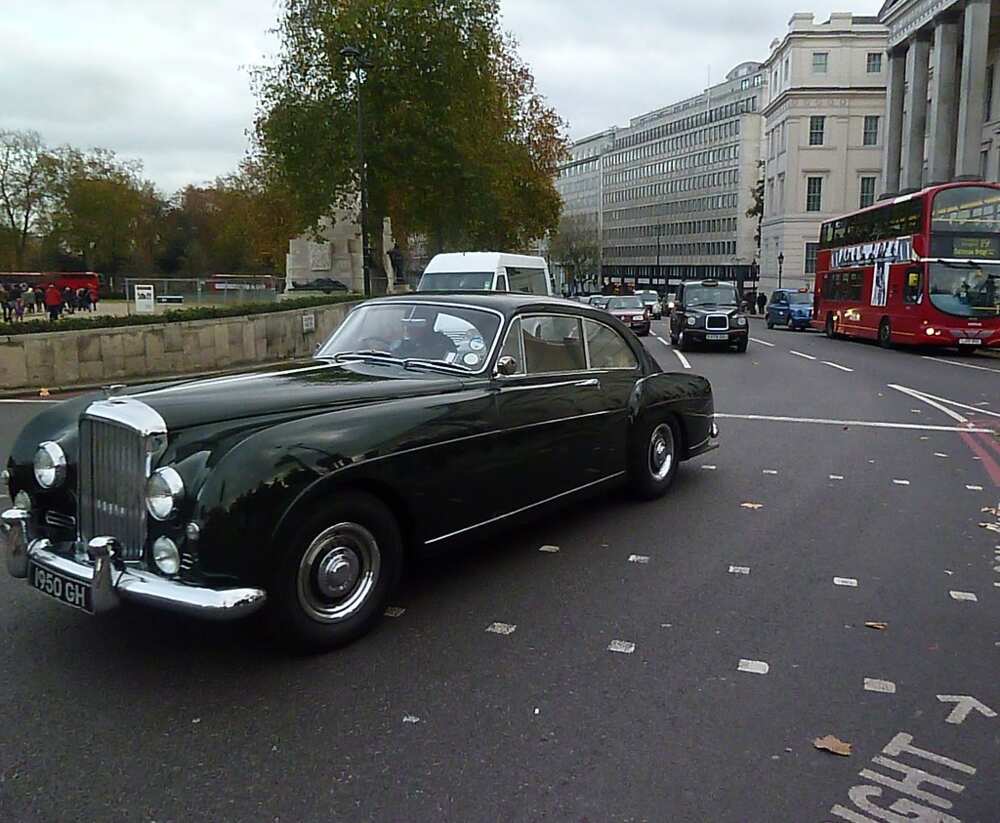 Bentley Motors produced the Bentley S1 from 1955-59. It marked Rolls-Royce, the Bentleys parents reducing the difference between Roll-Royce models and Bentley. The S1 model shares a 4.9 Liters straight six-cylinder engine and a standard 4-speed auto transmission. The car also gives an option of 4-speed manual system. The engine is mounted on the front. The top quoted speed is 119 mph or 192km/hr. Elton had a silver Bentley Continental which he sold for $270,491.78.
Ferrari Testarossa (auctioned off)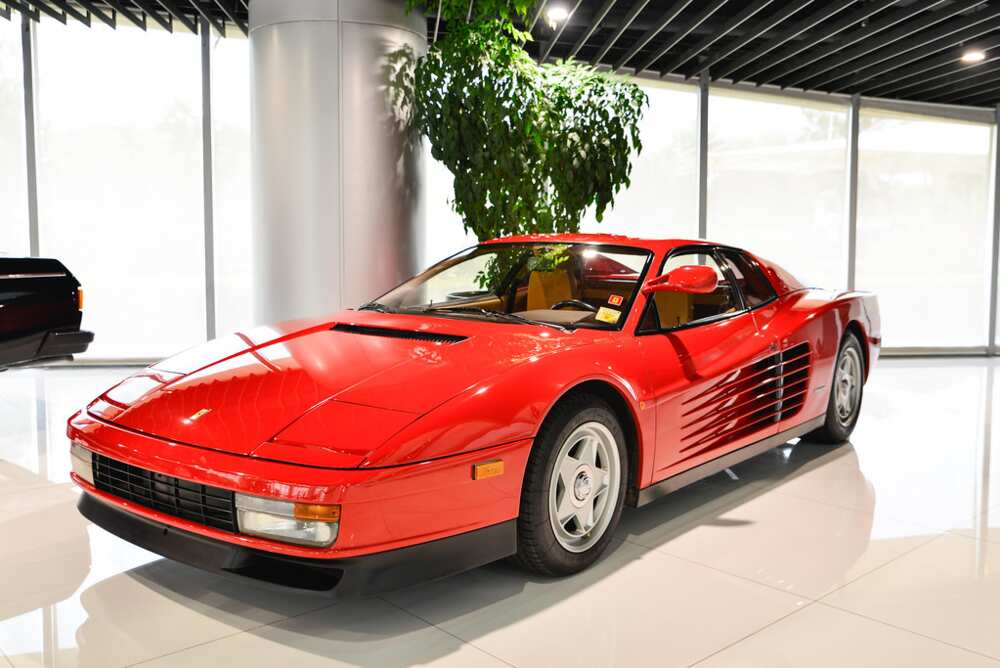 This car was based on Testarossa fit with flat 12 5.0 engine. The engine gives a power of 750bhp at 6,400 rpm and 900Nm of torque at 5,000 rpm. The 1984 version was developed as a replacement of the ageing Berlinetta Boxer. It was also a worth piece as it was created to fix the faults of the predecessor, which included a cabin that customers complained of being hot, and lack of luggage space. The Ferrari Testarossa became famous for its ultra-wide rear track. This car was gifted to the singer on his 40th birthday by his record company in the US.
Audi R8 (auctioned off)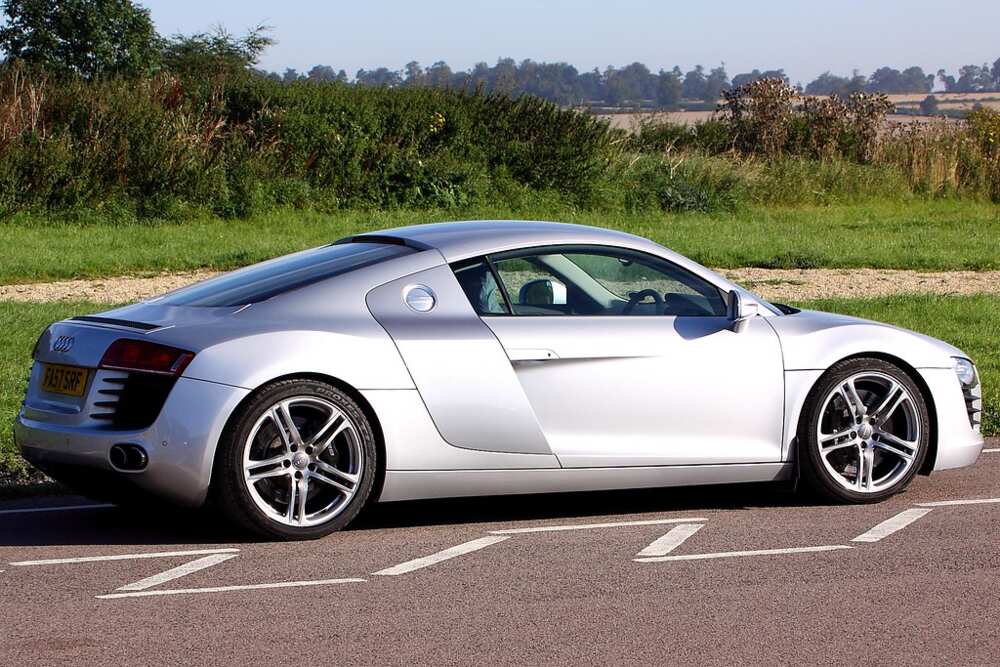 The R8 model of Audi is a mid-ending two-seat sports car developed in 2006. The fundamental construction of the vehicle is based on Audi Space Frame and uses space frame principles. This car is powered by a V10 engine which gives 532hp or the V10+ engine which offers 602hp. With in-built launch control, this 7-speed S Tronic gearbox with paddle shifters provides an extra level of driving experience. Audi R8 has been exceptional for Elton as it helped in raising of $855,422.74 for the Elton John AIDS Foundation.
Rolls Royce Phantom V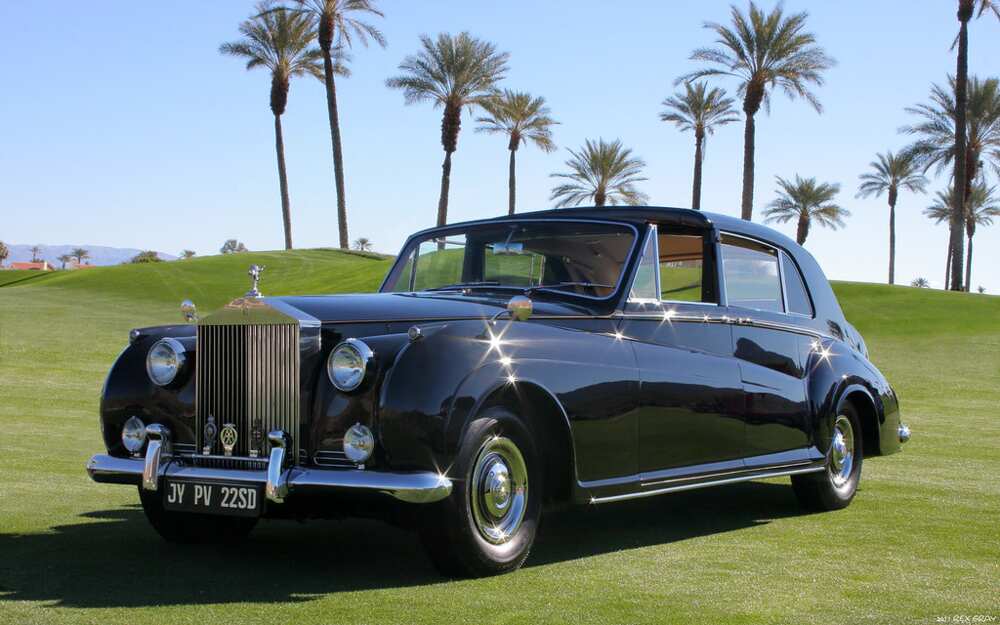 He had a Rolls Royce Phantom V, pink in colour, which finally he offered for the auction. This automobile is sedan styled and comes with a front positioned engine supplying power to the front wheels. The power comes from the V8 6.2L engine. This power plant also boasts eight cylinder layout, overhead valve gear and two valves per cylinder. The four-speed auto gearbox supplies power to the wheels. The car is claimed to offer a top speed of 101mph or 163km/hr.
READ ALSO: What is Alex Jones net worth 2019?
Homes and apartments owned by Elton John
Elton also made lots of money from buying and selling of his apartments. His home collection includes:
Venice apartment
Elton owns a grand triple story apartment in Venice. This apartment is located at Giudecca Island in Italy. The Island is 400 meters south of Venice and is divided from the city by a canal. The beautiful villa features several well-furnished rooms. This is the same home that David Furnish and Elton John honeymooned after their marriage.
Holland Park house
The music guru also owns a house in Holland Park, in London. It is located in Polland Park which has a reputation for being wealthy and fashionable. The area is also famous for its gorgeous townhouses, high-class shopping stores and restaurants. This villa looks simple from the outside as it is made in a Victorian-era architectural style. On the inside, this house is beautifully decorated with collectables. The area also homes other famous celebs with the likes of rock star Bryan Ferry, Simon Cowell, Anita Dobson and Kenneth Branagh.
READ ALSO: Pharrell net worth, age, height, ethnicity, family
Park Place condo
Elton and his partner also have three apartments in one based in Atlanta. The celebs frequently visit this home whenever they are out of the US for concerts or business. The apartments are spacious, located in Park Place. It is a skyscraper located on the Peachroad on the capital city of Georgia, Atlanta. This road is famous for its historical value often compared with Broadway Street of NY. (New York). Elton John has on one of his album named it Peachtree Road which traces its name here. Park place where this condo is located provides tenants with exceptional high-rise conditions. Maybe that would be one of the reasons why it homes powerful clienteles with the likes of Janet Jackson, Ophrah Whitney and of course Elton John.
Sierra Towers apartment
Elton is said to have sold his Hollywood condo for $3.05 million. However, John and his partner also own an ultra-rich apartment on the corner of Los Angeles. The couple's home is located in West Hollywood on a building known as Sierra Towers. It is situated next to Beverly Hills, the celebrity-spread area. The apartment was built in 1965, initially named as Spoon Apartment Building. The house is well designed and decorated with various art collections. It offers an enthralling city view from the living room. It also boasts an ultra-rich master bedroom which comprises of platinum leaf ceiling work and Tracey neon installations. Sierra has been a magnate of celebs such as George Hamilton, Rachael Zoe, Joan Collins, David Geffen, Brody Jenner and Diahann. The location itself is popular and full of service offerings.
Beverly Hills home
Elton John husband, Furnish, recently added a new home on their list. The child-friendly home is based in Beverly Hills, and cost them $7,695,000. The mansion is magnificent and has been revamped by a renowned décor expert, Martyn Lawrence. The couple bought this home as a welcome gift for Elijah, their newborn baby boy.
Zachery, the couple's two-year-old son, was very excited about the new house. It is a delight and boasts a wide green lawn, private patio room, playing courtyard hobby centre and a swimming pool. On the inside, the house is well decorated with marble and wood. The lavish home lies on a carpet area of 4216 square feet. It also boasts four bedrooms each with its own bathroom. You will also be surprised that there is a bathroom facility for the servants and drivers located outside the main building. Some of the top celebs residing in near localities include Ray Charles, Rupert Murdoch, Ursula Andress, Caroll Baker and Pamela Anderson.
Trousdale Estate
David Furnish and Elton own another lavish home which adds to the long list of their houses. This mansion is based on Beverly Hills costing $7.2 million. The grand mansion is located on the Trousdale Estate which is famous for its spectacular homes. All the houses in this locality were developed by Paul Trousdale, a prolific developer hence naming of Trousdale Estates. This home boasts 3-lavish bedrooms and three bathrooms. The house also boasts a swimming pool covered with gymnasium, portico and a lounge area. It also features a separate staff area with its own bathrooms. The flooring on this majestic home is done with white-oak, often seen in Ralph Lauren designs. The best feature of this house is the view of the city. Here, on this locality, you will find quite several celebs such as Sandra Bullock, George Clooney and Julia Roberts.
Old Windsor estate
The famous singer is in every way closer to the royal family. Besides receiving a knighthood from the British queen and picking Royal school in Windsor for their 2-months old Zachary, Elton John also lives in the neighbourhood of the Queen of England. The singer lives in Old Windsor home with his partner. It is in this home that he holds most of his lavish parties and the Tiara ball events in support for his Elton John Aids Foundation. You will be surprised that Elton John got married on this very palatial garden. This house seats on a 37 acres field. It boasts of 8 bedrooms and contains white scented gardens tennis courts and secret gardens. The multi-millionaire music composer had earlier put his items on this home for sale to allow for refurbishment.
Other investments
In a bid to expand his financial reach, Elton in 2011 formed a new music company called the Rocket Music Entertainment Group. Following that, he launched the Rocket Sports Management in 2012.
Elton John AIDS Foundation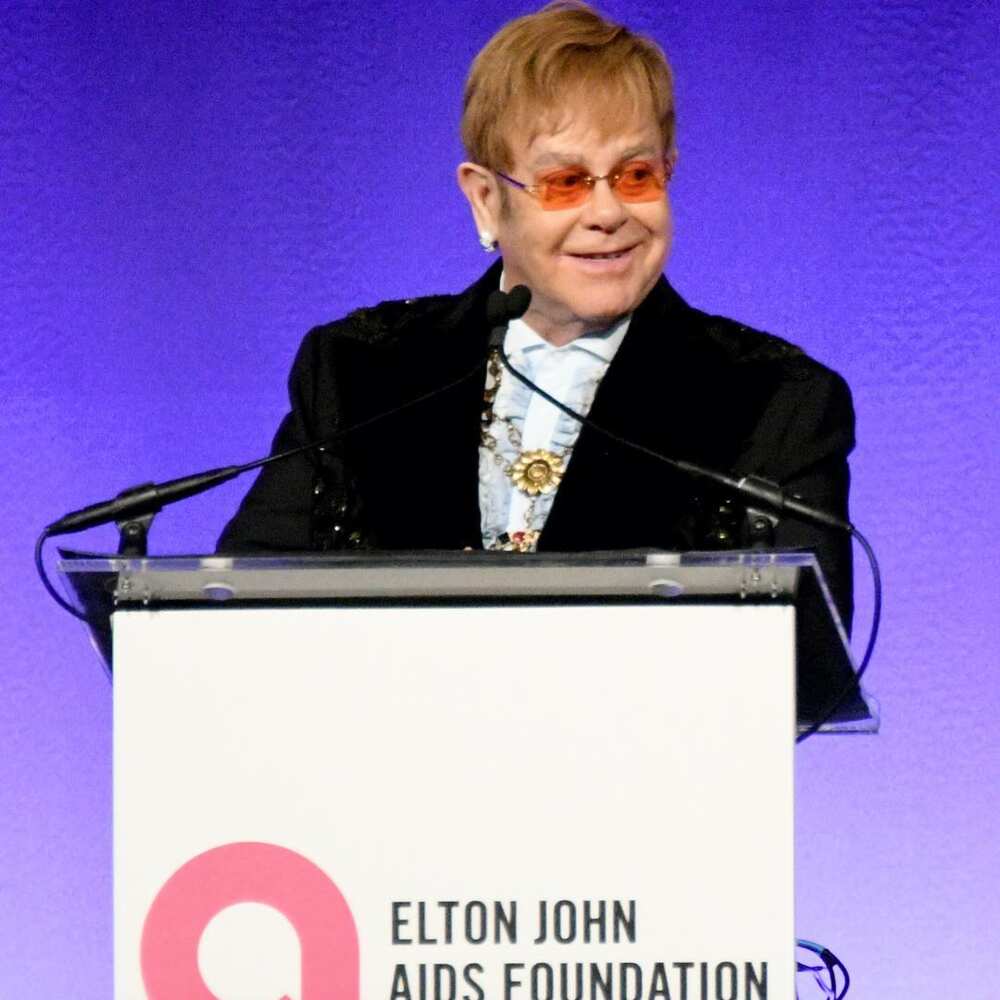 Elton John founded the Elton John AIDS Foundation (EJAF) in 1992 in the US. This foundation offers funds programs for AIDS prevention and provides people living with AIDS health and social services.
Elton John and his love journey
Elton was once married to a beautiful wife. Elton John wife was known as Renate Blauel, a German engineer. The couple met early in 1983 in London. They then wedded on 14th February 1984 in Darling Point, Sydney. However, their marriage did not go far, and they divorced in 1988.
Most people have been wondering when did Elton John come out as gay? In a 1976 interview with Rolling Stone, Elton had publicly disclosed that he was bisexual. However, in 1988, after their divorce with Renate, he openly revealed to the world that he was gay.
In 1993, Elton found love again. Elton John spouse, David Furnish dated his partner for sometime. On 21st December 2005, Elton John partner formed a civil partnership with the singer at the Windsor Guildhall. With gay marriage becoming legal in England in March 2014, the couple got married in December 21st of the same year, nine years after their civil partnership. Elton John's husband is a former advertising executive and now a filmmaker. The two have been blessed with two children.
READ ALSO: What is Leonardo DiCaprio net worth in 2019?
Elton John kids
How many children does the couple have? Elton John children are two, whom they share with his partner. The cute children are Zachary and Elijah. Zachary Jackson is aged eight, being born on 25th December 2010 to a surrogate mother. Their second son is Elijah Joseph Daniel, aged six, born on 11th January 2013. Their parents have always given them a priority in their lives, despite their busy schedules.
Elton John height and weight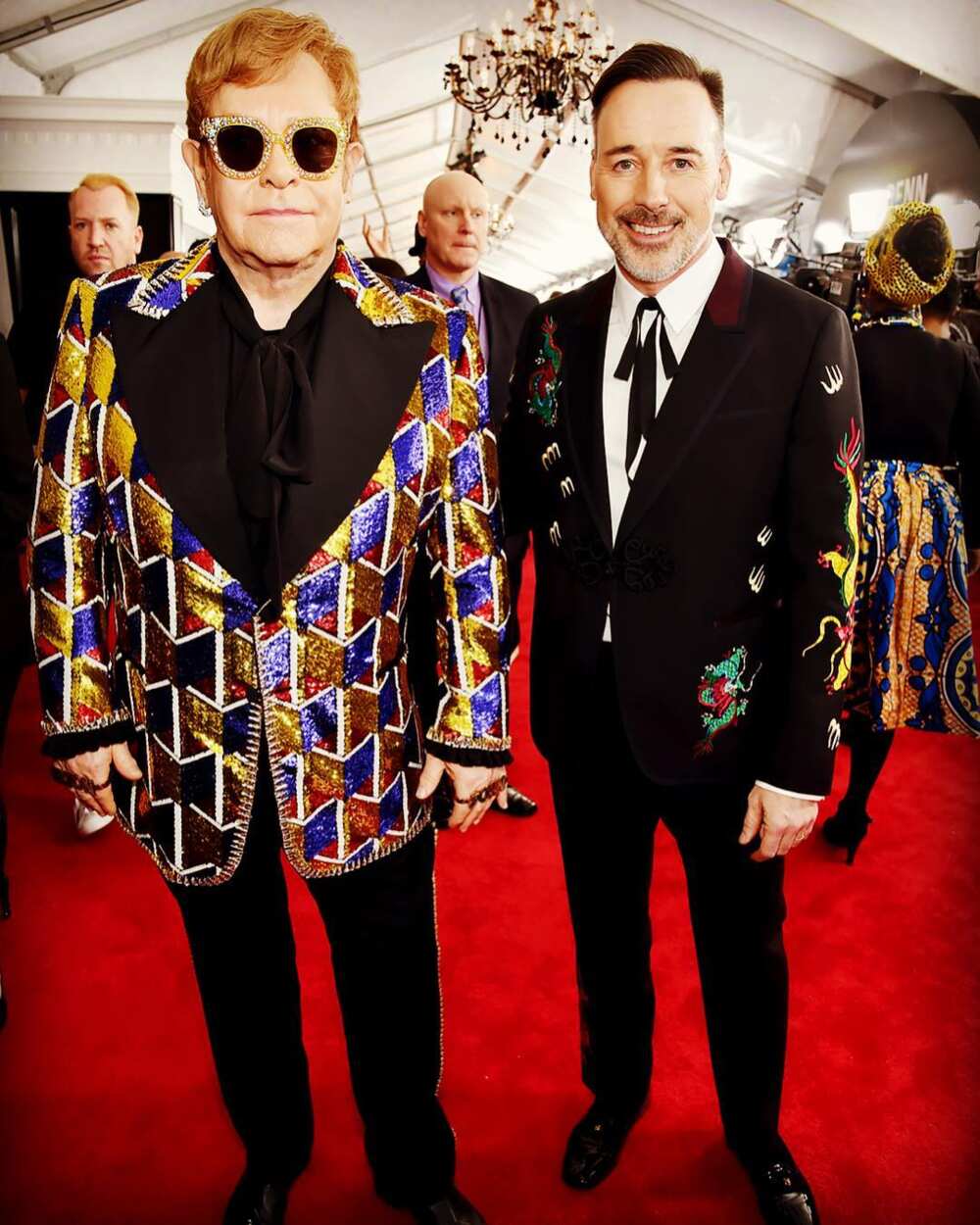 How tall is Elton John? He is 5 ft 7.5 inches (1.72 m) or 171.5 cm tall. He weighs 87kgs (192 pounds). His shoe size is 8 (US).
Good income for the best selling singer
Elton John's music has secured a place in the hearts of many. He is one of the best selling musicians who over a long career is reaping his fruits. He is also one of the best UK selling artists of all time. His success had a very profound impact on popular music. He has contributed to the popularity of the piano in rock and roll. Elton John net worth is for sure admirable and encouragement to most musicians who dream of becoming someone influential in days to come.
READ ALSO: Marcus Lemonis net worth, house, age, wife, family
Source: Legit.ng