Promoting Cultural Diversity: 9 Times Ebuka Obi-Uchendu Served Looks in Traditional Attire
Ebuka Obi-Uchendu, a popular Nigerian TV host and fashion icon, has not only made a name for himself in the media industry but also in the fashion world.
His style is not only fashionable but also represents his culture and heritage.
In his numerous appearances on TV shows and events, he has showcased Nigeria's rich cultural diversity by wearing traditional outfits from different Nigerian tribes.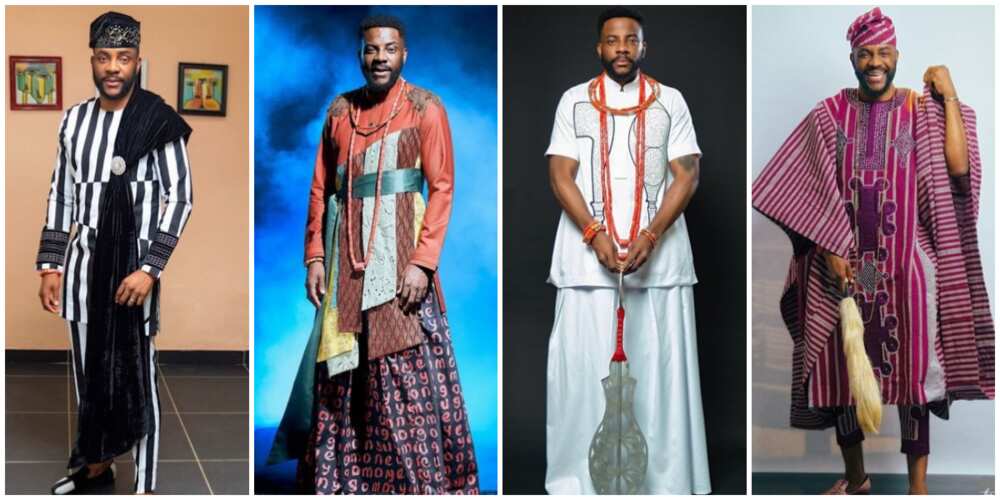 In this article, we'll take a closer look at nine times Ebuka represented Nigerian tribes with his stunning attire, and how he's become a powerful ambassador for promoting cultural diversity in the country.
Check them out below:
1. Ebuka in Itsekiri ensemble
Ebuka looked regal and impressive in a traditional garb inspired by the Itsekiri tribe of Delta state.
The look featured a maxi print skirt worn underneath a tunic cinched at the waistline with a belt. He accessorised with long coral beads around his neck.
The look was put together by the Nigerian fashion house, Ugo Monye.
2. Ebuka in Igbo attire
Ebuka never misses an opportunity to showcase the beauty of his tribe, the Igbo.
Here, he donned a white outfit and draped the famous Isiagu fabric over one shoulder.
3. Ebuka in Idoma garb
Here, Ebuka paid homage to the Idoma tribe of Benue state.
He sported the red and black attire fabric the Idomas are known for. The attire featured a one-shoulder drape detailing.
4. Ebuka rocks Fulani look
The outfit consisted of a straw-like hat, a patchwork dashiki with embroidery paired with embellished pants, and a stylish walking stick with chimpanzee carvings.
For this look, Ebuka went full northern as he rocked a stunning Fulfulde-inspired ensemble created by the talented designer, Ugo Monye, who was also responsible for his 2017 iconic agbada, which he rocked to Banky W and Adesua Etomi's wedding.
5. Ebuka in Yoruba agbada
Ebuka and agbada attires go together like fish and chips!
Here, he sported a striped purple agbada ensemble together with a cow nail.
6. Ebuka in Efik attire
Here, Ebuka sported the popular Efik garb, which comprised a wrapper, a white shirt and a waistcoat matching the cap and shoes.
He also accessorised with a walking stick.
7. Ebuka in Hausa babariga
The actor's outfit here was a nod to the Hausa tribe of Nigeria.
The look featured a bedazzled blue babariga (Hausa version of agbada) over a blue two-piece in a lighter shade of blue.
8. Ebuka in Benin attire
The media personality stood tall in this regal ensemble inspired by the Benin people of Edo state.
The look featured a shirt and a maxi wrap skirt. He wore long coral neck beads, a hand fan and some coral bracelets.
9. Ebuka in Tiv-inspired look
Here, the media personality rocked a black and white striped two-piece ensemble.
The look featured a dramatic velvet draping over one shoulder, inspired by the Tiv people of Benue state.
Men's style: Get inspired by Ebuka, 6 other celebs in stylish traditional fashion looks
Nigerian male celebrities have been a source of inspiration when it comes to traditional fashion, and in this article, Legit.ng spotlights some of them.
From the red carpet to their everyday wear, these stars have been pushing boundaries and setting trends with their unique and stylish traditional looks.
As fans, it's always exciting to see our favourite celebrities not only embracing their culture but also expressing it through fashion.
Source: Legit.ng