Girl Identifies Make of Designer Bags While Blindfolded, Netizens React: "Does She Go To School?"
A video of a young girl showing how she identified different luxury designer bags has left internet users talking
In the trending video, she is seen blindfolded while using her hands to feel and recognise the bags
Several people who saw the video have taken to the comment section to share their thoughts about it
While some people go to fashion school to learn these things, one young girl has gotten first-hand experience with designer bags and how to tell them apart.
Love Luxury is a store owned by Adam and Emily, and together with their daughter, Moo, keep internet users entertained with content about luxury designer items.
In one video, little Moo is seen in a blindfold, showing just how deep her knowledge of some designer bags is.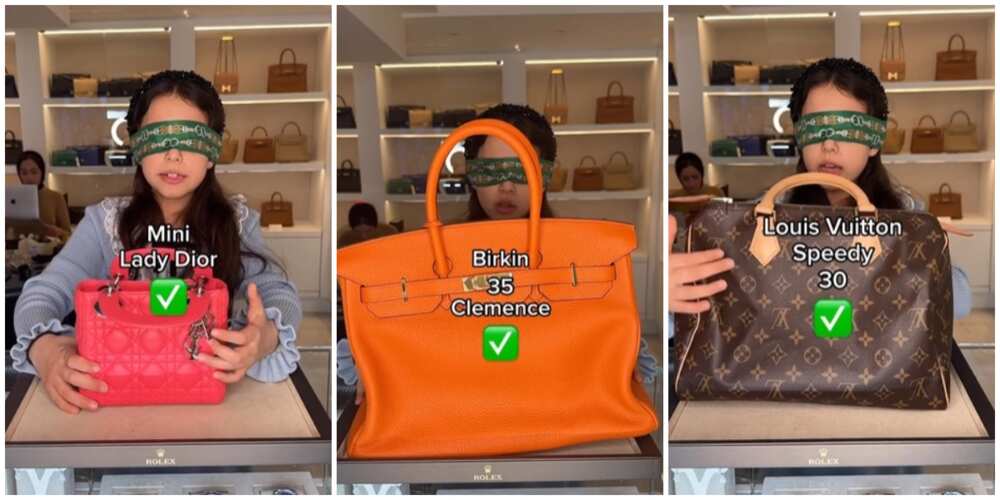 In the clip posted on their page, @loveluxury, the little girl is seen identifying different luxury designer bags.
Using just her hands to feel the features of the bags and the shape, she guesses each brand correctly, down to the model.
Check out the video below:
Mixed reactions trail video of little girl identifying designer bags blindfolded
neh_kale:
"Wish she could answer same in school examinations, I wonder does she go to the school to study?"
nancybaybreeze12:
"So disturbing. How hope she's getting the proper education and is learning what's really important for a happy, healthy life."
holi.bren:
"I couldn't guess the bags and I was looking at them."
angaleepandya:
"Love a girl who knows her bags ❤️"
ddstoria2:
"I see no wrong. She was raised to recognize things deemed relevant in her community/lifestyle…. Just like I was raised to be able to smell the difference between beans & franks and salmon cakes to each their own. Some learn cars by the engines sound, whatever is relevant in your upbringing teach them well."
cvetenedelkovski:
"She's around these bags everyday I suppose it's normal for to know what they are."
londons0urfac3:
" Well done! I see no problem with this video - she's just familiar with what her parents work with. Just as a kid growing up in a restaurant might be very familiar with the tools/ ingredients used in a kitchen?"
justanothersmartblonde:
"Some comments are so much fun to read. Especially those stating that she's spoiled and uneducated (and I really would like to know where this comes from as the video is not intended to show her IQ) just because she knows luxury products she has at home…I honestly would like to find a parent who wouldn't spoil their kids if they only could afford it."
Celebrity style cam: BBNaija star Mercy Eke spots N1m designer bag in new photos
When it comes to the luxury side of life, Mercy Eke is never afraid to splurge on herself. A while ago, the Big Brother Naija 2019 winner took to her Instagram page of over 3 million followers to share some spicy new photos.
In the snapshot, the curvaceous brand influencer was seen in a Fendi FF romper fit which she paired with a black furry hat, matching her black ankle boots.
Spotted in her hand was a cute bag also from the luxury designer brand.
Source: Legit.ng