What I Ordered: Video Shows Transparent Nike Shoes Man Wanted And What He Got
A video trending on TikTok shows the type of a shoes a man enfed up after ordering a pair of sneakers
In the video, a pair of transparent Nike shoes can be seen which is a far cry from what the customer got
Several internet users who saw the video have taken to the comment section to share their thoughts
Online shopping disasters continue to trend and while some can be heartbreaking, others turn out to be pretty hilarious.
A case in point is a video shared on TikTok which showed the shoes a customer wanted and what he got.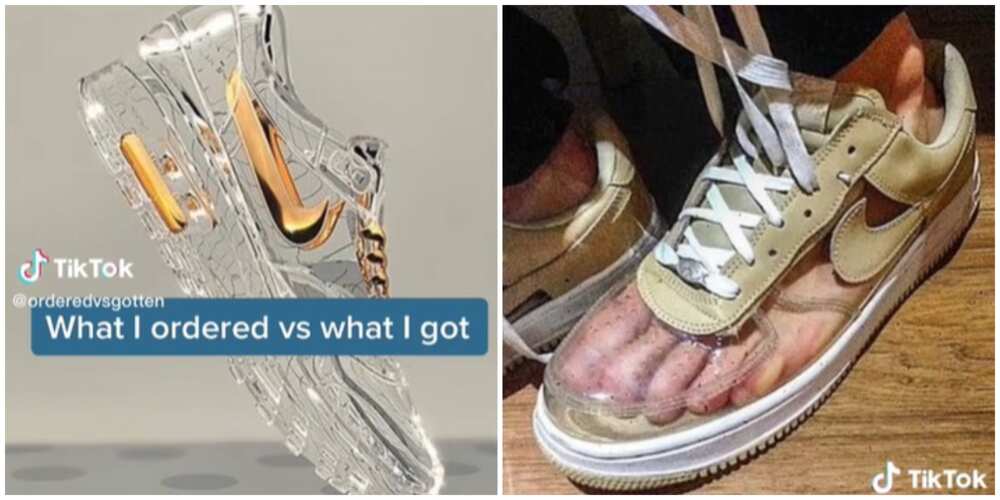 At the beginning of the video, we see a pair of what appears to be transparent Nike shoes.
While they appear sleek and ethereal, what the customer gets is anything but that.
Check out the video below:
Internet users react to man's online order
AfroAfro89:
"they are exactly the same."
user9773008032974:
"Never order something that looks too good to be true."
Tendie ✨:
"It looked too good to be true to begin with."
Ahmed Samateh:
"Socks gonna make em look better."
Zia❤️‍:
"what did u expect??"
I_am_Lee:
"Y'all just like impossible things!"
MB:
"Why would you want that?"
salomewilhase:
"Cinderella vibess just in a takkie form."
Rainbow:
" Sorry to hear bt its funny as hell."
Bizarre fashion designs: Video of funny-looking pointy shoes amuse internet users
As fashion continues to evolve, people are getting pretty daring with their imaginations.
A video trending on social media has left internet users laughing as it shows a rather eccentric shoe design.
The video posted on TikTok with over 4 million views on the platform shows a pair of blue shoes on the floor. Looks like they were made of steel as it gave a strong sound when hit on the floor.
Reactions as model falls down after struggling to walk in high heels: "Why can't they provide normal shoes?"
Another model recently suffered a mishap at a fashion show and the video has got people talking.
Luxury fashion house Valentino had its Haute Couture SS23 collection recently which saw a model tripping and falling during her catwalk.
A video posted by @lessiwore sees the model in an off-white embellished dress strutting in a pair of black pumps. However, it doesn't take long before the heels give way and the model falls on the runway.
Source: Legit.ng