Top 40 kaftan styles for men to wear in 2023: classic and modern pieces
Gone are the days when a black suit was the only definition of a stylish man. Today, it is not a surprise to see men rocking different traditional attires with a touch of African materials like Ankara. Men now pay more attention to their appearance and go for quality wear that turns heads. The kaftan style for men is among the leading trends today.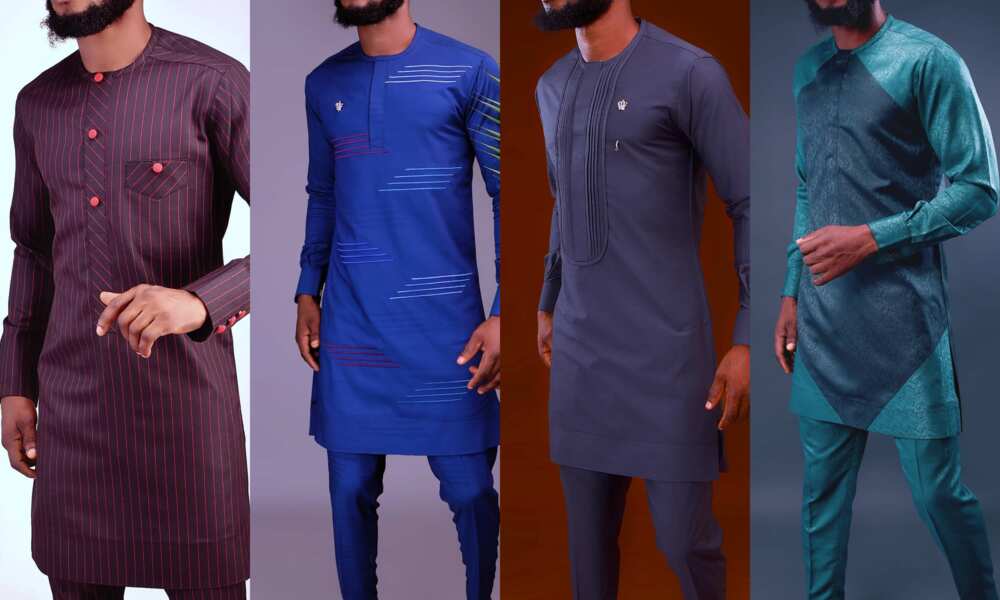 Kaftan is a long, loose-fitting attire with long sleeves that runs to the knees or ankle length. Some kaftans also look like shirts with sleeves that fall slightly below the elbows (three-quarters). This simple, comfortable, and stylish garment is popular in West Africa and was originally designed for Hausas. Though, it is slowly making its way to other parts of the world, and it is now common to see men wearing modern Hausa male kaftan designs.
Top kaftan style for men to wear
Among the things that set kaftans apart from other clothes are their mature look and versatility to fit both official and casual occasions. If you are looking best design that will never go wrong with your height, age, or event, here are the best kaftan styles for men to consider.
Latest kaftan styles for men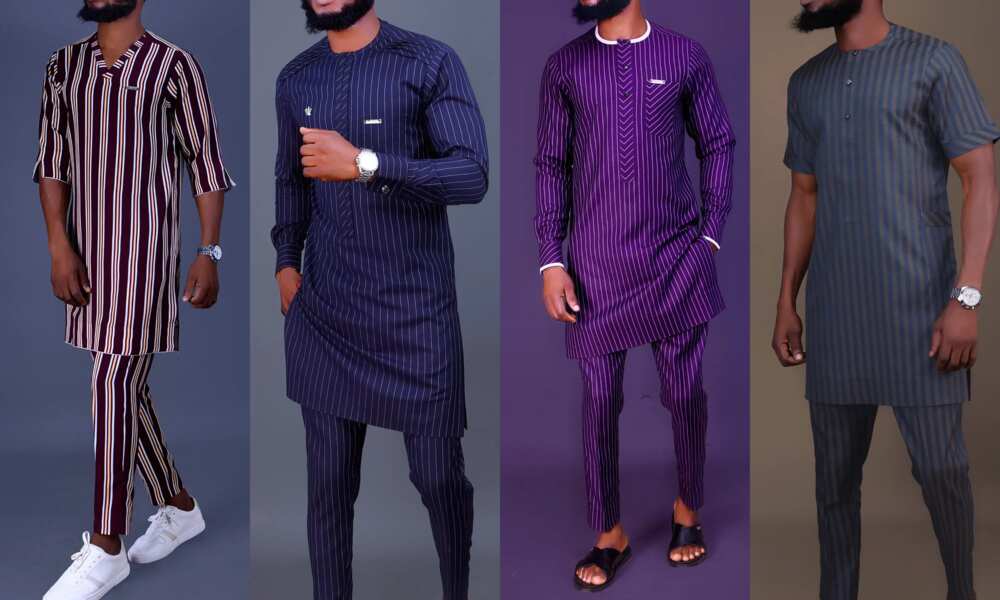 Kaftans are no longer just limited to women's fashion; they have also become increasingly popular in men's attire. The latest kaftan styles for men offer a perfect blend of comfort and style, making them a go-to choice for various occasions.
From traditional and classic designs to more contemporary and modern twists, men's kaftans come in an array of fabrics, colours, and patterns, allowing men to express their unique fashion sense.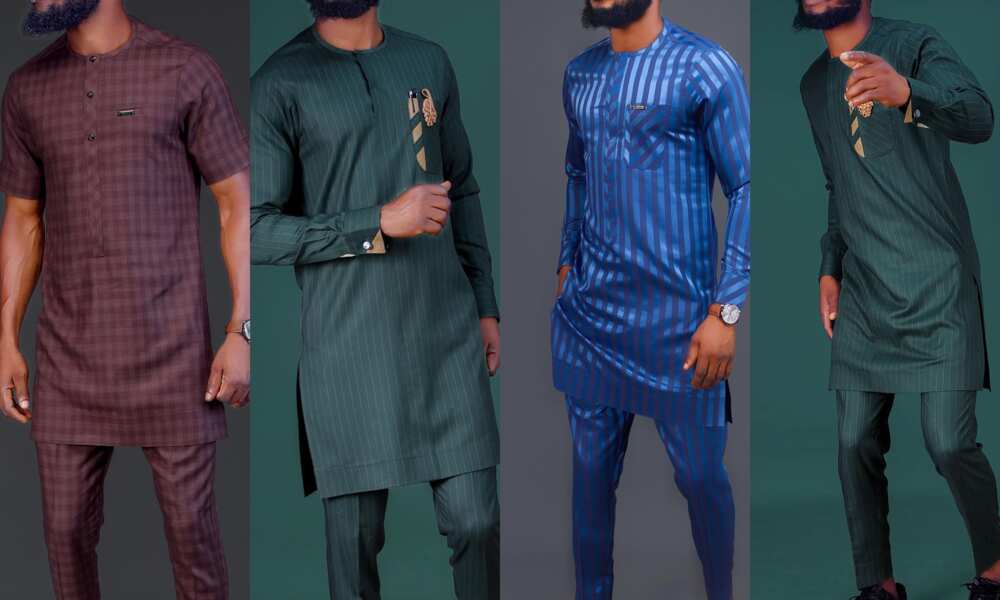 Men can also buy plain or multicoloured kaftans, especially those that match their intended themes. Also, while stylish guys can opt for classic Ankara kaftan styles, those who value simplicity can go for simple, stripped kaftans.
Senegalese kaftan styles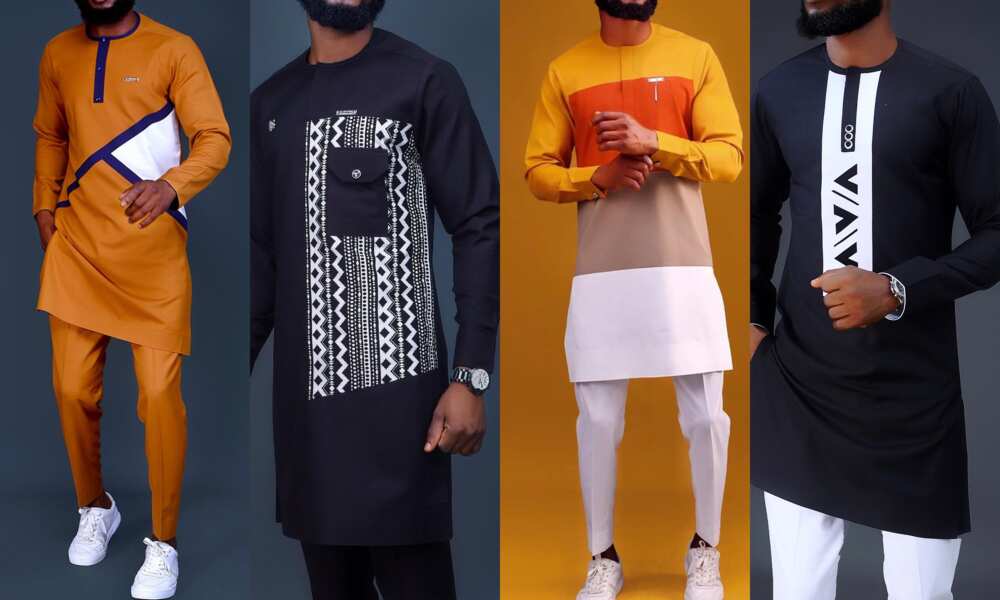 Being a long-time French colony, Senegal has most of its cultural aspects influenced by the French, including fashion. This has seen a mixture of Western and traditional motifs in its fashion designs. Senegalese kaftan styles are good examples.
Senegalese kaftan, popularly known as boubou or bubu, is a traditional attire worn by Senegal men. It is characterized by long sleeves and an ankle-length bottom and is worn as a pullover robe.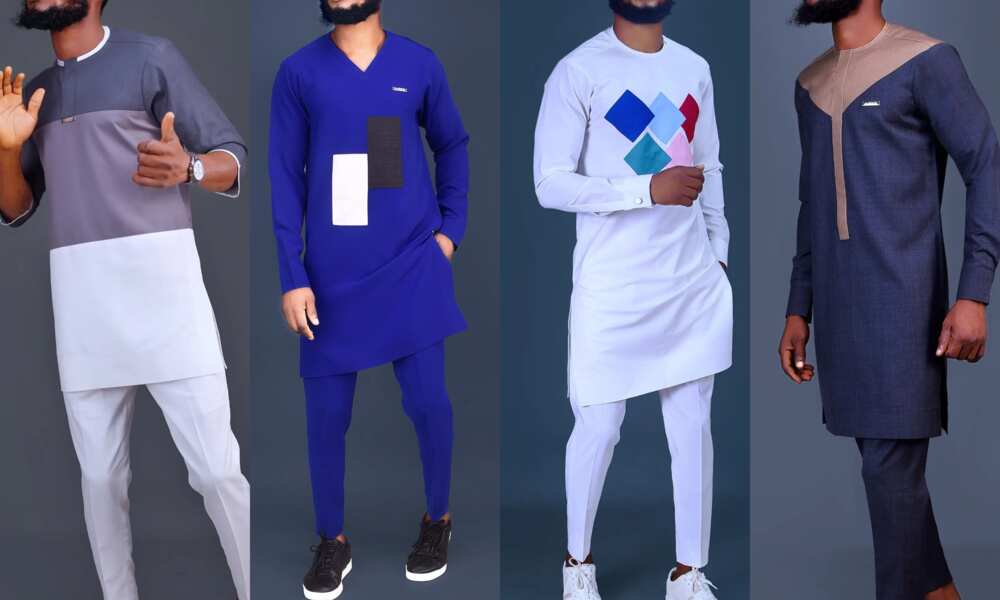 Common Senegalese kaftan styles include dashiki, which has short leaves, and grand boubou. When worn with matching pants, it is called a kaftan suit. A white kaftan, commonly known as Buba and wrapper set, is worn by Senegal men during weddings.
The attire is an equivalent of the tuxedo worn by African-American grooms during church weddings. Due to its adaptability, a Senegalese kaftan can be worn by Christians, Jews, Muslims, and even those that value African traditional religions. Regarding styling, Senegalese kaftans can be paired with drawstring pants (tubay) and a Kufi cap.
Plain kaftan styles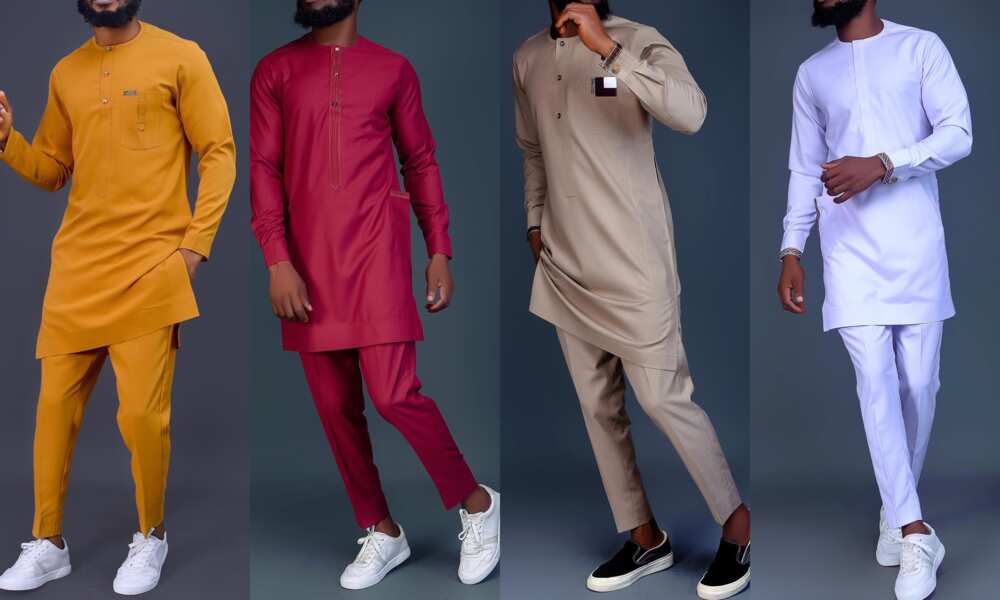 Plain kaftan styles are ideal for those looking for ultimate comfort. These garments have no patterns, making them a fancy style to pair with anything. They are also unrestrictive; hence, they can be worn anywhere.
The modern kaftan styles for men often feature sleek and tailored silhouettes, enhancing the wearer's elegance and sophistication. They are versatile enough to be worn casually or dressed up for more formal events.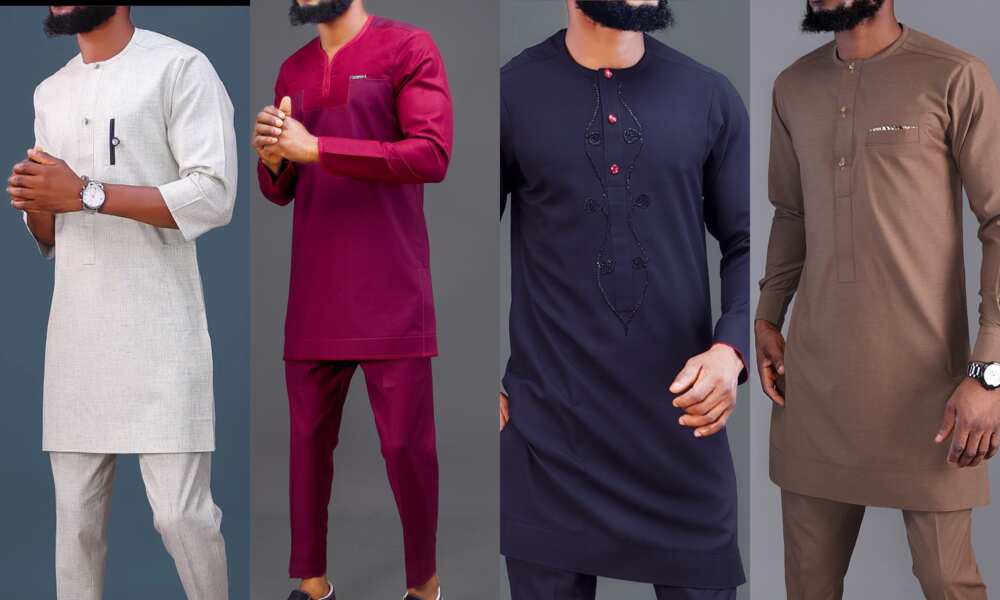 Kaftans for men come in different colours and sizes, including long and short styles. Whichever style one chooses, they will never go wrong with these outfits.
Ankara kaftan styles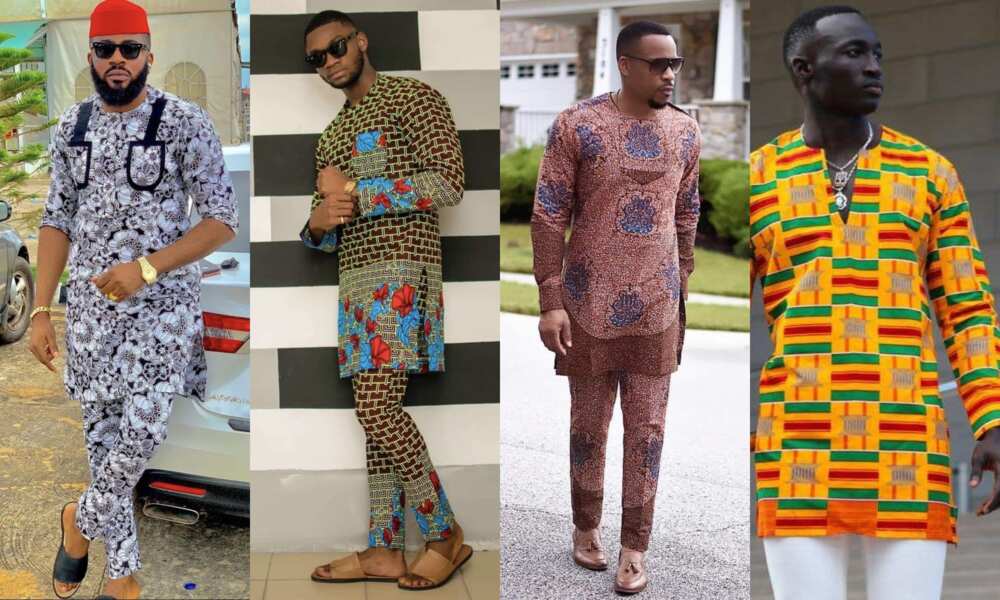 Ankara kaftan styles offer the easiest and perfect way to customize your looks. These attires combine colourful Ankara fabrics with long free-flowing designs to create comfortable and stylish garments.
They also come in combinations of different colours, such as blue, animal prints, green, and red. Whether you want the best cloth for a corporate meeting or a casual event, these styles will always redefine your appearance.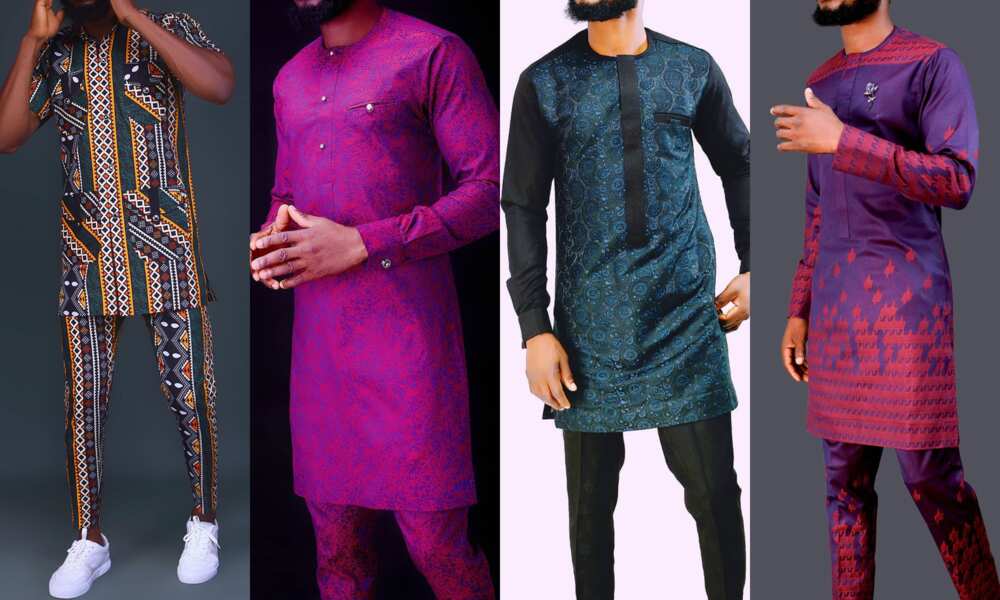 Popular Ankara kaftan styles include long and short-sleeved, sleeveless, short, long, and three-piece designs. You can also get V-shaped or round necks or open fronts with embroidery buttons.
Ankara kaftans can also be paired with Ankara shoes, sandals, and Ankara caps. When attending a traditional event, you can also introduce a matching walking stick.
Tailoring Hausa male kaftan designs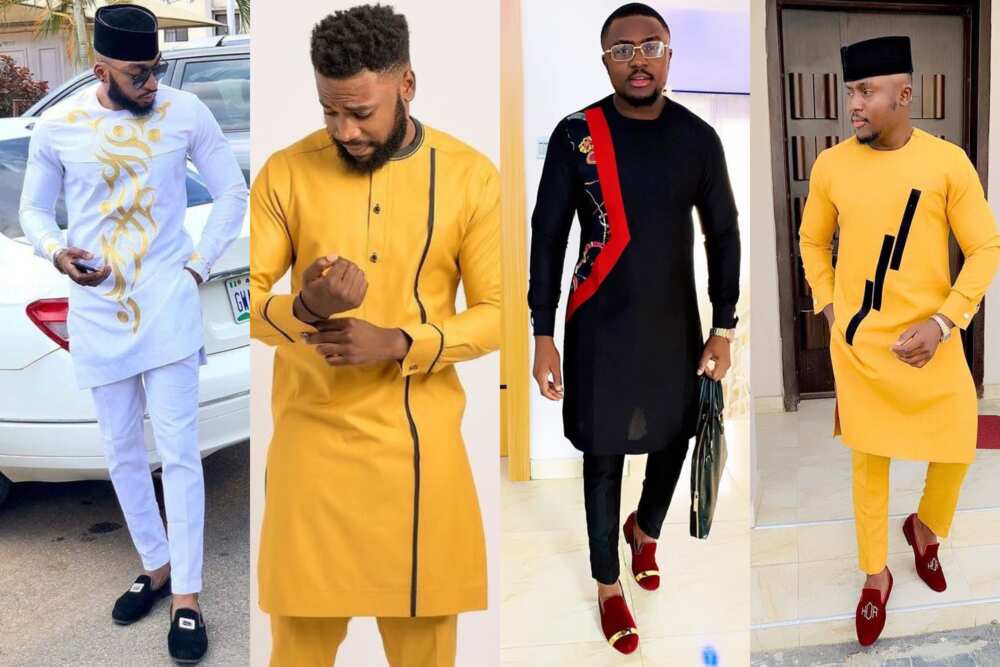 Being predominantly Muslims, Hausa men view Islam as their way of life and do everything to please Muhammad, including how they wear. Regarding their fashion, Hausa men are keen haters of Western attires, though they periodically adopt native clothing designs from Arabian and Islamic countries. This significantly influenced their original kaftan attire, currently common in Northern Nigeria.
Modern Hausa male kaftan designs are characterized by free tops with embroidery around the neck and chest area. They also have matching trousers (Sokoto) made from the same material and usually fastened with a rope.
Men can also wear them for casual, semi-formal, or formal occasions, with or without a cap (fila). Since it is regarded as a native attire in the whole of Hausaland, Hausa male kaftan is worn by everyone, from street beggars to highly recognized industrial figures.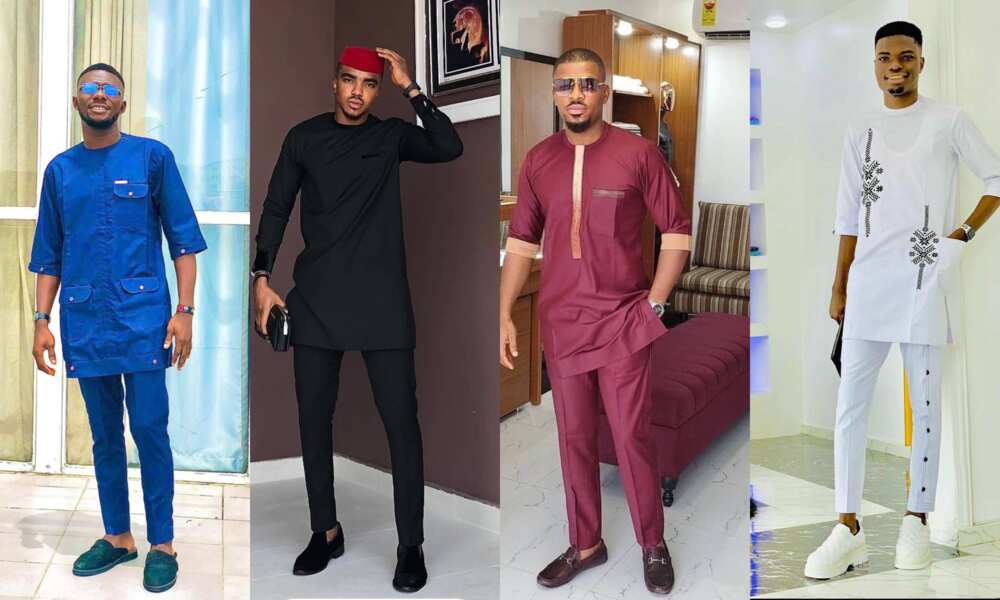 Hausa male kaftan designs offer a lot of creativity, and men can buy ready-made clothes or dictate the designs they prefer. They also welcome different colours, fabrics, and patterns that fit the wearer's personality and taste.
Kaftan style for men has been around for decades and is still making strides in the fashion industry. From long-sleeved to short-sleeved, neutral, monochrome, and stoned Ankara kaftans, these attires give the wearer a wide range of possibilities to decide what to wear when attending any event. They are also comfortable and easy to pair with any accessory to attain the intended theme.
Legit.ng recently published an article with interesting short dread styles for men to try out. Short dread styles for men have become a popular and stylish choice for those seeking a unique and low-maintenance hairstyle.
They can be versatile, with various options for customization. Men can opt for classic short dreadlock styles, where the hair is tightly coiled and neatly groomed. Alternatively, they can experiment with textured or messy short dreads for a more relaxed and edgy appearance.
Source: Legit.ng