Men With Heavy Stacks of Jewellery Leave Internet Users Amused: "Make Dem Nor Waka Pass Magnet"
A video currently trending on social media has left many people amused as it shows some fashionable men on a street
In the now-viral video, the men are seen each spotting several stacks of silver-coloured jewellery
Many people who saw the video have taken to the comment section to share their thoughts
More men are becoming bold when it comes to making fashion statements and it is interesting to see.
A video posted by @mufasatundeednut sees a group of men in an entourage strolling down a street.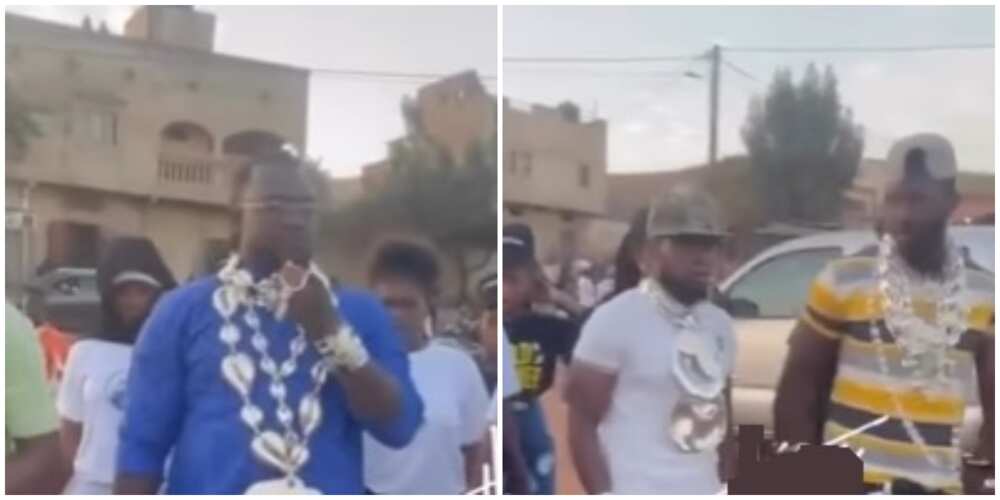 What caught the attention of people was the men's choice of jewellery. Each man was seen covered in heavy silver-coated jewellery around the neck.
Thye also had some on their wrists and around the waist.
Check out the video below:
Internet users react to video of men rocking heavy stacks of jewellery
obaksolo:
"Association of Pandaa Users"
official_singah:
"Iron men "
pappythrill:
"They just damaged their wives cooking pots. ‍♂️"
pero_jayy:
"New set of werey"
thelordmayorfrank:
"Make dem nor waka pass magnet "
zubylord101:
"Make dem no mistakenly near magnets o the magnet go just draw them closer."
priscillia_oluchi_:
"Set awon Pablo. Lord of the rings! Oshey, rich kids! ‍♀️‍♀️"
ilove_cynthia:
"They are looking like cavemen that saw paradise "
iamehiphil:
"Them say na pot company manufacture their ice "
kunta.kite:
"If thunder strike is all over."
Man shows off outfit made from wood
With fashion and style, creativity continues to abound, some more peculiar than others.
TikToker Abdulwahabmisbahuchampi0 posted a video of a man reportedly spotted in Kumasi, Ghana, wearing a rather interesting ensemble.
In the video, the man is seen dressed in a muddy brown fury ensemble. However, on a closer look and as stated in the caption, the outfit is actually made from wood shavings, including the sandals on his feet.
Internet users impressed with video of female shoemaker
While the shoe-making industry in Nigeria is a male-dominated one, there are some talented women slowly making a name for themselves.
Annysfootwear is a Port Harcourt shoe brand run by a lovely lady whose videos have gone viral on social media.
One of the videos sees the lady in a blonde pixie cut, working on some shoes in a diligent yet classy fashion.
Source: Legit.ng