Wedding Fashion: Internet Users Gush over Lady's Outfit Choice for Her Court Union
When it comes to fashion and style, there are people to whom it comes naturally and effortlessly and a Nigerian bride identified as Amarachi Okereke is clear proof.
The caramel beauty made a gorgeous bride for her court wedding ceremony as she shared a video of herself in what appears to be a two-piece pant set.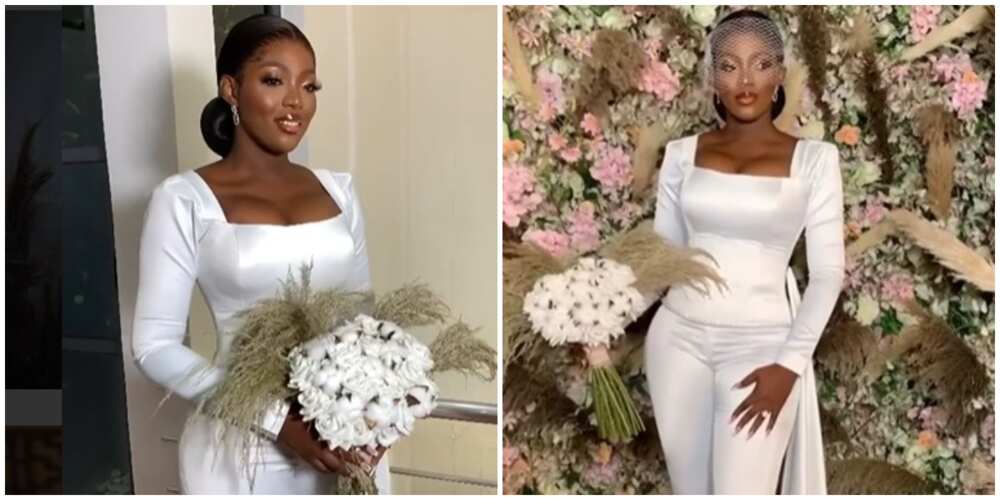 For civil wedding looks, it may seem as though designer, Veekee James, is slowly taking over the market as her brand was behind Amara's look for her big day.
The outfit which had a small train did justice to the glowing bride's silhouette as she posed for a video holding her lush bouquet.
Although the plain outfit was without any embellishments, the look was anything but plain as it screamed pure class and elegance.
Reactions
pweedyjoy:
"Sooo beautiful ❤️"
banksblue_events:
"The bouquet so lush."
africanxstacy:
"Simplicity at it's finest...this is so me"
essentialsandwearables:
"She ate it all. Sooooo beautiful"
22jewelryco:
"This is so beautiful ‼️"
myrcelina:
"I absolutely love it "
thefancyjeweller:
"This is so gorgeous and perfect ❤️"
nnee_omah:
"Toooo hot"
miz_joykevwe:
"So beautiful ❤️❤️❤️❤️❤️ let hubby come so i can wear this too."
Beautiful court wedding look inspirations
For many women, a court wedding doesn't necessarily require much dressing up like that of the white wedding ceremony. However, this is where many brides get it wrong as the line between keeping things toned down and not bothering to put an effort gets blurred out.
Courthouse weddings usually call for a tone-down, more civil look. Hence, back in the days, couples usually opted for suits as their official wedding look. Well, not anymore.
Things have since changed - for the women at least. Legit.ng has compiled a list of gorgeous wedding outfits for the intending bride who wants to look stylish for her big day.
Beautiful lady stuns in simple look for her civil wedding
For civil weddings, intending brides do not have to go overboard nor be underdressed for the occasion as finding a balance right in the middle can sometimes be the answer to the perfect look.
This was undoubtedly the case for a Nigerian bride identified as Lammy whose photos have gone viral on social media.
Although pantsuits and jumpsuits seem to be a popular choice for civil looks, Lammy opted for a dress instead - and the result is mindblowing.
Source: Legit.ng