Nigerian Wedding Fashion: 10 Asoebi Ladies Step Out in Head-Turning Dresses
Until a new trend pops up and overshadows every other trend, the corset look will always make a feature at every weekend owambe.
Just like every other weekend, this past one saw a lot of ladies turn up in style for their friends' wedding, each belle looking her very best.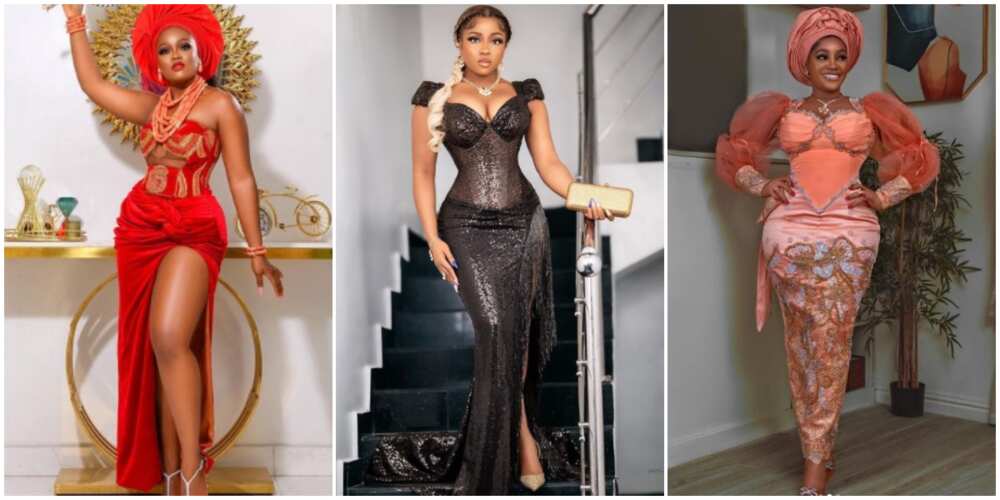 As is the case for 2021, this curated list features ladies in corset and high-opening dresses that definitely left heads turning.
Well, if you have that wedding party coming up soon and have no idea what style to go with, then you're in the right place.
In this article, Legit.ng compiles a list of ten drop-dead gorgeous looks to choose from.
Check them out below:
1. Veekee James in this mindblowing black garb
2. Cee-C with the Igbo princess vibes
3. Bring on the drama with this train
4. How you slay when you're the sister of the groom
5. Make them go green with envy
6. Chic and elegant
7. Bring on the sunshine in this yellow fit
8. Blush pink for the African Cinderellas
9. Command attention in this regal dress
10. Get yourself a piece of the corset trend pie!
Fashion fails
Every weekend promises the thrill of wedding parties and the likes filled with beautifully dressed ladies in their various asoebi outfits. However, not everyone tends to impress people with their looks.
A while ago, Legit.ng had top Abuja fashion stylist, Opeyemi Mimi Ogunbowale, share tips on how to look classy at weddings without revealing too much.
Well, if the comments on these trending photos are anything to go by, it appears there are some people who didn't get the memo - or are simply living by their own rules.
Online shopping fiasco
If you thought that the only thing constant in life is change then you most definitely thought wrong. Standing tall beside change is the online shopping disappointments alongside 'breakfasts' served by tailors.
In this story, however, the focus is on online vendors marketing things they do not have in store.
Entrepreneur, Hustlersquare shared a post about a lady who had ordered a dress online with the intention of wearing it to a wedding ceremony that she was supposed to attend. However, what came in the delivery package was not what she had hoped for.
Internet users shared their thoughts on what could have possibly gone wrong with the order.
Source: Legit.ng