Celebrity Style Recreation: Tacha's Look Gets Replicated by Lady, Nigerians Vote Down
Big Brother Naija reality star and top brand influencer, Tacha, is one Nigerian celebrity with a huge, cult-like following both on and offline, and this reflects in how often she is emulated by her fans.
Celebrity style recreation is one trend that is hot right now and quite a lot of people have jumped on this fashion train.
While there are those who pull off these recreations effortlessly, there are those who leave people scratching their heads.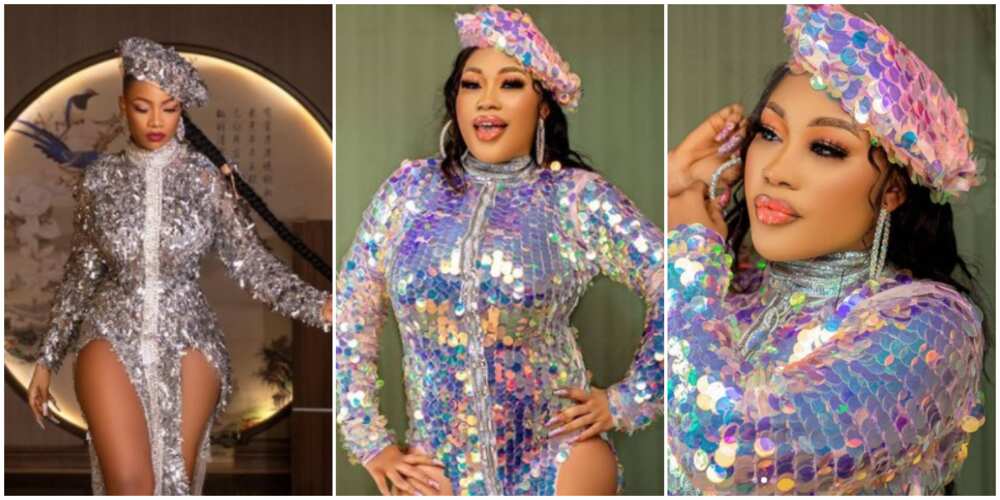 A nod to Tacha
A while ago, Tacha brought some shine to her timeline in a blinged-out sequin double-slitted dress and a beret, that had her fans gushing over with love.
Well, it didn't take long before a fan recreated the look, adding a bit of colour to hers.
See photos below:
Reactions
Looks like the recreation did not impress a lot of people as they gave it a thumbs down.
mf_fashion_mall:
"lol yes ... but hell Nay‼️"
_kingbumi:
"A thin line between class and clown . Gurll it's not Halloween yet."
iam_nnenne:
"Recreation made a mistake in her drafting and cutting. And also, her choice of material to go with her sequence was poor, hence nay."
mz_didi_:
"Hello disco ball "
thesonita_luxury:
"This style is made for bbl body or almost a bbl body it does sit well on her and the choice of fabric is not great."
pharthyma:
"Low budget."
lifeofmunachi:
"Lmao is this a joke?"
adekemisola_mi:
"D recreation be like disco light."
makiie_:
"People should make what fits their body type."
noella_blink:
"The shape is a no for the recreation."
Nigerians react as lady receives ill-fitted dress from tailor
There are many great disappointments in life and not having a good tailor or fashion designer in your corner will most certainly have you experiencing some pretty big let-downs, just like the lady in this story.
Sometimes, it is easier and often cheaper to have stylish looks rocked by celebrities recreated by your own tailor rather than take it to the original designer.
While a lot of people tend to get away with recreated looks, there are those who suffer major disappointments which more often not, tend to be an eye-opener.
The lady was recently stunned after she took delivery of a dress she commissioned her tailor to make.
Source: Legit.ng