Black Sherif: Ghanaian Rapper Looks Sleepy Whiles Standing, Video Sparks Reactions
Black Sherif in a video was standing sipping a smoothie and looking sleepy, causing a stir
The musician looked like he was moving in slow motion as he sipped the drink with his eyes having a dazed look
The video was shared on TikTok, and in the comment section, Ghanaians wondered what was wrong with some speculating that the musician could be intoxicated
Ghanaian musician Black Sherif, in a video shared on TikTok, was captured standing, sipping a smoothie, and appearing noticeably drowsy, prompting concern among fans.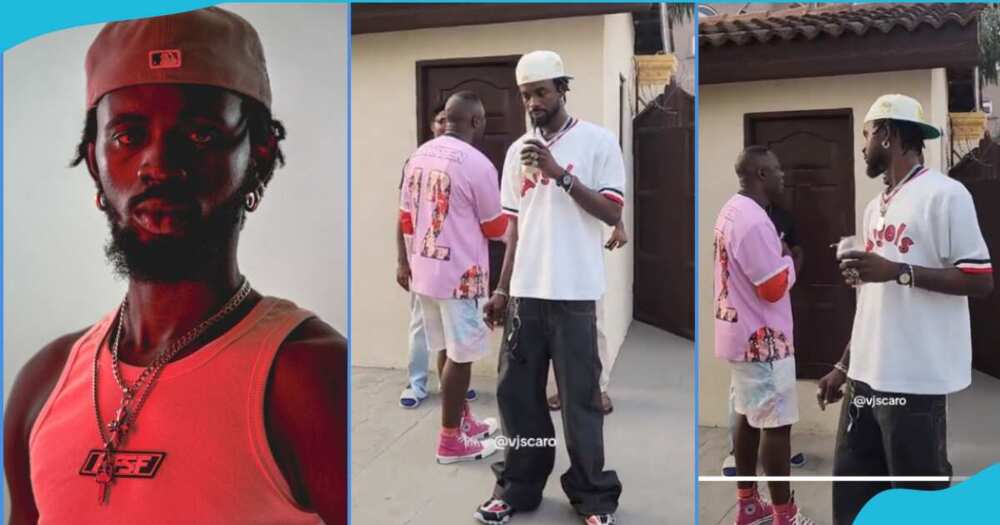 The footage, which quickly went viral, showed Black Sherif seemingly moving in slow motion, his eyes wearing a dazed expression as he leisurely sipped the drink. The video has sparked a flurry of comments from Ghanaians, with many expressing their confusion and worry about the musician's well-being.
As the video circulated on TikTok, numerous users took to the comment section to voice their concerns, with some speculating that Black Sherif may have been under the influence of substances. The artiste's sluggish movements and the dreamy look in his eyes have fueled these speculations, leading to discussions about the possible reasons behind his seemingly altered state.
Netizens have shared their thoughts and opinions in the comments section of the video.
Black Sherif sparks reactions
Legit.ng gathered some reactions from social media users.
Daakyehene Qwabena commented:
The voltage your man dey carry de3 Akosombo slf no fi come close
LIL CLIENT said:
Our boss dey different planet ❤️
FOCUS wrote:
At this moment he is equal to the most high
Bra Corby said:
Blacko is four hours ahead of us
4cides reacted:
I think blacko has taken something see his face
vëñdëttã Yøüñg Dc commented:
He's got the angels in the clouds and only him can see them
Black Sherif: New Blacko lookalike pops up; leaves many confused in video
In a related story, a Ghanaian man who shares a resemblance with musician, Black Sheriff tried to copy his antics in a video.
The young man tried his best to imitate Black Sherif and left many peeps confused as he performed Sherif's 'Always' verse to perfection while mimicking his idol's antics.
The video stirred reactions from netizens.
Source: YEN.com.gh