Justice for Mohbad: ID Cabasa, OAP Clamour for Late Singer's Dad's Arrest, Fans Say "He Is Evil"
Prominent Nigerian music producer ID Cabasa and seasoned radio presenter Oriyomi Hamzat have lent their voices to the justice for Mohbad movement
The industry heavyweights pointed out that law enforcement should have detained both Naira Marley and the deceased's father for thorough questioning
Recall that Mohbad's father had reportedly defended Naira Marley in the face of allegations linking him to his son's untimely death
Ace Nigerian record producer ID Cabasa and veteran radio presenter Oriyomi Hamzat have expressed outrage over late singer Mohbad's quick burial.
The music executive noted that the police should have detained Naira Marley and the deceased's father for questioning about the tragic incident.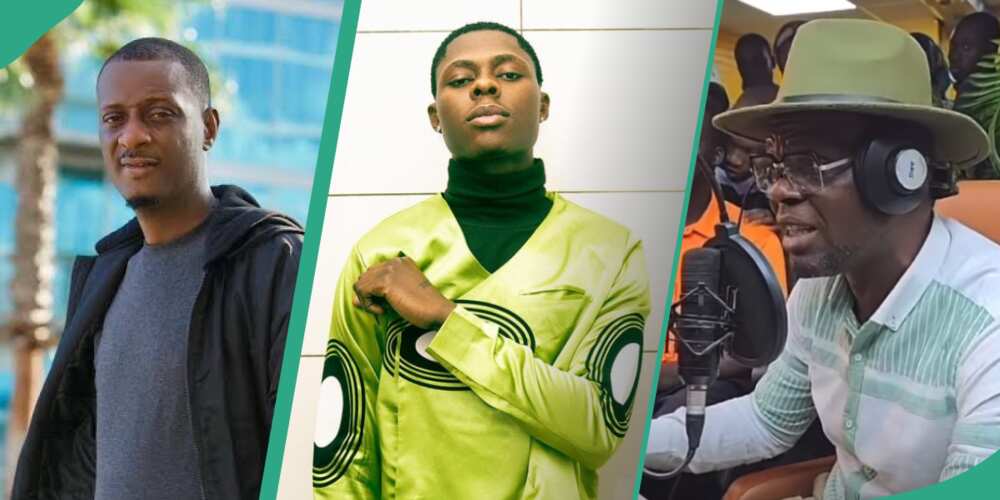 Recall that a leaked audio recording revealed Mohbad's father vehemently defending Naira Marley in the face of allegations linking him to his son's demise.
ID Cabasa questioned MohBad's swift burial, noting that the artist was a Christian, but his family appeared to adhere to Muslim customs, which were incompatible with the late singer's religious beliefs.
"This man (Mohbad's father) is going to bury loads of evidence, which elsewhere he should have been arrested and probably put behind bars," ID Cabasa stated.
Not stopping there, he stated that Naira Marley should have been brought for questioning.
"He should have been invited. He happened to be the boss. We are seeing all of those videos."
Veteran radio presenter wades into the matter
Veteran journalist and owner of Agidigbo FM, Oriyomi Hamzat, berated Mohbad's father for burying the young champ hurriedly.
While clarifying his points, he asked the same question as ID Cabassa while highlighting that things must be properly looked into.
"Why did you bury Mohbad that quickly? He wasn't even a Muslim," Hamzat quizzed Mohbad's father.
See ID Cabasa's video below:
See the veteran journalist's video below
Netizen react to the attack on Mohbad's dad
Many who came across the video accused the late singer's dad of doing great evil to his son.
See their comments below:
only_1_bim:
"Exactly which hospital Even declared Him dead? So many questions to be asked."
verifiedmayor_:
"My last respect to Mohbad day my story you can go and check ."
hardejhoke2086:
"That father is not fathering atall."
og.funds71:
"Firstly the father need hot slap before. So evil"
miss_sewaa:
"I swear Mohbad dad has failed as a father..no sign That this pikin death pain am sorry to say..Not for once did he say pls Nigerians fight for my son,youth fight for my son..
"Despite all d videos he still had d nerve to say he can't say it's Naria Marley,yet dis same Naria Marley did nothing to help d boy wen his bestie Sammy Larry was threatening his life up & Down!!d only thing mohbad dad has done is play d pity card so they can donate money and give him Kia…"
reetah_17:
"All these pains for one personOmoh mohbad suffered."
michaelrol3_:
"They need to arrest that his friend that announce to the world that he's dead cause I just watch the video again this morning mohbad isn't dead at all he was still shaking I saw his throat moved and why are they covering his chest ."
iam_hayzzed:
"THEY MUST INVESTIGATE MOHBAD PAPA PHONE AND MESSAGES THROUGH THE TELECOMMUNICATIONS COMPANY TO KNOW WHO AND WHO CALL AND MESSAGE HIM SINCE THE FIRST DAY THEY SAID MOH IS DEAD…"
Femi Falana demands coroner's inquest into Mohbad's death
Meanwhile, Nigerian Human rights lawyer Femi Falana (SAN) demanded a coroner's inquest into the death of Mohbad.
Falana made the demand following the controversial death of the singer on September 12, 2023, and his immediate burial the next day.
In the letter, Falana said his law firm was aware of the "very tragic death" of Mohbad and wanted an inquest to be done with immediate effect.
Source: Legit.ng