Nelly Confirms He's Back Together with Ashanti 10 Years after Breakup: "It Surprised Both of Us"
Nelly and Ashanti are proof that maybe if it did not work out the first time, the second time might be the charm
The Grillz singer has admitted to kindling his romance with Ashanti after months of being snapped together
Their romance comes a decade after calling off their relationship and each seeing other people
In a chat with Legit.ng, Kingsley Speaks, an online relationship therapist and coach, reveals the main reason ex-lovers rekindle their spark after many years apart
Rapper Nelly, real name Cornell Iral Haynes Jr., admitted that he and 42-year-old singer Ashanti have rekindled their romance.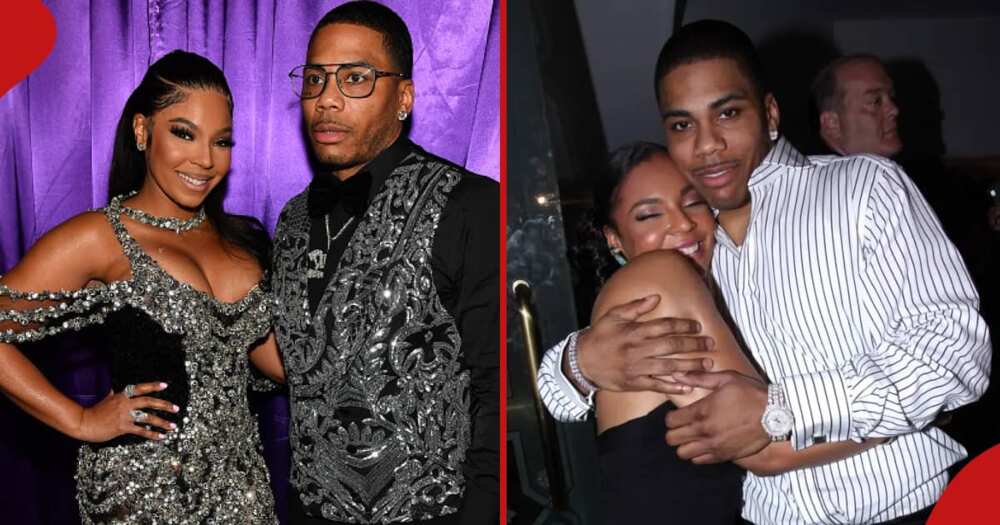 According to Daily Mail, reports emerged earlier this year that the two celebrities had reconciled, marking a reunion a decade after their initial breakup.
Nelly confirms relationship with Ashanti
However, Nelly emphasized that either party did not premeditate their decision to rekindle their romance.
PAY ATTENTION: Follow us on Instagram - get the most important news directly in your favourite app!
In a recent interview, Nelly affirmed their revived relationship.
He said:
"'Yeah, we cool again. 'I think it surprised both of us though. It wasn't anything that I don't think was planned.'"
The 48-year-old celebrity feels that the extended period of separation has actually been beneficial for their reunion.
According to him, the time apart has enabled them to better understand each other and their relationship.
"I think we both were pretty much doing what we do, but sometimes being separate you understand one another more. You be like, 'Yo, let me see exactly what they see.' You know, because we all can be defensive sometimes in our own relationships. We know we wrong but we going to stand on it. But we all a victim to that."
When rumours of Nelly and Ashanti began
According to Page Six, speculation about their reconciliation initially arose when the pair was seen together at a Las Vegas fight night.
A few weeks later, they added fuel to the romance rumours by making a joint appearance at the lavish 40th birthday celebration of Jon Schwartz, an executive from the Tao Group Hospitality.
A source told the online publication:
"They were smiling at each other nonstop, they were super cute."
Love is not enough to sustain a relationship
In an exclusive chat with Legit.ng, Kingsley Speaks, an online relationship therapist and coach, asserts that many relationships have died, not because both parties are not in love, but because they are not mature enough to remain in love.
He said when maturity kicks in after a certain age, ex-lovers want to rekindle that one shared opportunity they mishandled.
"There are many reasons relationships have ended and the people involved rekindle their love stories after many years. One of these reasons is maturity. Truth is, many relationships ended many years ago not because both parties did not love each other. But because they were not mature enough to handle the challenges of that relationship.
"When couples are not mature, they stifle life out of their relationship.Love is not enough. It takes two mature couples to remain in love. Many relationships you see today have died not because both parties are not in love, but because they aren't mature to remain in love. It takes maturity to handle the differences in a relationship.
"And sometimes, this maturity comes with age. As you grow, you unlearn & learn new things about love and relationships. So, when two people decide to come back after many years, at the root of it is GROWTH and MATURITY. So, if a couple split 10 years ago and they decide to come back after 10 years, it means they've grown to know that they can make it work. They are now mature to handle situations better.
"When two couples reconcile after many years, it means they are willing to make it work. Age and Maturity changes how you do relationships. You don't just want the relationship when it's good, you want to make it work when it's facing challenges."
Rema meets US singer Ashanti
Fast-growing international Afrobeat singer Divine Okubor, better known as Rema, trended online after a clip of him with veteran American pop star Ashanti went viral.
In the clip, Asanti was seen sharing a selfie with the Nigerian after he was done performing at a show in Los Angeles.
What stirred the attention of many the most was when Ashanti called Rema 'baby' after the Nigerian singer had complimented the veteran.
Source: TUKO.co.ke