Sina Rambo's Estranged Wife Heidi Shares Jaw-Dropping Conversation She Had With Singer: "No Self-Control"
Heidi Korth, wife of Adesina Adeleke, popularly known as Sina Rambo, has revealed their recent conversation after confirming their divorce
Legit.ng reported that Korth buzzed the internet when she put up a social media notice to give out her diamond wedding ring
As if that wasn't enough, the mother of two shared her recent chat with the rapper, accusing her of being abusive
Following the reports that Heidi Korth, the estranged wife of Adesina Adeleke, popularly called Sina Rambo, was set to give out her diamond wedding ring, a leaked conversation between the two buzzed the internet.
Heidi shared a heated WhatsApp chat with her ex-lover, in which he accused her of not being as wonderful as she portrayed herself.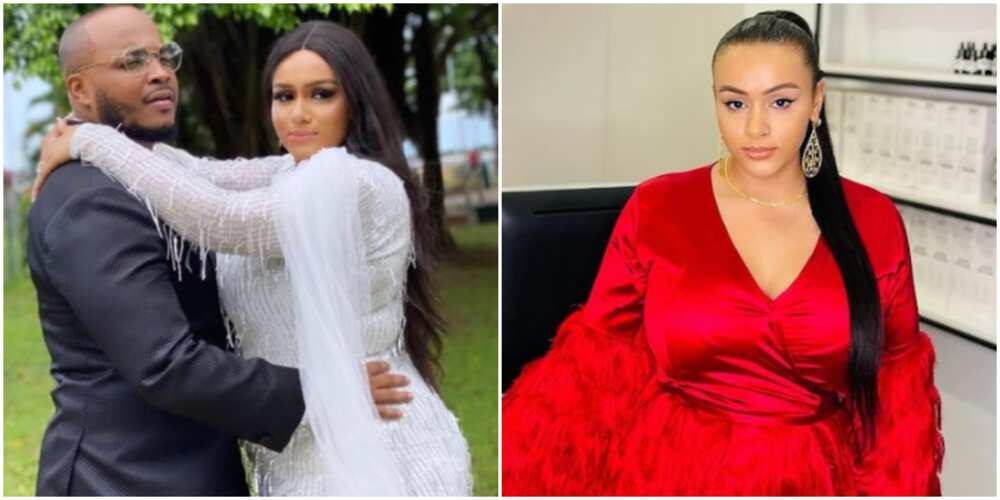 "You think you've been a good person," Sina said.
In another message he wrote:
"Man, you are so lucky I wasn't in the room with you."
Not stopping, the rapper accused his ex-wife of infidelity and destroying their marriage. He also stated that she had no self-control.
"Nah, he gave you what can satisfy you, Zero self-control. Not your fault; you can't control your body… You ruined our marriage; you are so dumb."
Reacting to the chat online, Heidi threw shade at Sina, insinuating that he needed some sort of brain reformation.
"Someone should please come and take their child to rehab, them grains are getting into their brain."
See their leaked conversation below:
Social media users react to Heidi's leaked chat with Sina Rambo
Legit.ng captured some of the interesting reactions, see them below:
mz_esheza:
"This is so unfair to your child's father .. your daughter will grow up to see this .. you don't have to thrown him under the bus at his lowest .."
naijabrandinfluencer:
"This woman is t0xic as f*ck. Even if you did all these for him and so what?? Were you not his wife?? Men spend money on women and don't make noise. Small sacrifice you did you are washing his dirty linen on social media. That guy has seen shege in this ladies hand and he hasn't come to spoil her on social media."
ichie_agu1:
"From this thing she posted na she dey mad, very problematic ."
peoplenjayuyaeme:
"Very unstable woman, someone with two daughters from two different fathers. Some men deserve the toxicity they receive from the women in their lives becos these men will vet women from the standpoint of their physical appearance rather than their values and character."
Heidi Korth drums support for Davido's baby mama
Meanwhile, Sina Rambo's estranged wife had waded into the matter concerning Davido and his first baby mama, Sophia Momodu.
Legit.ng earlier reported that Sophia criticised men who financially abuse women to stay with them even when children are involved.
Sophia's rant was met with different reactions from netizens, as they knew who she was referring to. In reaction, Korth dropped a quote on women who refuse to recognise each other's pain.
Source: Legit.ng