"She's a Good Actress but Not a Good Leader": Fans Slam Alexx Ekubo as He Drums up Support for Funke Akindele
Nollywood actor Alexx Ekubo has continued to spread the gospel of Funke Akindele's political ambition and agenda
Alexx is one of the few Nollywood stars who has publicly declared his support for his colleague and shown he is willing to go the extra mile
Just days after making his support for Funke public, he released another lengthy read on International Women's Day dedicated to his colleague
Ace Nollywood actor Alexx Ekubo seems to be an unrepentant supporter of Funke Akindele's political agenda.
The movie star has shown, once again, that his choices of political leaders cut across the divide. And for the Lagos state election, Alexx has declared unequivocally that he is a massive supporter of the Funke Akindele mandate and is willing to go the extra mile to help her achieve her political ambition.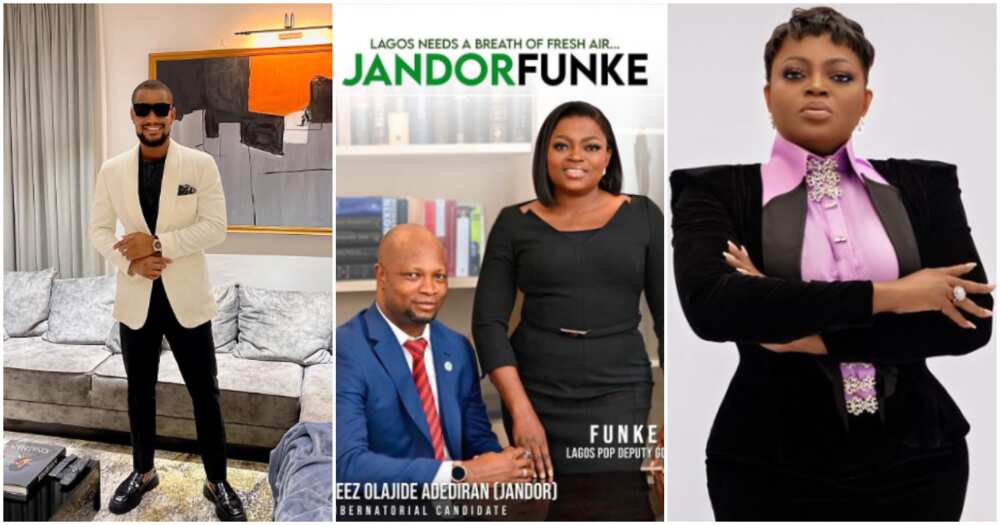 Alexx celebrated International Women's Day with an article on his Instagram page dedicated to Funke, describing her as his hero who never accepts defeat.
He hailed her resilience, consistency and capacity to set goals and achieve them.
See Alexx Ekubo's post drumming up support for Funke Akindele ahead of the Lagos state governorship election:
See some of the reactions that Alexx Ekubo's post about Funke Akindele stirred
@nmaijere:
"We love Funke but we are voting Papa, Mama, Pikin this Saturday 11."
@dorisemmanuel30:
"She is a good actress but might not be a good leader. Vote GVR."
@dan_nisimi:
"We admire her courage, ambition and passion for Lagos but she is not going to be deputy Governor this coming year. At least not yet."
@edusonkanu:
" if you are not contesting under LP we no need you just go and sleep."
@livinglife902100:
"If she was the governor aspirant NOT deputy, then she would have had a chance."
@babstoni:
"This brought tears to my eyes. I so pray that funke wins honestly. I would love to see her being addressed as your excellency from the bottom of my heart. Thank you Alex for celebrating her, she is worth it."
@folagade_banks:
"That's what friends are for!!!!!❤️❤️❤️ loveeet!!"
@king_stangote_of_yenagoa:
"I love Funke to a fault. However, na that fine LB Gubernatorial candidate dey enter Govt house‍♂️."
"She's a voice to reckon with" - Uti Uwachukwu speaks highly of Funke Akindele
Legit.ng recently spoke to show host and former reality TV star Uti Uwachukwu about his colleague Funke Akindele and her political aspiration. This is what he had to say;
"Funke is a voice to reckon with in the movie industry, and I always support all my friends, and I hope she comes out victorious. Also, I would do anything to help my friends."
"They will Bridge the Gap": Alexx Ekubo endorses Jandor & Funke Akindele, shares campaign video
Meanwhile, Legit.ng recalls reporting that a few days before the gubernatorial elections in Nigeria, scheduled for March 11, Nollywood actor Alexx Ekubo has endorsed the Lagos state Peoples Democratic Party (PDP) candidates Olajide Adediran, also known as Jandor and Funke Akindele.
In a post via his Instagram account, Alexx shared different campaign videos of Funke as he said Nigerians need people they can hold accountable and relate with.
According to the actor, Jandor and Funke, if voted in, will bring the government closer to the masses.
Source: Legit.ng