D.O Fagunwa: Nigerian Author Who Wrote About Spirits and Died by Drowning While Investigating a Story
Literature students and book lovers are familiar with literary giants such as Wole Soyinka, Chinua Achebe, and Chimamanda Adichie but one such name that is mostly forgotten by many is D.O. Fagunwa.
Some of his published titles have been translated into over 40 languages and he has bagged some notable awards in the literary world. Legit.ng takes a look at the story of this revered author who left the world rather abruptly.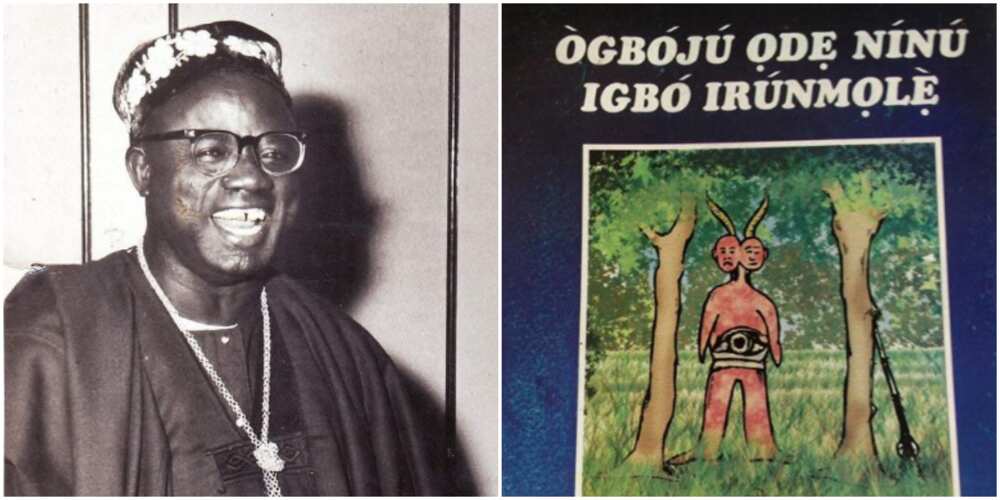 Fagunwa's story
Born to the family of Joshua Akintunde Fagunwa and Rachel Osunyomi Fagunwa in 1903, his educational journey started at St. Luke's School, Oke-Igbo, before he proceeded to St. Andrew's College, Oyo. He would later become a teacher himself.
Fagunwa lived a relatively quiet life but things would later take a turn when he published his first book, Ogboju Ode Ninu Igbo Irunmole, in 1938. The Yoruba title instantly brought the attention of the world to the community of Okeigbo (present-day Ile Oluji/Okeigbo local government area of Ondo state) where he lived with his family.
Fagunwa's first title which was written in Yoruba told a riveting story of seven brave hunters who risked it all inside a deep forest occupied by evil spirits. So vivid was his imagery in the work that many came to nurture the idea of forces beyond the physical.
The wide acclaim of Fagunwa's first publication would lead him to release more titles such as Igbo Olodumare (1949), Ireke Onibudo (1949), Irinkerindo ninu Igbo Elegbeje (1954), and Adiitu Olodumare (1961), with each cementing the idea of readers that he was no ordinary being himself.
Fagunwa's mysterious death
Until recently, the nature of Fagunwa's works has always led many to believe that his death was not natural and it had spiritual connections tied to it.
The famed author Fagunwa died on December 7, 1963, after he drowned in a river following a boat mishap. So mysterious was his death that many linked it to spirits he had previously written about in his previous books.
However, in a 2017 interview with Tribune, the author's widow, Mrs Elizabeth Adebanke Fagunwa, who is also deceased, cleared the air about her husband's demise. Adebanke maintained that contrary to what people thought of the author, he was deeply rooted in his Christian beliefs.
In her account of his demise, Fagunwa's widow told Tribune how his driver—a man identified as Tunde—said a canoe he boarded capsized, causing him to fall into the river and scream for help.
"James (Fagunwa's driver) said the canoe turned upside down and covered him, he shouted for help and people came to rescue him but Fagunwa was nowhere to be found. While the people were still searching for Fagunwa in the river, a message was sent to Ibadan about the incident but I still had the belief that he would be brought home alive because he was a great swimmer but to my surprise, he never came home alive."
According to Fagunwa's widow, his body would eventually resurface at the same spot where his boat had capsized and he cried for help.
"What surprised us is that he had his shoes on, with his cloth intact as well as his cap and had his pair of glasses firmly in his hand. This was told by people who saw him at the river and people who saw his corpse when he was brought home," she recounted in the 2017 interview.
To this day, Fagunwa's tombstone remains at St. Luke's Anglican Church cemetery, Oke Igbo, where he was buried on December 10, 1963.
Chimamanda Adichie bags traditional chieftaincy title
Meanwhile, Legit.ng reported that the traditional monarch, His Royal Highness, Igwe Leonard Nwankwo Ezeh of Abba bestowed popular novelist, Chimamanda Adichie with a chieftaincy title.
The Half of A Yellow Sun writer bagged the title of "Odeluwa" which means she who writes for the world.
The coronation ceremony was graced by the governor of Anambra state, Prof. Charles Soludo and other popular dignitaries.
Source: Legit.ng