Exclusive: I Have to Make My Own Mark, Alaafin's Daughter Adedoja Adeyemi on Contesting, Winning Miss Oyo 2020
Adedoja Adeyemi is the daughter of Oba Lamidi Adeyemi III (Alaafin of Oyo) and current Miss Oyo state. In this interview with Legit.ng's entertainment editor, Adeyinka Odutuyo, Adedoja talks about her reign as Miss Oyo, projects dear to her heart and plans for the future.
Adedoja, you reigned for more than 11 months, how would you describe the experience and will you do it again?
"It was a great experience and I will do it over again. Of course, I had expectations like any first-time queen. However, they weren't so high. I am lucky enough to have a few experienced people close to me, they explained what to expect. But the reality is, no matter what people tell you or how prepared you are, there are situations that will be new to you especially if you are walking on a path you have never taken before. You just have to go through it, that is called EXPERIENCE."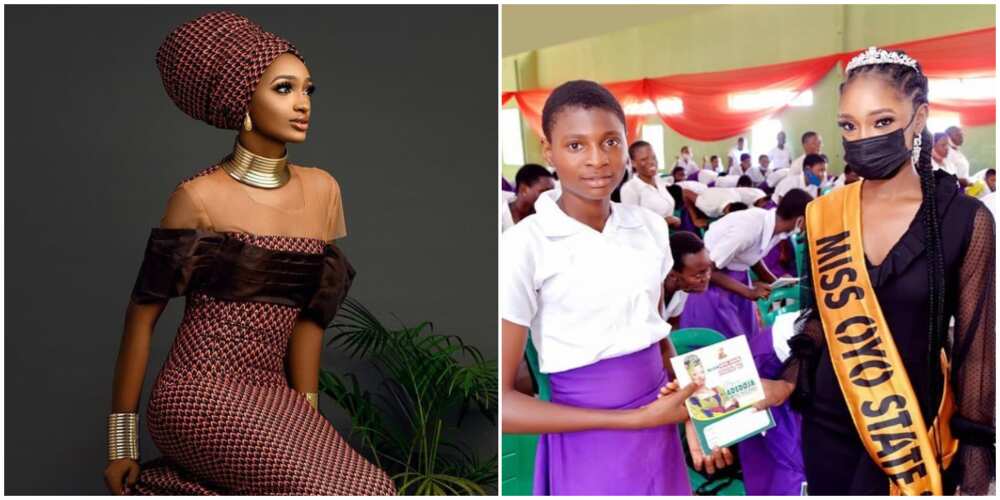 I'm aware that you've had an interest in making a debut in the entertainment scene but whose idea was it to try pageantry?
"It was my sister Adeteju Adeyemi's idea, and my friend, Adebanke Adeleye. Adeteju had wanted me to go into modelling/pageantry since I was an undergraduate. When Miss Oyo State advertised last year, Adebanke told me to try but I was hesitant. So, she informed my sister and they both talked me into it. LOL!"
PAY ATTENTION: Install our latest app for Android, read best news on Nigeria's #1 news app
A princess who also emerged as Oyo's beauty queen, what will you say to those who think it's too much of a coincidence?
"Everyone, princess or not, has the right to pursue their dreams. Being a princess is something I have no power over, I just have to go after what I want and make my own mark irrespective of who my father is."
What about your dad, the Alaafin of Oyo, how has he supported your reign and pet projects as Oyo's beauty queen?
"He has been very supportive of my projects. I have gained useful insights, guidance and financial support from him.
"Beauty Pageant is about what you do with the platform given to you. I had my focus from the onset, which is youth engagement and humanitarian concerns. I carried out all my Five Pet Projects smoothly with the guidance and support of my team: My big mummy/sister (Arewa Omooba), Kenny, Labby and Jibola. My mum and dad were also very supportive and encouraged me. The organizers of Miss Oyo Pageant were also very supportive of my ideas. It wasn't a perfect ride, but it was a great one."
Now that your reign is over, are we to see more of you on even bigger pageantry stages? Miss Nigeria? MBGN? Miss World? Share your plans for the future.
"Hopefully, but I have some other plans and interests such as culture, humanitarian activities and academics."
How would you describe living in the palace and living outside of it?
"Living in the palace is slightly, but not entirely different from living outside. There is a lot to learn from living in the palace in terms of culture, etiquette, morals and wisdom. I think the palace prepares you for the outside world. If you can live there and take the lessons, you sure can live almost anywhere."
Detty December is just a few weeks away, how are you spending it and what is your ideal holiday like?
"It's almost time for my handing over, so I will be preoccupied with that. My ideal holiday is spent with family."
What are you most excited about for the coming year?
"Looking forward to great things, opportunities and doors God would open."
How do you want to be remembered when you walk into a room?
"I want to be remembered for my kindness, humility and love for culture."
Agbani Darego celebrates 20th anniversary of winning Miss World pageant
Legit.ng earlier reported that it's been 20 years since Nigerian beauty queen, Agbani Darego, made history to emerge as the most beautiful girl in the world.
The pretty Darego was the first woman from the African continent to win the coveted crown in the year 2001.
Agbani in an Instagram post was thankful for the lifetime moment and she celebrated the 20th anniversary with a video of the historic moment she was crowned.
Source: Legit.ng