FFK's Ex-wife Accuses Him of Domestic Violence, Claims She Hasn't Seen Her 4 Kids Since August 2020
Nigerian politician, Femi Fani-Kayode's ex-wife, Precious Chikwendu, has spilled messy secrets about their marriage
The mother-of-four accused the former minister of domestic violence even while she was pregnant with their kid
Precious spoke on FFK's hate for Igbos contrary to what he showed online and added that she hasn't seen her kids for over a year
Controversial Nigerian politician, Femi Fani Kayode's ex-wife, Precious Chikwendu, has now finally spilled the beans about her former marriage in a recent interview.
While chatting with Chude Jideonwo, Precious explained how being married to the former minister was not a bed of roses.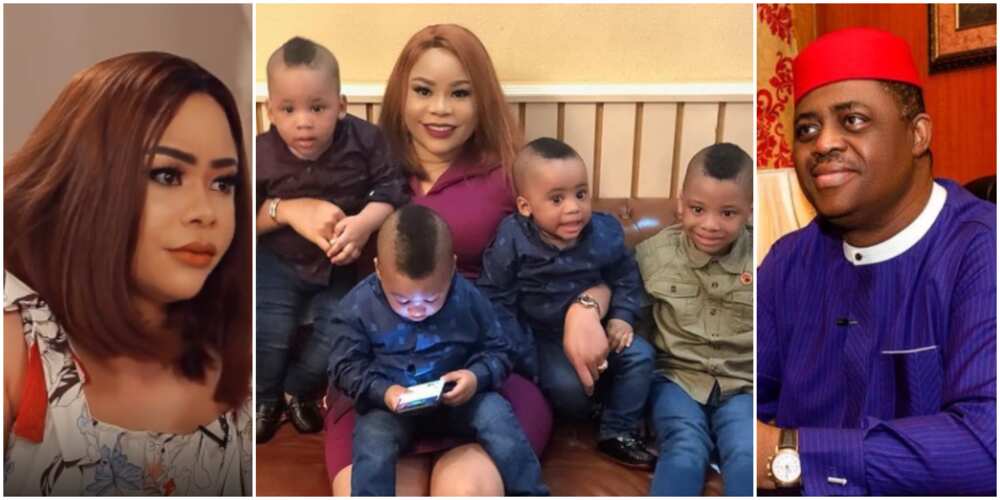 While recounting her violent experience, Precious claimed that FFK beat her up after she had an embryo implanted in her and threatened to 'get the cockroach out' of her stomach.
She added that he would tell his bodyguards to bundle her and lock her inside the house.
The mother of four then proceeded to name popular Nigerians who had been involved in their marriage troubles such as the Dasukis.
She added that even Nnamdi Kanu called her at some point to plead with her and that the late TB Joshua called her to come over to Lagos to settle things.
Speaking further, Precious added that FFK made it a point to ask for a picture to debunk stories first.
While spilling the messy details about their marriage, the former beauty queen claimed FFK used to accuse the Igbos of being rude and that it was a cultural thing for them.
See below:
I haven't seen my children
During the interview, Precious Chikwendu added that she had not seen her four children since August 2, 2020, when she left Femi Fani Kayode.
She added that she had also been physically prevented from seeing them despite the court not granting him any custody.
The young lady noted that she had not left FFK earlier because of her children and she wanted to leave with them.
According to her, whenever there was a fight, she would go to her friend's house and FFK would later come to apologise.
Precious added that her children's' schools were changed and she has no idea what school they attend, their nannies, and she has no access to them whatsoever.
See the video below:
Internet users react
Legit.ng has gathered some comments in reaction to Precious spilling messy details about her marriage with FFK. Read some below:
Beefairyfabrics:
"No mother should be denied access to her children no matter what!!! This is Torture ."
Gzknigeria:
"I'm not interested in anything this woman may have done! But to separate her from her children is a wicked thing to do. This power drunk does not know it will backfire."
Alakijakemi:
"This is so wrong on all levels. The sheer and utter wickedness makes my blood boil what sort of impunity is this?? How is this even possible that you will prevent a mother from seeing her 4 children??? This is a travesty!!!!!."
Pattychetto33:
"Hmnnnn FFK tomorrow is pregnant they are boys ooo, they'll look for their mother no matter what you say or do."
The.unbreakableruth:
"Haaa!!! Being involved with an abusive man who has access to power is not a walk in the park. I pray she gets justice ."
Only1amaka:
"It's how this people hate Igbos but still obsessed with the women. Let me just hear anyone say she married for money... no one bargains for this, not even with all the money in the world."
Valeriesylvia_:
"And another lady is his girlfriend as we speak, thinking he's a changed Man ."
Hmm.
Precious blasts Femi Fani Kayode
The ongoing child custody battle between a former minister, Femi Fani-Kayode, and his estranged wife, Precious Chikwendu, has taken a new turn following a fresh call-out post by the latter on Instagram.
Precious in the lengthy post explained that all she wants is custody of her children but all her efforts to get them have been sabotaged.
Precious stated that she has tendered proof of her allegations against Fani-Kayode in legal suits yet he has refused to respond and continues to employ the services of a lawyer to file petitions against her.
Source: Legit.ng