Your Kindness Was Staged for Clout: Regina Daniels Siblings Slam Jaruma, Release Videos of Kayanmata Seller
The fight between Regina Daniels and her ex-friend, Jaruma has become a family affair as the actress' siblings have stood up for her
Hours after the kayanmata seller spilled how much she spent on Regina and her family, her brother Sammy shared videos of Jaruma having fun with them willingly
Sammy noted that Jaruma's kindness was well appreciated and his sister, Destiny also added that the kayanmata seller is just chasing clout
Hours after popular kayanmata seller, Jaruma fired back at Regina Daniels over the influencing deal they signed, the actress' siblings have called her out.
Regina's brother and sister took to Instagram with proof that everything Jaruma gave their family was because she wanted to as nobody begged her for it.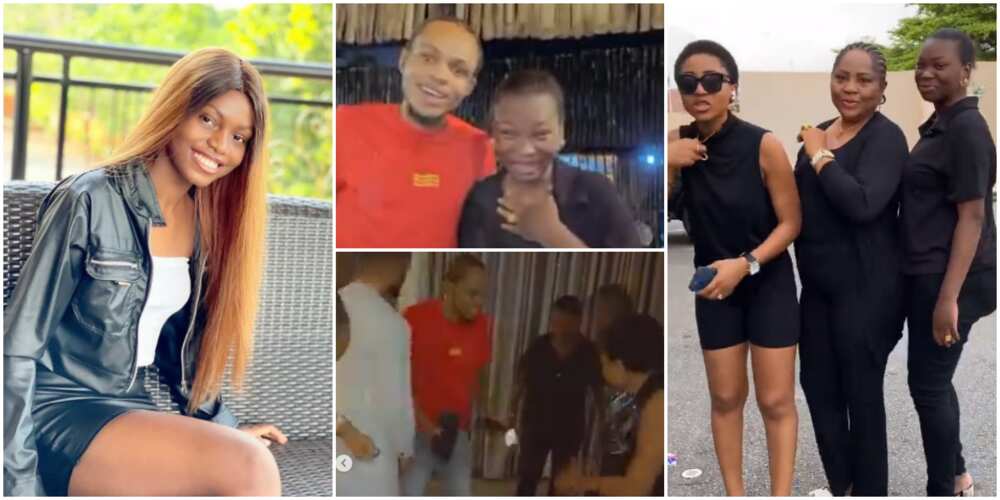 Sammy defends Regina
The actress' brother shared videos of the moments Jaruma had fun with his family at his house and how she willingly splurged money in her usual fashion.
Sammy who expressed shock over the fact that the kayanmata seller kept note of everything added that she was well appreciated and he did not know that her kindness was staged.
"Sister @jaruma_empire you know I gat love for you normally, but you just burst my head, you were literally taking note of every kind act you rendered willingly. Ps; it was appreciated, and the day we had dinner at my place was a Happy family day, and I know you enjoyed it, but c'mon you fall my hand oh! That means your kindness was staged?"
Watch the videos below:
Regina's sister slams Jaruma
Regina's sister Destiny on her own page, countered all of Jaruma's claims, saying that she singlehandedly decided to be nice to members of her family.
According to Destiny, the N1m Jaruma gave her mum was a birthday gift, and the headphones was a gift she gave Regina out of jealousy.
Destiny further revealed that she had always known that Jaruma is a clout chaser and she is happy that she did not get anything from her.
She also told the kayanmata seller to thank God that she did not add her name because she would have spilled dirty secrets about her to the public.
"The 1m you gave my mum was supposedly a birthday gift. The head phones too was an act of friendship bc she didn't beg you for it, you wanted her to use it bc she had been using the one someone else got for her and you were jealous but let's not go there. Clout chasing is only throwing your name in the gutter but since it's what you do to earn a living, I wish you more successful clout chase aunty jaruma."
See the post below:
Reactions
slimzybabe1:
"I just love the way you used cruise to attack her."
uc_190:
"Best caption ever, in this kind of situation and you still come up with a sweet and understanding caption like this."
princess_jammeh:
"Happy moments nobody beg her for money ooo."
the_goddness16:
"Sammy I'm loving this as she wan misbehave make you help."
yvonette.bulaya:
"She was busy acting rich."
everjoyudi:
"It's the way she kept record of all the spending for me."
Regina Daniels calls out Jaruma
Popular Nollywood actress Regina Daniels cleared the air about her relationship with popular kayanmata seller, Jaruma.
Regina made a lengthy post on her verified Instagram page to clear the air about her relationship with the aphrodisiac seller and how they became close.
The actress also made it known that she gave the aphrodisiac seller her terms on the kind of posts she will be making for her products and was mindful of her choice of words not to mislead the people.
Source: Legit.ng