Reactions as Jaruma Leaks Chat With Regina Daniels, Releases Unsigned Contract Between Them, Her Mom Rita
The drama involving Jaruma and Nollywood actress, Regina Daniels has got a new twist after the intimate products seller made new revelations
Jaruma released an unsigned contract between herself, Regina Daniels, and her Mom, Rita while she also leaked a private chat with the actress
The chat revealed that she was supposed to make some adjustments to the contract but Regina and her mom proceeded to without signing it.
Things are about to get even messier with intimate products seller, Jaruma and popular Nollywood actress, Regina Daniels as new revelations emerged.
Jaruma released a contract agreement Regina Daniels and her mum, Rita were supposed to sign before they commence the use of her products.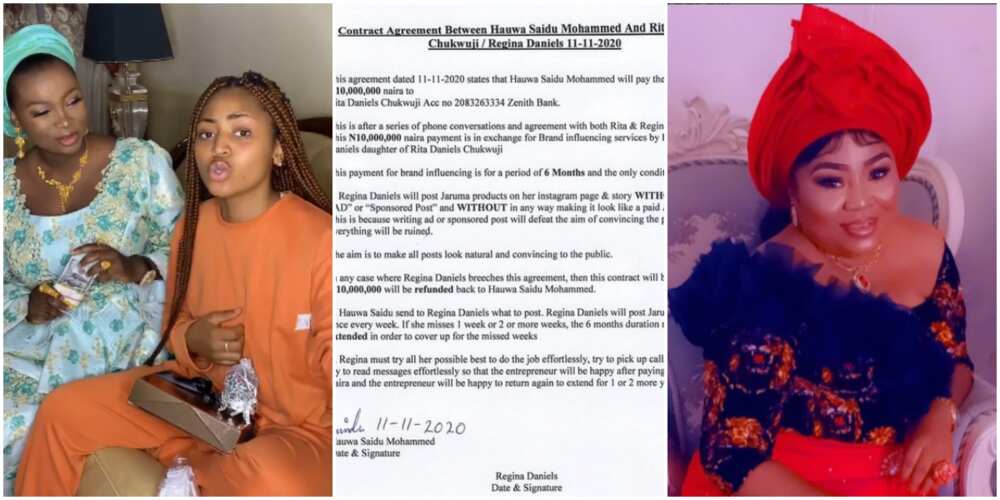 She alleged that they did not sign the contract because they wanted some corrections on the document, and when the corrections were made, they did not still sign the document but proceeded to work without still signing it.
Jaruma also disclosed that she did not take back her products from the actress and her mum and would be grateful if she could get them back.
See her post below:
Reactions
Nigerians have reacted to Jaruma's post, many of them felt the actress did not sign the contract so there was no case.
Legit.ng captured some of their reactions, read below:
Rominaabdallah:
"Ha. Then Regina and her mother owe Jaaruma for contract breech. Las Las all 3 of them dey mad sha. Lol. Drama queens."
Sylvester_christabel:
"I am kinda confused, so they didn't want the public to know that it was an advert? Why? Now everything don spoil."
Akon___purity:
"Na kayamata wah I nor use I wan dey promote now."
Evansglory73:
"Hmmmmmm ..my own be say if actually the products are effective,why she no want people to know that it was a paid advert.. who's deceiving who."
Everythingrosey3:
"Abeg na jaruma lose jor.case no da here.regina and her mum no sign d agreement,dt one no tell u something?"
Sisi_nero:
"She didn't sign but the mother collected money,so they will refund it back."
I have never used Kayamata product before Regina Danials calls out Jaruma
Nollywood actress, Regina Daniels debunked any claims that she used Kayamata products on her billionaire husband.
She made a lengthy post on her Instagram page to address the situation and declared that she was paid to make random posts for the products.
The actress also said Jaruma is using her name to sell her products even after their deal has expired.
Source: Legit.ng