Regina Daniels vs Jaruma: 4 Videos Show When Actress and 'Kayamata' Seller Were Jolly Good Friends
Actress Regina Daniels and intimate product seller Jaruma Empire have had a falling out to the surprise of netizens
However, there was a time when the Nollywood actress and the 'kayamata' seller were jolly good friends
Legit.ng has compiled some refresher videos showing when the two still had each other's back and were on good terms
Another celebrity friendship has hit the rocks and this time around it is between Nollywood actress Regina Daniels and popular intimate products seller, Jaruma Empire.
The drama between the two started after Regina tongue-lashed Jaruma in an Instagram post and accused the businesswoman of using her name to promote her products illegally.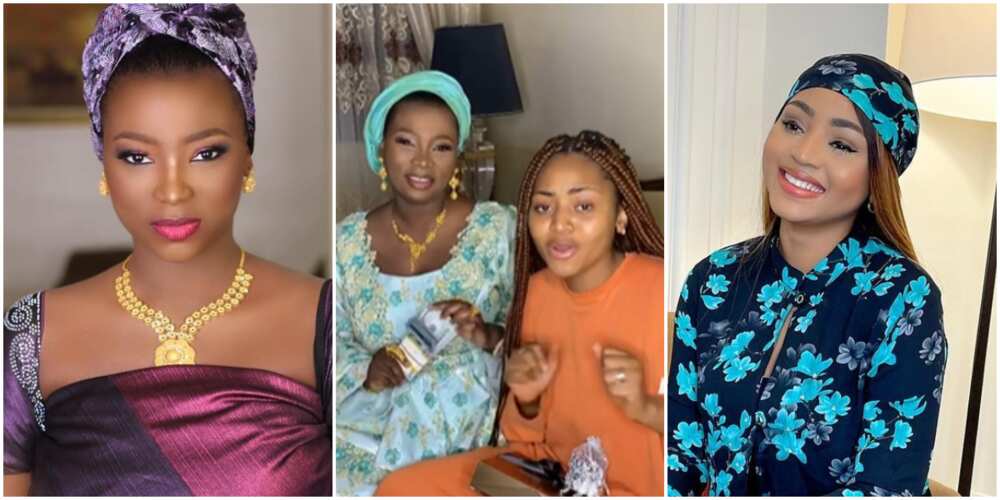 Regina in plain words also dissociated herself from the highly controversial 'kayamata' products being sold by Jaruma.
The movie star's public statement read in part:
"I have and will never use any kayamata product. Jaruma paid me to help make random posts for her."
Well, shortly after the call-out, Jaruma wasted no time in returning the favour from her once cordial 'friend'.
Jaruma listed all the financial benefits Regina's family members have enjoyed from her while also claiming that she paid the actress N10 million to promote her products.
Amid the drama, Legit.ng has compiled some videos of the actress and the 'kayamata' seller showing when they were still on friendly terms.
Check them out below:
1. Jaruma, Regina Daniels and Rita Daniels spotted together at a restaurant
2. Jaruma spotted in a promotional video for Regina's makeup product
3. Jaruma spotted during a visit to Regina Daniel's family home
4. Regina and Jaruma spotted as they shade their naysayers
Regina Daniels makes controversial Tiktok about wealth
Meanwhile, Legit.ng previously reported that Regina Daniels got Nigerians talking after recreating a viral Tiktok voice-over that asked about richness and sadness.
The screen diva shut down every option that has to do with being poor in the video she shared on her Instagram page.
The billionaire's wife declared that she would rather be rich and does not mind any consequences after it. Her comments stirred reactions from fans.
Source: Legit.ng