UNIZIK Announces Plan To Mount CCTV in Offices, Classrooms to Checkmate Sexual Harassment
The war against sexual harassment in Nigerian higher institutions is spreading like wildfire, and the Nnamdi Azikiwe University (UNIZIK) has joined the movement
According to the management of UNIZIK, the installation of Close Circuit Television (CCTV) cameras in offices and classrooms has commenced
The Vice Chancellor of UNIZIK, Prof. Charles Esimone, confirmed this development, noting that there's no better time to introduce the initiative
Awka, Anambra - The management of Nnamdi Azikiwe University, Awka, Anambra State, has announced that it will be mounting Close Circuit Television (CCTV) in offices and classrooms to control and checkmate sexual harassment.
This decision is on the heels of the alleged sexual harassment saga that transpired at the Federal University of Calabar involving the Dean of the Faculty of Law, Prof Cyril Ndifon.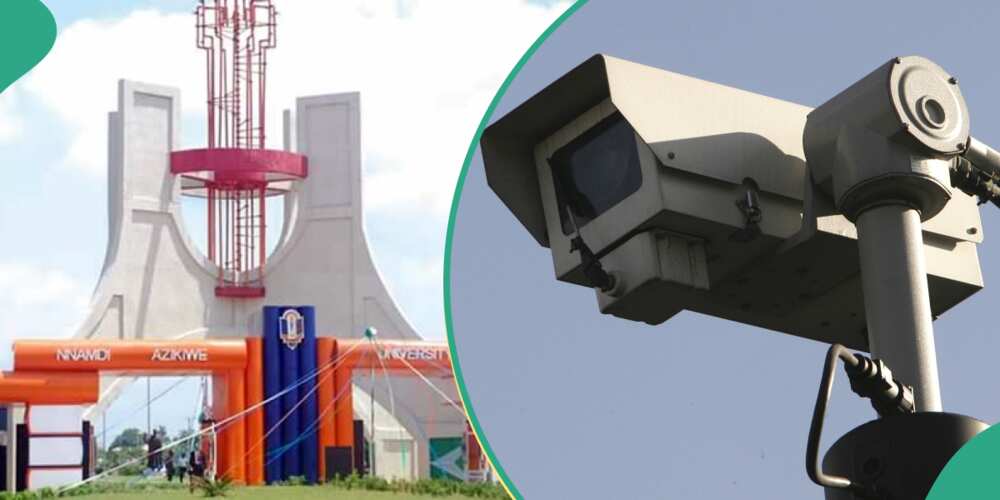 Students at the university staged protests against the professor, who is said to have been involved in the same controversy as far back as 2015.
Professor Ndifon will face a panel where he will be probed as the incident has attracted nationwide attention, including the federal government's intervention through the Ministry of Women's Affairs.
UNIZIK to launch "Operation Speak Out" initiative for victims
As reported by Daily Trust, UNIZIK has also confirmed that it would stage an "Operation Speak Out" initiative, enabling victims to vent and expose the culprits.
Confirming this development, the UNIZIK vice chancellor, Prof. Charles Esimone, revealed that the "Operation Speak Out" initiative and the mounting of CCTV cameras on campus would help monitor the unruly activities in the university.
He said the "Operation Speak Out" initiative would help give students the boldness to expose whoever dares to harass any student on campus sexually.
Prof. Esimone said the initiative will also help students imbibe the culture of self-esteem and voice out without fear of being victimised by the lecturers or non-academic staff of UNIZIK.
Tears as stray bullet kills UNIZIK female student in Anambra
Meanwhile, Uche Joevita Chigozirim, a first-year Nnamdi Azikiwe University (UNIZIK) Awka student, has been killed.
The deceased student was killed by a stray bullet shot by suspected cultists on Thursday evening.
It was gathered that the tragic incident happened at the popular Miracle Junction in Akwa, Anambra state capital.
Source: Legit.ng