White Ribbon Alliance Trains School Administrators on School-Related Gender-Based Violence
School-Related Gender-Based Violence (SRGBV) continues to deter girls and boys from effective learning in Nigeria and beyond
To mitigate this crisis, the UNESCO/UN Women Global Guidelines on addressing School-Related Gender-Based Violence (SRGBV) was launched in 2016
White Ribbon Alliance Nigeria is now developing guidelines to domesticate and pilot UNESCO-UN Women Global guidance for addressing SRGBV in selected schools in Abuja
FCT, Abuja - A multi-stakeholder review of the draft guidelines for addressing School-Related Gender-Based Violence (SRGBV) was held in Abuja on Thursday, November 18, and Friday, November 19.
Organised by White Ribbon Alliance (WRA) Nigeria, the meeting was focused on giving orientation to school administrators, teachers, and counsellors, to be acquainted with rules and regulations that would guide them in domesticating the UNESCO-UN Women Global guidance for addressing SRGBV in schools.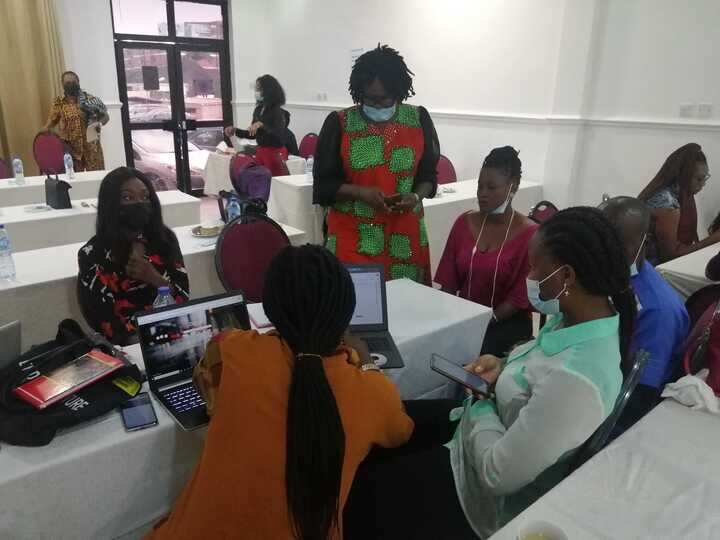 Over the past several weeks, WRA Nigeria developed guidelines to domesticate (rollout) and pilot the UNESCO-UN Women Global guidance for addressing SRGBV in selected schools in FCT.
In order to effectively adopt the guideline in schools, WRA Nigeria conducted a Knowledge, Attitude and Practices (KAP) Survey in 20 schools and communities in Federal Capital Territory Abuja, across 4 local government areas; AMAC, Bwari, Kuje and Gwagwalada to better understand the local context in Nigeria.
The objective of the KAP survey was to provide background knowledge that will inform the global guidance document and identify contextual information that will be involved in the roll-out of the training for schools.
At the meetings attended by a Legit.ng reporter, participants were taken through the training manual and adopted a template to domesticate in their various schools.
WRA Nigeria also conducted an orientation for school administrators, gender desk officers/ guidance-counsellor from these select schools on how to address cases of School-Related Gender-Based Violence.
This will be followed by a step-down training of school teachers in these pilot schools in the coming weeks.
Speaking to Legit.ng on the sidelines of the meeting, Christiana Asala, national coordinator of White Ribbon Alliance said:
"Lots of research have shown, and not just in Nigeria, globally, that gender-based violence happens a lot in schools and not just in the school environment, but in the community.
"Students walk to school in a lot of cases and go back. In that process, a lot of gender-related issues happen. If people are coming to school for education, we think they should be educated on these issues. It is not right for people to be going to school and get abused. It is a discouraging factor for a lot of people that are going to school.
"Nigeria is the highest contributor of out-of-school children, so, if children are not going to school because of gender-based violence or gender-related issues, then it is high time and it is so important, at this time, that we start addressing that issue.
"And that is why UNESCO through funding from EU-UN Spotlight Initiative is funding White Ribbon Alliance to domesticate this global guidance that has been developed by UNESCO and UN Women. And it was a consultative document that a lot of countries contributed to.
"And we felt there is a need for us to domesticate it in Nigeria, conceptualizing it to our local culture, and making sure it captures what is unique to Nigeria."
Asked what are the measures put in place to ensure the initiative is properly implemented in the schools, Asala said:
"We try to do this with the schools themselves. In this meeting today are principals, teachers and gender representatives from schools. Because we know at the end of the day, they are the ones that will implement this not us.
"So, we want them to be part of framing this document and making inputs into it and let us know exactly how we should put it.
"They work with the students, they have the first-hand information, so, they are directly part of it and they will take it back to the schools to implement. They are like the major stakeholders in this meeting."
On his part, Dr Stephen Onyekwelu, Spotlight Project Manager for UNESCO said:
"It is an activity under the Spotlight Initiative. The Spotlight Initiative is a global initiative funded by the European Union and implemented technically by five UN agencies - UNESCO is one of them.
"Under the initiative, there are lines of activities which UNESCO is assigned to implement. To review the global guidance, rules, and regulations that will guide issues relating to school-related gender based violence.
"We engaged White Ribbon to implement the activity to domesticate the global guideline so that we can contextualize it and then produce rules and regulations that will guide schools in terms of what they are supposed to know, in relation to gender-based violence in schools."
Dinidari Africa Partners NHRC on SGBV Response in Nigeria
Similarly, Dinidari Africa Foundation, has partnered with the National Human Rights Commission (NHRC) as part of efforts geared toward ending the menace of Sexual and Gender-Based Violence (SGBV) in the country.
Speaking at a one-day workshop on inter-agency collaboration on Sexual and Gender-Based Violence in Abuja, the Executive Director of Dinidari Africa, Ndi Kato, noted that there has been an increase in SBGV cases across the country since the outbreak of the Covid-19 pandemic.
Kato blamed the rise in SGBV cases on prevailing cultural norms, poor awareness of the framework for reportage of crime, and shortcomings in the justice framework.
FG to Review Nigeria's National Gender Policy
Meanwhile, the federal government is currently undergoing the review of Nigeria's National Gender Policy.
The head, Gender-Based Violence and Data Management Branch in the ministry of women affairs, Mrs Udeme Abia disclosed this recently.
Mrs Abia added that the African Development Bank is supporting the national gender policy situation analysis with support from the ministry's consultant Professor Olabisi Aina, stressing that the review is long overview since the last one was held in 2006.
Source: Legit