Nigeria's Hamzat Lawal Appointed As Israeli Honourary Ambassador
Nigerian activist, Hamzat Lawal has been appointed as an honourary ambassador for an initiative sponsored by the Israeli government
The initiative is being implemented in collaboration with the Office of the Vice President of Nigeria to empower young Nigerians
Lawal is a leading social accountability activist in Nigeria and one of Africa's most influential leaders in youth development
FCT, Abuja - The Embassy of the State of Israel in Nigeria has appointed activist Hamzat Lawal, as an honourary ambassador for the Innovation Fellowship for Aspiring Inventors and Researchers (i-FAIR) initiative.
Israeli ambassador, Mr. Yotam Kreiman, announced Lawal's ambassadorship at the opening of the new phase of the accelerator program on Wednesday, December 8.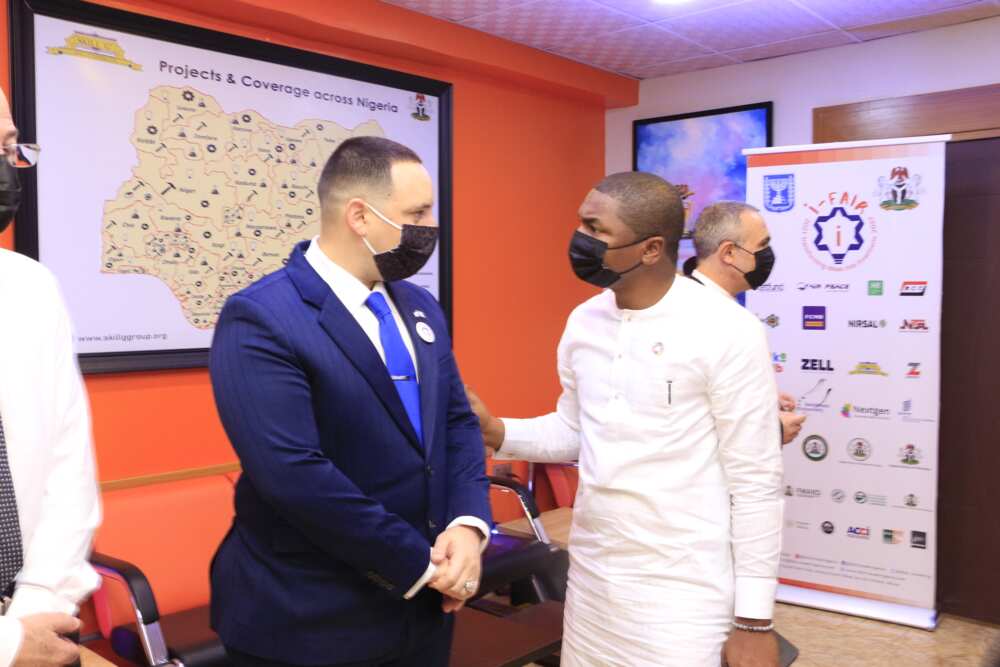 The initiative, which is being implemented in collaboration with the Office of the Vice President of Nigeria, will empower participants with resources, materials, expertise, and mentoring at an ultramodern Innovation/Fabrication Center (Innov8 Hub).
The participants will also be expected to build prototypes of their innovative inventions and pitch their prototypes to investors at a grand finale event, set to hold in 2022.
Speaking on his new role as ambassador, Lawal, the Chief Executive of Connected Development (CODE), expressed enthusiasm and buttressed the importance of empowerment, innovation, and invention in development.
He said:
"The i-FAIR initiative comes at a time when the Nigerian youths need the right opportunities and access to resources to take their ideas from seedlings into tangible solutions that can change the course of the country."
i-FAIR, launched in 2020, was initiated from the experience of Israeli as a Start-up Nation; to give innovative Nigerians a platform to transform their ideas into inventions, inventions into solutions, and solutions into start-ups.
While speaking at the opening event, Kreiman disclosed that the initiative recorded rounds of success in its first project phase, stating that the support and partnership of at least ten government agencies were secured.
His words:
"Last year, the i-FAIR graduated 21 fellows, engaged 35 experts, involved 30 investors and facilitated the development of 24 prototypes and got support from ten government agencies, and dedicated over 300 hours of mentorship hours to the fellows."
Beyonce's Global Citizens Fellowship appoints Hamzat Lawal to advisory council
Recall that earlier this year, BeyGOOD Global Citizens Fellowship appointed Lawal to the advisory council for the 2021 Global Citizen Fellowship Program.
The Global Citizen Fellowship Program is powered by the world-renowned singer, Beyoncé Knowles Carter's Charity, BeyGOOD.
The program will unearth African youths with remarkable potential and unearth the remarkable talent within African youths.
Hamzat Lawal listed as a Global Malala Fund Education Champion
In August 2020, Lawal was listed as a Malala Fund Education Champion with 57 others from around the world.
The recipients were recognised for their efforts to accelerate progress towards girls' secondary education.
Lawal was named alongside other notable Nigerian campaigners: Olabukunola Williams of Education as a Vaccine and Benjamin John of Restoration of Hope Initiative.
Source: Legit.ng