"I Paid N250k": Nigerian Lady Treated Like a Queen as She Rents Cinema to See a Movie Alone, Video Trends
A Nigerian lady stunned many people after revealing that she paid N250k to see a movie alone in a cinema
The lady, identified as Obi Precious Chidera, shared a receipt of her payment for those doubting her claim
Precious went on to showcase the cosy interior of the cinema and the array of meals she was served
A Nigerian lady, Obi Precious Chidera, has shared how she spoilt herself by seeing a movie in a cinema alone.
According to Precious, the previous month was hectic for her, making her take herself out to wind down.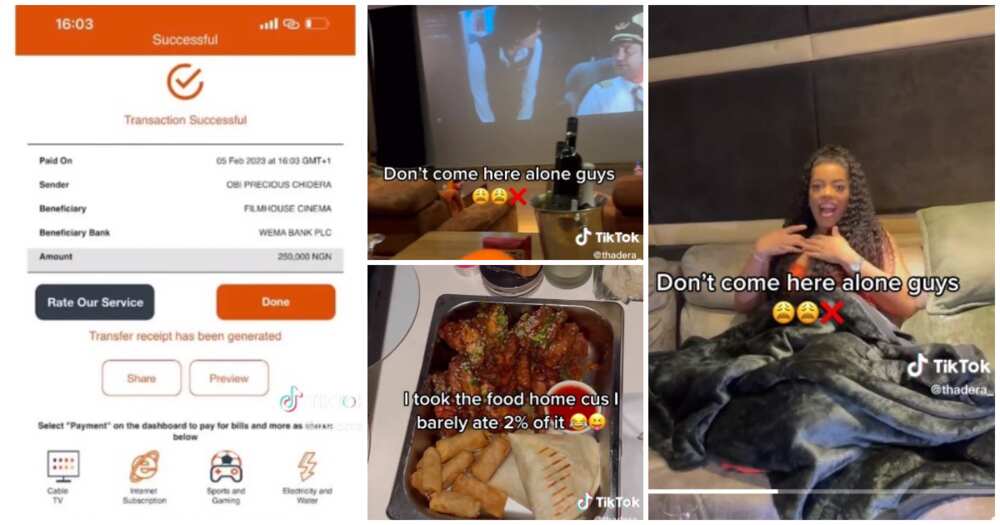 She posted the receipt showing that she paid N250k to have the cinema all to herself.
Precious recorded her lovely time at the cinema, showcasing how cosy it looked and how she was served different meals.
The young lady said she could not finish the meals and took the rest home. She said the food and drinks are included in the payment.
Sharing the video on TikTok, she wrote:
"I'll advise you go in pairs if you ever decide to do this. I had the most stressful previous month and decided to take a whole weekend to spoil myself."
On who recorded her, she said:
"The staff assigned to me helped out. Y'all won't kïll me."
Watch the video below:
Social media reactions
Ilorin Tv Media said:
"You brought none, is it ur ghost that's doing video? I don't argue about 250k sha, I no dy argue with rich people."
Valerieifeoma said:
"Hmm so who is the person recording you if you came alone."
Emmy said:
"Well I'm glad she had receipt I'd have said she's just bluffing."
Uba 'CheQuas' Onwuchekwa said:
"How many movies are you entitled to watch? If it's just one, then I'm obviously not paying that amount for a movie…but for the service."
DF1 said:
"I feel like nobody is asking the right questions. Who is videoing you if you went alone??"
RARE DEVIL said:
"It's a cozy space, i loved it. Worth the money anyways didnt go alone sha."
Odogwu Manny said:
"I'll surely do this with my guys when John Wick Chapter 4 comes out."
Husband rents movie theatre to surprise his wife
Meanwhile, Legit.ng previously reported that a man had rented a movie theatre to surprise his wife.
To celebrate their wedding anniversary, Drew Gottfried rented a movie theatre to surprise his wife with their long-lost wedding video.
According to Twetytwowords, Drew and his wife Kayla Gottfried thought their wedding video was erased and lost. However, a mutual friend from Church resurrected their hope after unearthing their long-lost wedding video.
Source: Legit.ng