Firstbank Changes Names of Its Subsidiaries in UK, Other African Countries, Marks 129th Anniversary
FirstBank has announced a name change for its subsidiaries in the UK, Ghana, and other African countries.
The move is part of a broader restructuring effort by the bank, aimed at strengthening its global presence.
The new names of the subsidiaries will reflect the parent company and it is with immediate effect
First Bank of Nigeria Limited has revealed that it will be altering the corporate names of its subsidiaries in Sub-Saharan Africa and the United Kingdom.
The Group Head of Marketing & Corporate Communications, Folake Ani-Mumuney, disclosed this information in a statement titled "FirstBank announces a name change of its subsidiaries, reiterates its commitment to boosting cross-border business opportunities in Africa and the world."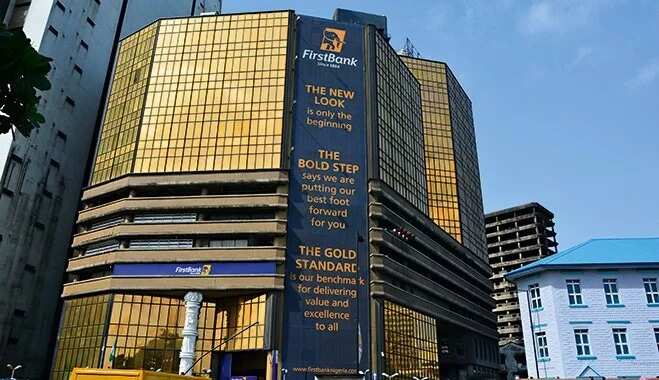 According to First bank, the name change is part of its commitment to enhancing cross-border business opportunities and aligning its subsidiaries with the parent brand.
The bank also noted that the name change would enable the subsidiaries to leverage the strong heritage and brand equity that FirstBank Nigeria has built in its 129 years of banking leadership.
List of first bank subsidiaries going through name change
Punch reports that the subsidiaries undergoing name alignment include FBNBank UK, FBNBank Sierra Leone, FBNBank Gambia, and FBNBank DRC.
Part of the statement reads:
"These subsidiaries will now be known and addressed as FirstBank UK, FirstBank Sierra Leone, FirstBank Gambia, and FirstBank DRC.
"The phased name change implementation will continue with the Ghana, Senegal, and Guinea subsidiaries.
"By aligning its subsidiaries with the parent brand, the bank aims to consolidate its position as a leading financial institution in Africa."
Speaking on the name change, the Chief Executive Officer of FirstBank Group, Dr Adesola Adeduntan, said:
"The name change which coincides with FirstBank's 129th founding anniversary (March 31st, 2023) is indeed a milestone reflective of our resolve to continuously provide the gold standard of excellence and value as we put our customers first.''
"The new identity of the subsidiaries contributes to an enhanced brand presence. It helps our customers and stakeholders better appreciate the value of the diversified products suites, competitive pricing and extensive business networks the FirstBank Group offers.
"These include our commitment to boosting cross-border businesses including trade and investment opportunities essential to enhancing trade relations amongst countries, thereby strengthening the economies of host communities and reducing poverty."
First Bank's top director, Shobo resigns
First Bank of Nigeria's deputy managing director, Gbenga Shobo, also resigned in a similar development.
The guidelines limit executive directors, deputy managing directors, and managing directors to a maximum tenure of 10 years.
The new guidelines are expected to affect many other bank executive and non-executive board members.
Source: Legit.ng