Naira Crisis Drives Nigeria's Inflation Rate to 17-Year High, as CBN Prepares to Fight Back
Nigeria's inflation reached a 17-year high in February due to cash scarcity, higher prices for food and other goods and services
Bauchi state was the hardest hit, while residents of Sokoto were the least affected
As a result, inflation figures will form a large part of the Central Bank of Nigeria's meeting later in March
The National Bureau of Statistics (NBS) has reported that Nigeria's inflation rate climbed to a 17-year high of 21.91% year-on-year in February 2023.
The figure is a 0.09% increase compared to 21.82% in January 2023.
NBS disclosed this in its Consumer Price Index (CPI) report published on Wednesday, March 15, 2023.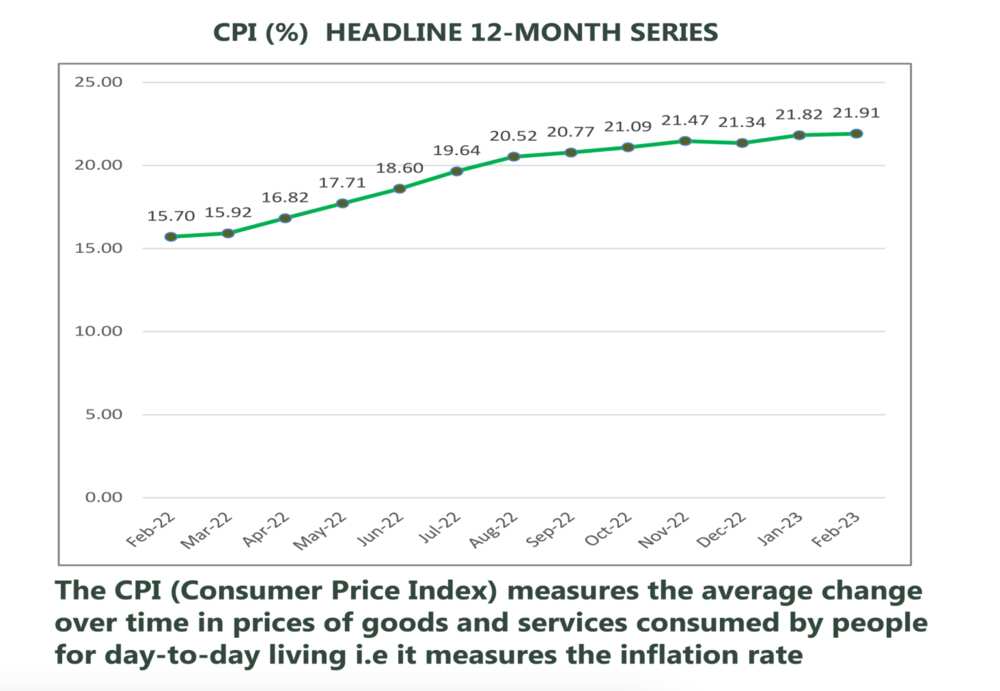 The increase in inflation figures is riding on the backs of the new naira note scarcity and uncertainties relating to the presidential election.
Other details of the NBS inflation report
The NBS disclosed that the food inflation rate, a significant factor in inflation figures, climbed to 24.35% year-on-year in February 2023.
This represents a 7.24% point rise from the 17.11% rate recorded in February 2022.
The report added that the surge in food inflation resulted from elevated prices of different food items.
These include oil and fat, bread and cereals, potatoes, yam and other tubers, fish, fruits, meat, vegetables, and food products.
Breakdown of states' inflation figures
In February 2023, NBS reported that the inflation rate on a year-on-year basis was highest in Bauchi (24.59%), Rivers (24.40%), and Ondo (24.27%), while Sokoto (18.90%), Borno (18.94%) and Cross River (19.62%) recorded the slowest rise in headline year-on-year inflation.
On a month-on-month basis, however, February 2023 recorded the highest increases in Edo (2.76%), Ogun (2.64%), and Yobe (2.36%), while Bayelsa (0.74%), Borno (0.95%) and Taraba (1.03%) recorded the slowest rise on month-on-month inflation.
Food inflation in Nigeria
For food inflation on a year-on-year basis was highest in Kwara (29.51%), Imo (27.47%), and Lagos (27.42%), while Sokoto (18.54%), Jigawa (19.67%) and Yobe (21.89%) recorded the slowest rise on year-on-year food inflation.
On a month-on-month basis, however, February 2023 food inflation was highest in Yobe (3.15%), Edo (3.03%), and Ogun (2.90%), while Rivers (0.75%), Sokoto (0.89%) and Nassarawa (0.90%) recorded the slowest rise on month-on-month inflation.
CBN inflation headache
The inflation figures are expected to feature prominently in the upcoming meeting of the Central Bank of Nigeria's Monetary Policy Committee, scheduled for Monday, March 20, and Tuesday, March 21, 2023.
In its defense of the naira redesign policy, the CBN said it is expected to curb the inflation in the market as less cash holding reduces currency outside banks and money circulation.
ThisDay reports that Godwin Emefiele, CBN governor, further stressed that the accompanying decline in the money supply would slow the pace of inflation.
His words:
"We have started to see inflation trending downwards following general price stability in almost all market genres, including for goods and financial products."
With the latest figure showing the opposite of CBN's promise and the supreme court judgment suspending the policy, the CBN will now need to devise a strategy to address the inflation challenge.
It is expected that the CBN will decided on the cost of loans as its next move to fight inflation.
Nigeria Missing in List of African Countries With the Worst Inflation Rates in 2023
While Nigeria's inflation rate for February 2023 is the highest the country has faced in more than 17 years, new data shows that the situation is even worse for citizens of other countries.
African countries such as Zimbabwe, Sudan, and Ghana lead the list with the worst inflation rate, followed by Sierra Leone, Ethiopia, Egypt, South Sudan, Rwanda, Burundi, and Malawi.
Top 10 inflation rates in Africa
Zimbabwe- 92.8%
Sudan- 83.6%
Ghana- 52.8%
Sierra Leone- 38.48%
Ethiopia- 32.0%
Egypt- 31.9%
South Sudan- 31.3%
Rwanda- 30.3%
Burundi- 28.62%
Malawi- 25.9%
Source: Legit.ng