Nigeria and 22 Other Countries Under Threat From Drug Smuggling Syndicates
A report has raised an alarm about threats posed by dr*g trafficking syndicates to Nigeria and other countries close to the coast
These countries have been targeted by criminal gangs that are peddling their illicit operations through vessels
The threats have elicited concerns from local and international organisations who emphasize a need to curb the illegal activities
Nigeria, along with 22 other nations face growing threats from the activities of dr*g smuggling syndicates as vessels originating from these countries face an elevated level of vulnerability.
This was disclosed in a report report titled: 'Counter Narcotics Dr*g Smuggling in Commercial Shipping,' published by maritime security firm, Dryad Global.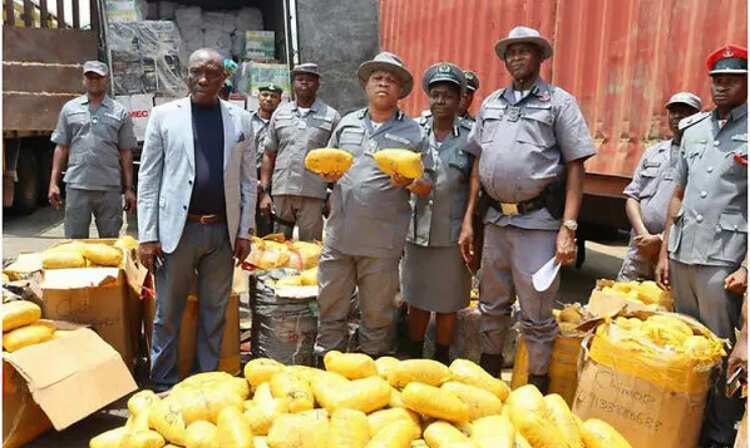 The countries include India, Myanmar, Pakistan in the Asian continent. Only Nigeria and Cape Verde from the African continent were included in the list.
Others are the Bahamas, Haiti, Jamaica, Belize, Mexico, Dominican Republic, Honduras, Costa Rica, Colombia, Venezuela, Brazil, Guatemala, El Salvador, Nicaragua, Panama, Ecuador, Peru and Bolivia.
PAY ATTENTION: Follow us on Instagram - get the most important news directly in your favourite app!
As per the reports from various agencies, organized criminal groups have been taking advantage of lawful shipments to unlawfully transport illegal dr*gs across different regions of the globe.
As indicated in the Dryad Global report, producers of illicit dr*gs persistently devise intricate trafficking routes that involve the deliberate selection of commercial vessels and their crews for the purpose of transporting their supplies through multiple intermediate stops and transit points.
According to the security firm's findings, the predominant approach for smuggling dr*gs worldwide involves concealing them within genuine shipments, alongside the utilization of both crew members and port personnel to facilitate these illicit trafficking operations.
As reported by the firm, individuals involved in dr*g trafficking adopt deceptive identities as port officials and stevedores, enabling them to introduce packages onto vessels. Additionally, they employ replicated official seals to label cargo containers as inspected.
Dryad Global stated that dr*g smugglers employ various hiding spots on commercial vessels, such as engine rooms, restricted areas that are less likely to be inspected, water inlets, rudder trunks, rudder/propeller stern frames, and fuel tanks, to conceal the illicit dr*gs.
The war against dr*g trafficking yielding gains
In a collaborative effort spanning 58 countries worldwide, the United Nations Office on Dr*gs and Crime (UNODC) and the World Customs Organization (WCO) successfully collaborated with customs, police, and various agencies to combat organized crime and internal risks that exploit the container supply chain.
During the period spanning from November to December 2022, the operation resulted in 158 dr*g seizures. These seizures encompassed a total of 98,734 kilograms of "coke" and 314 kilograms of hemp.
In December of 2022, the National Dr*g Law Enforcement Agency (NDLEA) reported a substantial accomplishment, seizing a staggering 100 million pills of tramadol over a span of 22 months.
Additionally, the anti-narcotics agency disclosed that this seizure accounted for more than 5.5 million kilograms of various illicit dr*gs.
In a recent development, the Nigeria Customs Service (NCS) took action to dispose of 96 containers filled with illicit and expired medicines that had been imported through both seaports and land borders of the country.
NDLEA arrests Lagos-based G.O. for attempted dr*g smuggling to Dubai
In related news, Legit.ng reported that the National Dr*g Law Enforcement Agency (NDLEA) arrested a Lagos-based church general overseer alongside two other accomplices attempting to smuggle illicit dr*gs to Dubai, United Arab Emirates (UAE).
This development was made known via a statement issued by the NDLEA spokesperson, Femi Babafemi, in a social media post sighted by Legit.ng on Sunday, February 12.
As contained in the statement, the general overseer, alongside two of his accomplices, was intercepted trying to smuggle methamphetamine and skunk to the middle-east country.
Source: Legit.ng