"This Error is Sincerely Regretted": FG Admits Tinubu not First President to Ring Bell at NASDAQ
FG has retracted its earlier claims that Tinubu is the first African president to ring a bell at NASDAQ
This is coming after the president rang the closing bell at NASDAQ in New York, USA
Former President Jakaya Kikwete of Tanzania reportedly rung the Nasdaq closing bell in September 2011
The federal government of Nigeria has apologised for saying President Bola Tinubu was as the first African president to ring the bell at the the National Association of Securities Dealers Automated Quotations (NASDAQ).
Tinubu was invited to ring the closing bell at the stock exchange market, based in New York on Wednesday, September 20, 2023.
In a statement on his X page, Ajuri Ngelale, presidential spokesperson, admitted the error.
He claimed that the incorrect information was passed down by a third-party event organizer.
He said:
"We have since found out that this information was incorrect as a former African leader has indeed had the privilege."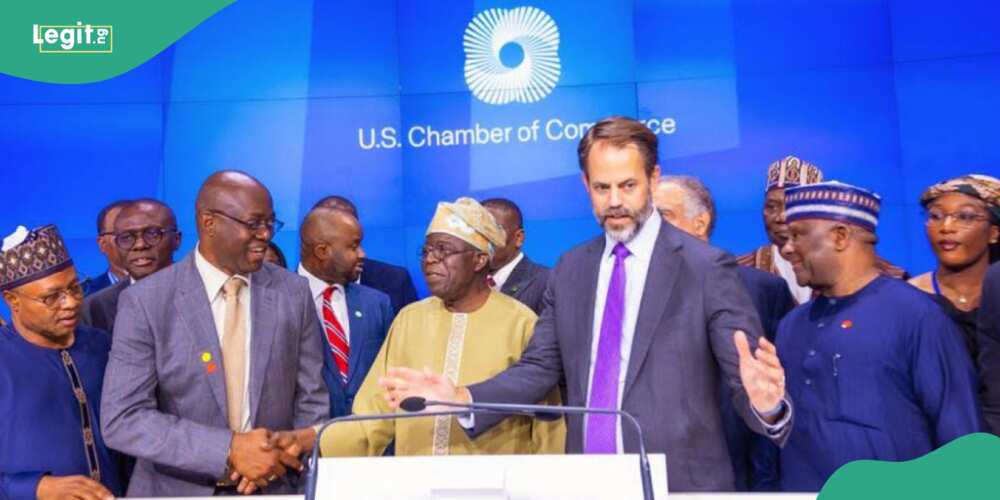 Tinubu rings closing bell at NASDAQ
Recall that as part of the Executive Business Dialogue events held by the United States Chamber of Commerce, Nigerian Exchange Group Plc, and Nigerian Investment Promotion Council on Wednesday, Bola Tinubu rang the closing bell at NASDAQ in New York, USA.
The NGX Group scheduled the business dialogue as one of the Non-Deal Roadshow's activities to assist the new administration's initiatives to rekindle foreign investors' interest in the Nigerian economy.
According to a statement by the NGX, the Non-Deal Roadshow will stimulate conversation, build economic links, and improve collaboration.
The Group's effort to promote the FG's objective to attract foreign investors to the Nigerian economy includes the Roadshow.
It added that the objective is to demonstrate the stability of the capital market and capitalize on the rate of changes being implemented by Tinubu's new administration.
President Jakaya Kikwete of Tanzania owns the title
The investigation has shown that former President Jakaya Kikwete of Tanzania rang the Nasdaq closing bell in September 2011.
Kikwete rang the bell at the NASDAQ MarketSite in Times Square in New York City in recognition of the Global Health Commitments for Women's Health and Women's Cancers.
Legit.ng had earlier reported that Tinubu arrived the John F. Kennedy Airport in New York to attend the 78th United Nations General Assembly (UNGA).
At the event, Tinubu asserted that Africa will no longer accept a situation in which human rights advocacy is abused by wealthy and powerful nations and used against their economic growth.
"Invest Now": President Tinubu Secures 7 Investment Deals Worth $14bn From Indian Investors
Legit.ng also reported that Tinubu secured $14 billion dedicated to investment pledges for the country after the Nigeria-India Presidential Roundtable and Conference held in New Delhi, India.
Source: Legit.ng