"Invest Now": President Tinubu Secures 7 Investment Deals Worth $14bn From Indian Investors
President Tinubu successfully secured a number of investment commitments from some Indian investors.
The investment is said to be worth about $14 billion in pledges as investors get ready to invest in Nigeria
Some of the critical sectors that the investments will cover include power, steel, telecom, and infrastructure development
Following the Nigeria-India Presidential Roundtable and Conference held in New Delhi, India, President Bola Tinubu has secured a total sum of $14 billion dedicated to investment pledges for Nigeria.
This was announced via a press statement signed by Ajuri Ngelale, the Special Adviser to the President on Media & Publicity and posted on the website of the Federal Government.
It would be recalled that President Tinubu left for India a few days ago to attend the G20 Summit where he aims to draw in international investors and enhance foreign direct investment in critical sectors of the nation's economy, thereby stimulating job creation and and government revenue.
On the sidelines of the G20 Summit, President Tinubu met with some Indian investors where he enlightened them about the investment opportunities in Nigeria.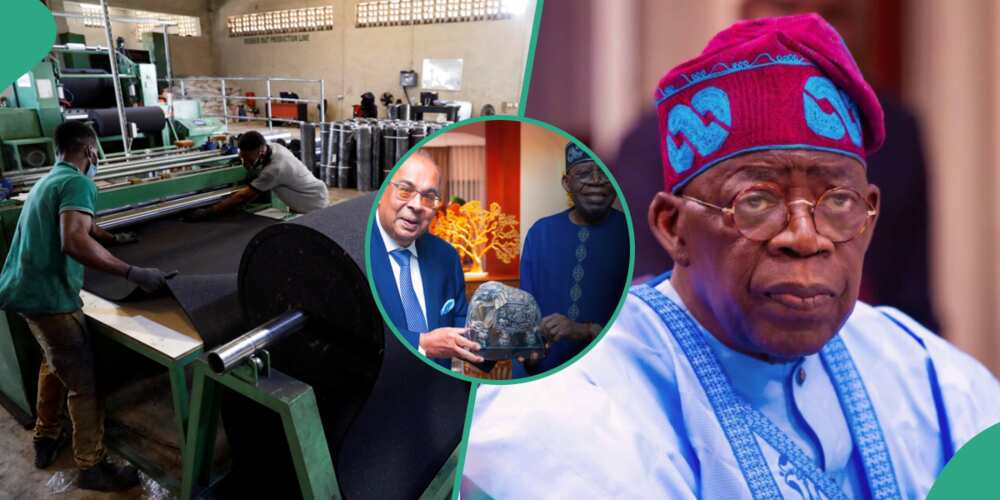 PAY ATTENTION: Follow us on Instagram - get the most important news directly in your favourite app!
Major deals struck by President Tinubu in India
In the course of the conference, President Tinubu successfully secured a number of investment commitments from some Indian investors.
Addressing participants at the conference, President Tinubu assured that Nigeria is open for business with enormous opportunities for investors. He also assured them of good government policies that will favour foreign investments.
He said:
We are ready to give you the best returns for investment possible, there's nowhere else like our country. Nigeria offers the best returns for investment today, so invest now.
The new investors include Indorama Petrochemical Limited, Jindal Steel and Power Limited, Bharti Enterprises and Jitender Sachdeva, President of SkipperSeil Limited.
1. Indorama Petrochemical Limited announced a commitment of $8 billion in fresh investment for the expansion of its fertilizer production and petrochemical facility located in Eleme, Rivers State.
2. Jindal Steel and Power Limited, a prominent Indian private steel manufacturer, has made a substantial commitment of $3 billion for investment in Nigeria's iron ore and steel sector.
3. The Founder and President of SkipperSeil Limited, Mr. Jitender Sachdeva, revealed that he will be directing a substantial investment of $1.6 billion towards the establishment of twenty 100MW power generation plants spread across the Northern states of Nigeria.
This initiative is set to contribute 2,000MW of additional power capacity to the region within the upcoming four years.
4. Bharti Enterprises officially declared its dedication to inject an extra $700 million into Nigeria. This investment is poised to commence without delay.
The prominent first-generation Indian corporation is engaged in a wide range of sectors including telecom, space communications, digital solutions, insurance, processed foods, real estate, and hospitality
5. The President has given the green light for the completion of a fresh agreement worth $1 billion aimed at achieving a 40% level of self-sufficiency in the local manufacturing and production of defense equipment by 2027 for the Defense Industries Corporation of Nigeria (DICON).
This ambitious goal will be realized through a comprehensive partnership with the Managing Arm of the Military-Industrial Complex of the Indian Government.
6. Dr. Bosun Tijani, Nigeria's Minister of Communication, Innovation, and Digital Economy, and his Indian counterpart from the Ministry of Electronics and Information Technology, have jointly signed a Memorandum of Understanding (MoU) aimed at collaborating in the sharing of successful digital solutions.
This collaboration will focus on implementing these solutions at a nationwide scale to facilitate comprehensive digital transformation efforts.
Additionally, the minister entered into a Memorandum of Understanding (MoU) with the Central Square Foundation to facilitate cooperation in the realm of Sharing Successful Ecosystems.
These initiatives encompass interventions in the field of educational technology and will be executed on a broad scale to drive digital economic transformation.
7. Furthermore, Dr. Doris Uzoka-Anite, the Minister of Trade and Investment, signed a third Memorandum of Understanding (MoU) focused on Infrastructure Development.
This agreement brings together the Infrastructure Corporation of Nigeria Limited (InfraCorp) and Invest India, the National Investment Promotion and Facilitation Agency of India.
Invest India plays a pivotal role in assisting investors seeking opportunities and options for investment within India.
More Indian companies will result in more jobs
Commenting on President Tinubu's expedition to India, Investment banker, Chibuzor Amazie told Legit.ng that it is a step in the right direction.
He said:
India has always had a good trade relationship with Nigeria. In fact, data showed that last year (2022) the volume of trade between Nigeria and India was about $14 billion. Nigeria is India's biggest trade partner in the whole of Africa.
President Tinubu's move to woo more investors from India is definitely a step in the right direction. There are already over 100 Indian companies in Nigeria and having more come over will build more companies and create more jobs for people.
What Nigerian businessmen expect from Tinubu's Administration
In related news, Legit.ng had earlier reported that the Nigerian business community has presented several requests to President Bola Tinubu.
In November 2022, during his campaign, Tinubu engaged with the business sector, holding a meeting with private sector representatives in Lagos.
During this meeting, he made several commitments, including a pledge to rejuvenate Nigeria's dormant industries should he be elected as president.
The former governor of Lagos State also assured that he would give top priority to enhancing security in order to foster a thriving business environment and stimulate overall economic growth and prosperity.
Additionally, his agenda includes the promotion of agriculture, ensuring a reliable power supply, optimizing the exchange rate system, investing in infrastructure development, and supporting local production through the use of domestically made goods.
Source: Legit.ng