Nigerians Abroad Share Experiences Depositing Old Naira Notes
Nigerians in the diaspora have detailed their struggle exchanging their old naira notes
They said on social media that they keep naira notes for exigencies whenever they visit the country
Nigerian official, Abike Dabiri-Erewa wondered if Nigerians abroad keep or spend naira notes
PAY ATTENTION: Сheck out news that is picked exactly for YOU ➡️ click on "Recommended for you" and enjoy!
Nigerians abroad have expressed concern about what becomes of their old naira notes in their possession.
A Nigerian Twitter user, Colin Udoh, a former Super Eagles Press Officer, living in the US expressed concern about what becomes of his old naira notes since he does not live in Nigeria.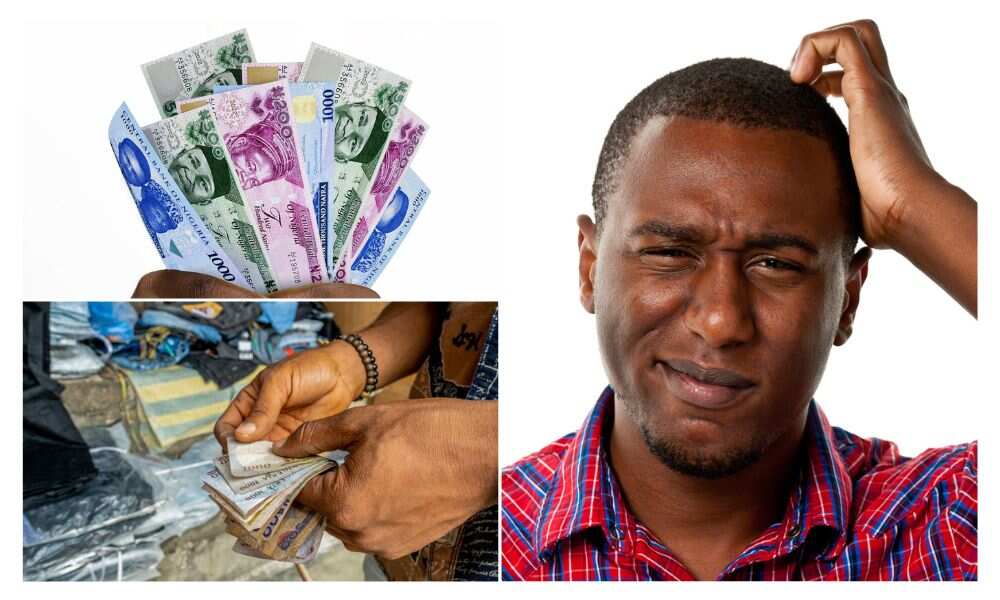 Abike Dabiri at a loss
He asked:
"I have some old naira notes with me. So far, I haven't seen or heard of any plans by the central bank for folks in the diaspora with old naira notes to exchange theirs. Am I missing something?"
Abike Dabira-Erewa, Chairperson of Nigerians in Diaspora Commission (NIDCOM) asked if Nigerians abroad keep or spend naira notes abroad.
Dabiri-Erewa asked:
"Do Nigerians in diaspora keep or spend Naira notes abroad? Am I missing something?"
Udoh explained to the former lawmaker that he has always kept the naira notes whenever he returns to Nigeria.
He said:
"I always carry some naira with me if I need to pay for stuff. And on arrival, it's a backup to pay for things like trolley, car rental, assistance, hotels, etc in case ATM fails."
Another Nigerian, Osariemen said the practice of keeping old naira notes is an unspoken rule for anyone returning to Nigeria. He said when he arrives he uses the naira notes to settle airport officials who want to extort them.
He stated:
"I have a Naira note here, trust me, you do not want to arrive in Nigeria without it. Those airport people will milk you. It is an unspoken rule, keep Naira notes if you intend to travel back to Nigeria."
It is buffer against extortion at the airports
Another Twitter user, Shola Olushola said that most Nigerians keep old notes during visits to the country as there will be some cash to spend for some days before exchanging foreign currencies in their possession.
He said the CBN should also make plans for Nigerians in the diaspora to exchange their old notes even after the deadline.
Farooq Kperogi, a professor of journalism at Kennesaw State University in the US said he takes back naira notes when to Nigeria in the event that they will have reason to spend at the airport.
He said they use the notes to pay for airport taxis, trolleys and bribe-seeking airport officials.
Also, Farooq Kperogi, a professor of journalism at Kennesaw State University in the US, said he takes back naira notes when he travels
" I'm now resigned to the fact that the naira I have with me here is useless," he said.
Nigerians back home have been struggling to lay hands on the newly redesigned notes after the Central Bank of Nigeria initially said the old notes will cease to be legal tender by January 31, 2023, and later gave a 10-day extension.
On Tuesday, January 31, 2023, the governor of the Central Bank of Nigeria, Godwin Emefiele told the House of Representative members that no Nigerian will lose their old naira notes, stating that the banks will still take the old notes long after the deadline of February 10, 2023.
Nigerians have kept vigil at ATM points in order to lay hands on a few new currency notes.
Media reports have shown scenes of fights and struggle at various ATM points across the counter.
The CBN barred banks from paying the the new naira notes across the counter.
Many banks in Nigeria reported that that they do not have enough of the old naira notes and. therefore resorted to paying old naira notes.
CBN chooses 5 Banks for cash Swap Programme, excludes Lagos, Abuja PoS operators
Legit.ng reported that the Central Bank of Nigeria (CBN) has named about five money deposit banks to participate in its cash swap initiative.
The development comes as the deadline for the expiration of old N200, N500 and N1,000 notes as legal tender approaches.
The information was contained in an Frequently Asked Questions (FAQ) document released by the CBN on Monday, January 23, 2023, where the it detailed the procedure for the cash swap programme.
Source: Legit.ng