First Bank Shareholders Prepare to Fight for More Shares as Femi Otedola Secures Top Director Position
First Bank of Nigeria Holdings Plc's annual general meeting has finally taken place after several delays
During the meeting, several agreements were reached, including the approval for the bank to raise additional capital worth over N150 billion
Additionally, First Bank shareholders announced the appointment of Femi Otedola as one of the new directors
Shareholders of First Bank of Nigeria Holdings Plc, including billionaires such as Femi Otedola and Hassan Odukale, are poised for a new round of scrambling for the bank's shares.
At its recently held annual general meeting, the bank's shareholders agreed to an increase in authorised share capital and a proposed N150 billion rights issue.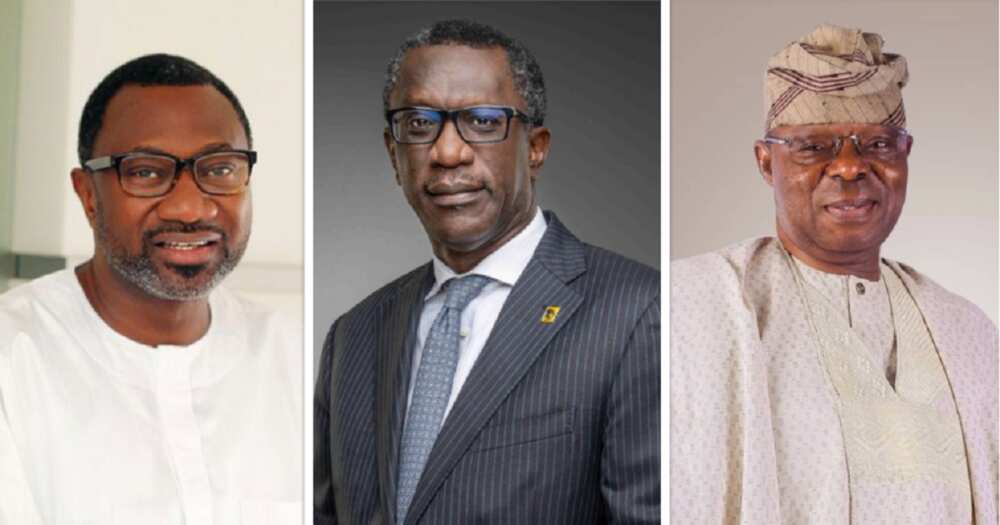 The agreement means that the company's Issued Share Capital will increase from approximately N17,947,646,396 ( 17.9 billion) made up of 35,895,292,792 (35.9 billion) Ordinary shares of 50kobo each to N22,434,557,995 (22.4 billion) by the creation and addition of up to 8,973,823,198 (8.97 billion) Ordinary shares of 50kobo each.
Other decisions taken at First Bank's AGM
Also, at the meeting, the shareholders approved the appointment of Femi Otedola as a Non-Executive Director and Oyewale Samson Ariyibi as an Executive Director of FBNH.
The Central Bank of Nigeria (CBN) has also given its green light for Otedola's appointment.
A statement from First Bank reads:
"In accordance with the Nigerian Exchange Limited (NGX) Rule Book, we hereby notify the NGX and the investing public of the appointment of Mr. Olufemi Otedola, CON, as a Non-Executive Director of FBN Holdings Plc.
"The appointment by the Board of FBN Holdings Plc has been approved by the Central Bank of Nigeria (CBN) and endorsed by the Shareholders at the Annual General Meeting held on August 15, 2023. The appointment is effective August 14, 2023."
Furthermore, during the AGM, a dividend payment in the total sum of N17,947,646,398 (N17.95 billion)) was agreed upon by the shareholders.
The amount translates to 50 kobo per 50 kobo ordinary company shares, subject to withholding tax.
Here are the shareholdings of top men in First Bank
Oba Otudeko (13.3% share)
Femi Otedola (5.7% share)
Hassan Odukale (4.40% share)
Zenith Bank chairman Jim Ovia makes over N13bn in 5 hours, buys more shares
In another report, Legit.ng revealed that Jim Ovia, the owner of Zenith Bank, has purchased additional shares in his bank.
The new shares were purchased after he made over N13 billion from President Tinubu's inaugural speech.
He made money between 9:30 and 14:30, the trading hours of the Nigerian stock market.
Source: Legit.ng