100+ positive Monday morning blessings to send to your loved ones
Monday can be a great day to refocus and push for your goals. It is a great day to dive into your tasks and get a head start on the week. Sending your loved ones positive Monday morning blessings is a great way to help them start the week off right with more blessings on the way.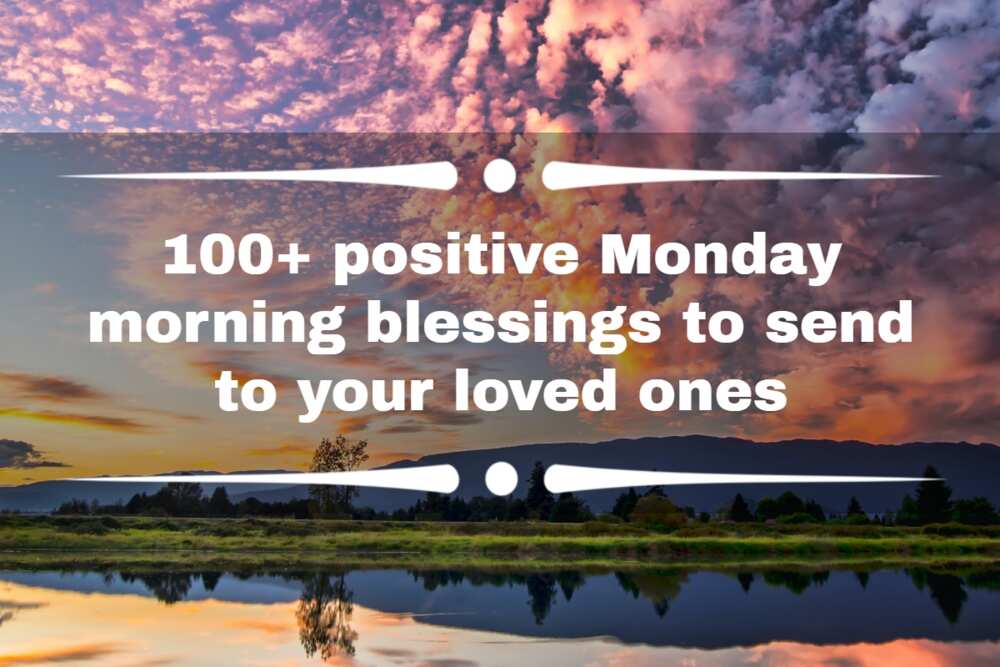 Morning blessings and prayers are extremely powerful. They help you start your day off right and live the rest of the day well. As you begin your day, remember to wish your loved ones and friends a wonderful week. Send them one of these heartfelt Monday morning greetings. This will lift their spirits and ensure that they have a productive week ahead of them.
Inspirational Monday morning blessings
Uplifting and motivating Monday blessings is a great way to show your friend that you care about them and are willing to pray for them. Share some of these positive inspirational Monday blessings with those you care about.
This is your Monday morning reminder that you are powerful beyond measure.
Wake up this Monday with a smile and great expectations for the day ahead!
You are my Monday morning blessing, and I am so happy to have you in my life!
Morning reminds you that you can handle whatever this week throws at you.
Good morning friend. Wishing you a blessed Monday and an awesome week ahead.
Mondays can be hard, but what keeps you going is on the inside. Keep going. Be great.
May the Lord give you the strength you need this Monday to face another week. Amen.
Today is a new day for new beginnings, new starts, and old endings. Today is my day.
Have a nice day and a blessed Monday! May God grant you many moments of happiness.
Have a good morning, Monday! May you have every reason to smile and celebrate today.
The week starts now, so start fighting for your happiness today. Happy Monday!
May your heart be prepared for the new beginnings that this day offers. Happy Monday.
Waking up to a new morning reminds me of the many wonders of God and how his glory shines everywhere I look.
May your life attract favour and goodness this week. May you not labour too hard for anything good. Happy Monday.
Say a good morning Monday prayer at the start of a new day. Be grateful for His love and shower Him with praises.
Good Monday morning blessings shall follow you all through your day. You will have a lot to be thankful for today.
Good morning; it's Monday. Get a fresh perspective. Whatever challenges you're facing is not permanent.
No matter what difficulties you encounter today, they will not succeed in knocking you down. Have a great Monday and a great week ahead.
Waking up to a new morning reminds me of the many wonders of God and how his glory shines everywhere I look.
Today, God, in his infinite mercies, shall grant unto you all your aspirations beyond your imagination. Good morning and happy Monday.
Good morning to a fine day ahead. I hope you wake up to indulge in God's graces and feel His presence everywhere!
Positive Monday blessings quotes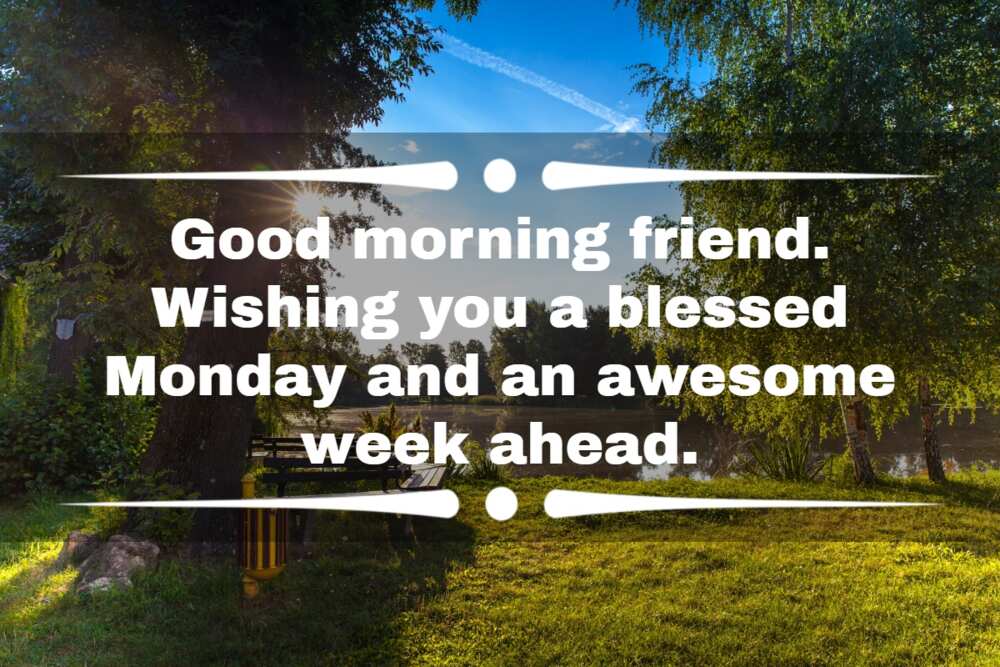 Remember to use affirming words when sending positive Monday blessings. Spread happiness and inspire your friends to do good. Here are some positive quotes for you to share.
Just one small positive thought in the morning can change your whole day.
Let your Monday be filled with unbearable happiness and joy! Happy Monday!
I pray that the Lord will surround you with His presence, love, and grace this Monday.
Good morning; it's Monday! I shall smash all my goals and achieve positive results.
This Monday is the beginning of your happy journey throughout the whole week, so enjoy it.
Life always offers you a second chance. It's called tomorrow, have a beautiful Monday!
Good morning to you. May your every step be filled with happiness, love, and peace.
Have a blessed Monday; remember that it is the first day without mistakes.
Meet this Monday with positive thoughts, and you won't face negative things throughout the week.
Let this Monday be kind to you: be happy with what you have and accept the things you cannot change.
I get up every morning, and it's going to be a great day. You never know when it will be over, so I refuse to have a bad day.
Some blessings do not look like blessings initially, but later, you realize you are, in fact, better off the way things turned out.
I wish you a cup of hot coffee, a sizzling plate of desire, a slice of success, and a tribute to have a pleasant day. Continue to be blessed. Good morning.
I think there's a blessing in every lesson, and there are so many blessings from all the lessons I've had to go through in life.
Monday can either start a struggling week or be a fresh reminder that you will be strong this week. Have a blessed Monday!
A wonderful morning awaits you, filled with all the joy of life. Dive into the endless possibilities it offers. Hello and good morning!
With each new week that begins, we should ask God to protect us and bless the days to come.
Mondays are tough for those who don't know how to spend them cheerfully. Get up and have fun today!
Passion is pushing yourself when no one else is around. And a champion is one who works day in and day out, even when the competition is sleeping. Happy Monday morning!
I pray that your life will be filled with God's love and blessings. May you enjoy God's provision for you today and every day of your life.
Like the morning dews on leaves, so shall your day be sprinkled with blessings. It shall be so much that even the sun will not be able to dry it by noon. Good morning, friend.
Blessed good morning Monday wishes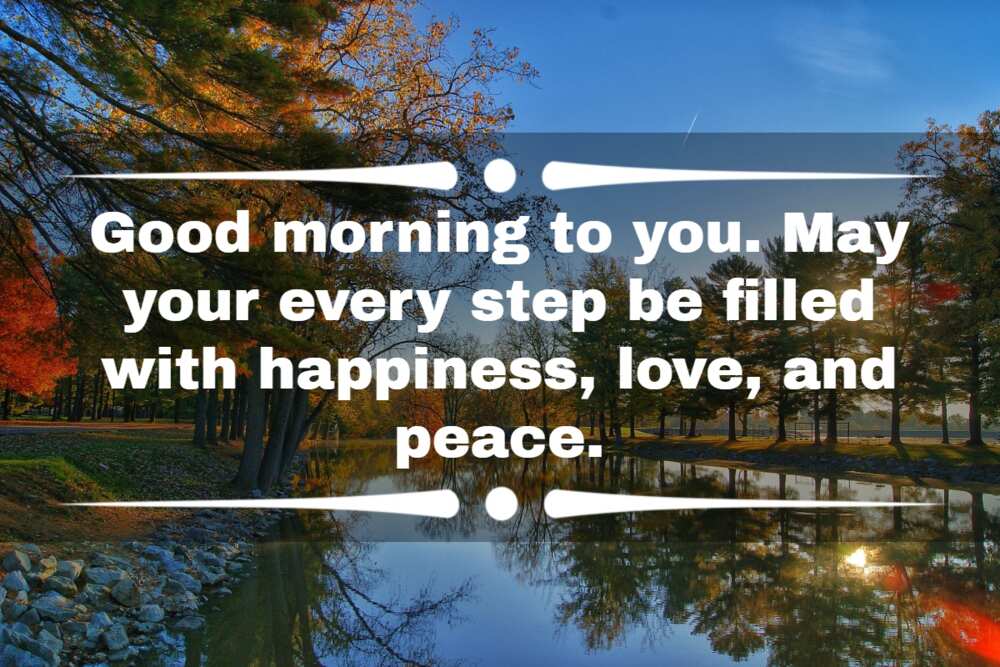 Mornings are ideal for connecting with God and seeking satisfaction, joy, and happiness. Morning blessings make your entire day more energetic and motivating. Share any of these blessing quotes with your loved ones.
May the new day bring you glory and an abundance of happiness.
It is a beautiful Monday to pursue success by sticking to the fundamentals and not stopping to push the envelope for as long as you are alive. Wishing you a joyful Monday.
Good morning. Wishing you a lovely week ahead! Enjoy every day to the maximum, always with optimism and great joy. Happy Monday.
I hope your morning is relaxing. I just wanted to send a quick message to say I am thinking of you and filling your day with light and love, friend.
All I wish for you is that this Monday morning brings you courage and hopes to confront all the problems in your life. I hope your day ends up fabulous. Good morning and happy Monday.
Good morning to someone I would like to consider to be a friend. Don't get too excited. I stated that I would like to.
You shall not lack any good thing today and henceforth because the Lord is your shepherd. He will make provision for the tiniest of your needs. Good morning friend.
I pray that God may give you heaven's dew, the earth's fatness, and plenty of grain and wine today. I love you, dear. Good morning.
Good morning everyone; as the day starts, may you have a re-rejuvenating time. And have the strength to face the day's demands.
Another great Monday to prove to the doubters that God indeed cares and loves us. A very good day to you all.
Top of the morning, buddy! I hope that you had a good night's sleep, and I wish you a day when God enables you to fulfil your dreams.
Good morning friend. As you start this day, remember that you have a friend who loves and always prays for you.
Good morning and happy Monday, my dear friend. Do not be afraid as you go out today, for the Lord shall send guardian angels to be with you.
My message this morning is that you may spread love and kindness the way the Lord commands us to. Enjoy your morning.
Monday is a day to thank God for his blessings and the fantastic things you will accomplish throughout the week.
Let this bright Monday be the most fruitful day of your week, and you must utilize every opportunity that presents itself to inspire those around you.
Monday is the whistle for you to hit the ground running and not waste a single minute of the week. Have a blessed week.
I wish you a splendid morning that brings the shine of love and excellence to your life. May you spend your day well. Happy Monday.
Define your goals for a new week once again because Monday is here. Give yourself a go towards your weekly success plan. Happy Monday morning!
When you wake up on Monday morning, always thank god for giving you one more day to express your full potential and love like maniacs. Happy Monday morning!
Happy Monday quotes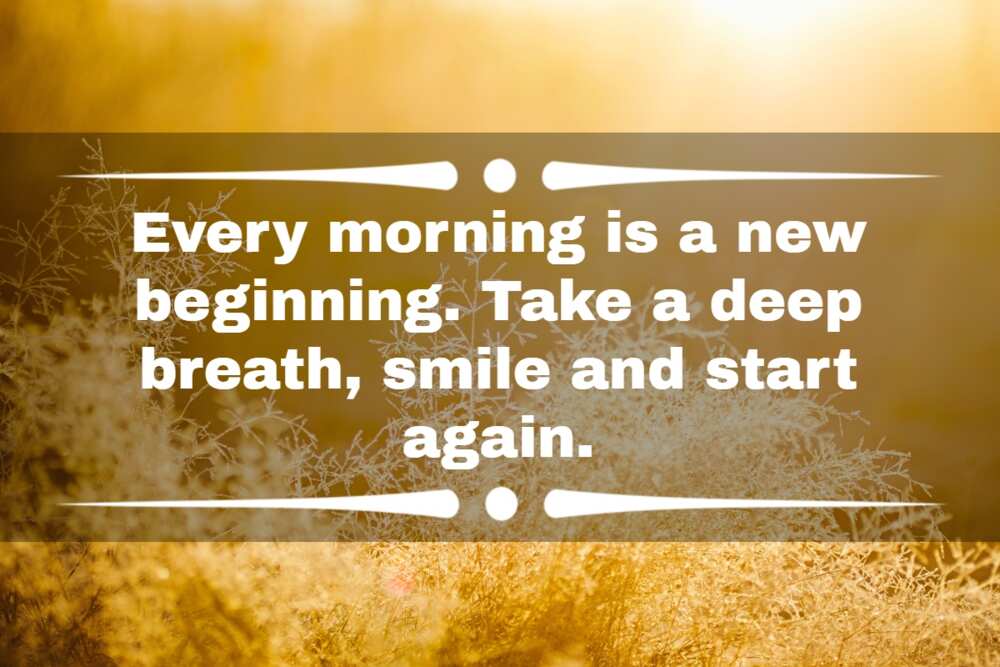 Monday mornings bring with them new hopes and dreams as you begin a new week. Sending good morning and happy Monday quotes to your friends and loved ones can set the tone for a successful week.
I wish you a day that's just as awesome as you. Happy Monday.
Every morning we are born again. What we do today matters most.
Hit the ground running. Don't waste a minute of this week. Happy Monday.
It's Monday. I'm happy. I'm Blessed. God is going to do amazing things this week.
Mondays are the start of the work week which offers new beginnings 52 times a year!
Happy Monday morning. May God's blessings be with you throughout the day.
Every morning is a new beginning. Take a deep breath, smile and start again.
Get away from negative vibes. Love the ones who treat you right. Have a great Monday.
Blessed Monday to you! Go out there and break grounds; Mine the gold and cash out!
You can make this happen. I know you can because I believe in you. Good morning Monday.
Happy Monday! As you wake up to the newness of the day, may gladness fill your heart and soul.
Today marks the beginning of another working week. Take things easy and take good care of yourself today. Good morning.
When you arise in the morning, think of what a precious privilege it is to be alive, breathe, think, enjoy, and love.
No matter how good or bad your life is, wake up each morning and be thankful that you still have one.
You are strong, I know, and I believe that a part of you echoes this to you. I wish you a Monday full of success.
Things will get better, okay? Just believe it. No condition is permanent. Good morning, special.
I believe the week before was amazing, and if not. I believe this week would be. Have a fantastic Monday.
Good morning, friend. Today is another chance life has given you to make a difference. Do make good use of it. Have a beautiful Monday.
Monday presents a new opportunity to begin anew and take a fresh shot at greatness. May you achieve greatness.
Exhale every negative feeling and inhale all the good energy you need to press forward. Happy Monday.
You can wield any storm because I believe in the strength you carry. Good morning. The week is great. Get it.
Short Monday blessings quotes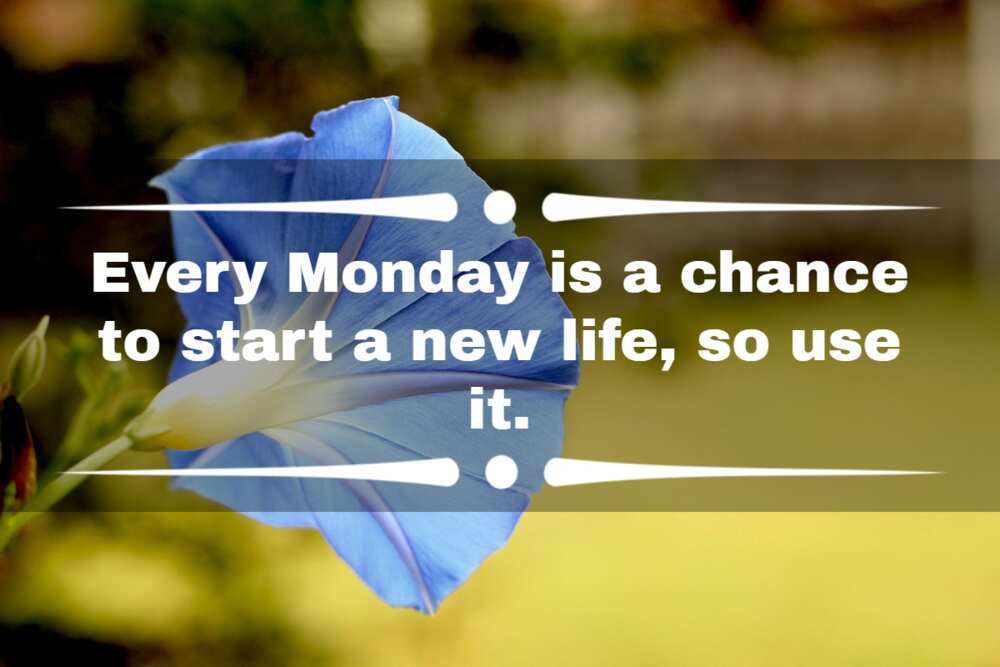 Mondays signal the end of the weekend and the start of a serious work week. So, what better way to start the week than by sending a bunch of happy Monday quotes to your friends and family? For some inspiration, check out this happy Monday morning wishes.
Believe on Monday the way you believe on Sunday.
Monday morning is the start of a new story. Make it a good one.
Good morning and happy Monday! Stay strong and shine brighter.
Mondays would be great if you have the greatness to look forward to.
Embrace the fresh start that Monday presents. Have a great one.
May your effort today be successful. Have a good Monday morning.
Project positivity. Reject negativity. Be amazing. Have a great Monday.
Every impossibility shall be made possible today. Good morning.
I love it when a new week begins; this is no exception. Good Monday!
Good morning. May success be yours today. Happy Monday.
Keep spreading positivity wherever you go. Good morning!
Good morning beautiful. I hope you have a wonderful day.
Every Monday is a chance to start a new life, so use it.
Either you run the day, or the day runs you. Have a blessed Monday!
Good morning!!! Hope your day is filled with joy and happiness.
Today is Monday. Give thanks for another day full of many possibilities.
Good morning. Hope you're ready for a brilliant day ahead.
A smile is what you need to start the day with. Good morning!
Good morning. I'm hoping this day will overflow with love and joy for you.
May your Monday be filled with good news, unending joys, good people and endless blessings.
The start of the week necessitates motivation to get you energized and pumped up for the week ahead. The above Monday morning blessings will assist you in ushering your loved ones into a wonderful week ahead.
READ ALSO: 100+ good night message for a friend ideas to send to your bestie
Legit.ng recently published an article with 100+ ideas for good night messages for a friend to send to your bestie. Remembering a friend before going to bed is a sweet gesture of friendship.
Sending a message late at night is one way to help your friends cope with the day's stress. This can provide them with the peace they require while sleeping. It will also strengthen and deepen your relationship.
Source: Legit.ng