#NigeriaAt55: Nigeria's Legendary Track And Field Athletes
In an interview with Legit.ng Sports, Nigeria's former sprint queen Falilat Ogunkoya said athletics in Nigeria should be given more recognition due to the medal hauls our beloved athletes produced at championship events. 
[article_adwert] In the Olympics Nigeria's most successful period in the athletics came between 1990 and 1999 when the country their highest medal hauls in the commonwealth and Olympic games in 1994 and 1996 respectively.
In honour of Nigeria's 55th birthday, Legit.ng sports lists those sprint kings and queens who should be more celebrated than they are right now.
Olusoji Fasuba: Fasuba is Africa's fastest man of all time with a continental and personal best of 9.85 seconds.
Born in Sapele, Delta state on July 9, 1984, Fasuba dumped education in Obafemi Awolowo university (OAU) for athetics with encouragement of his mother.
Sprinting was part of his family life as his mother, a Jamaican, was a runner in her youth and is the cousin of Don Quarrie, a 200 metres Olympic gold medalist.
His parents encouraged him to run from a young age and he was so fast that secondary schools would ask him to compete for them, even though he was of primary school age.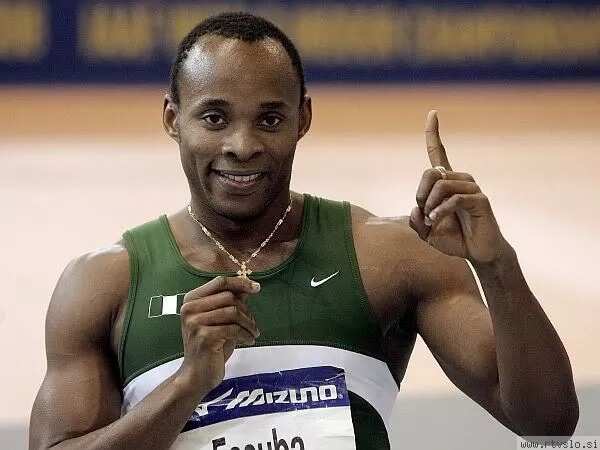 For his 2006 achievements the The Athletics Federation of Nigeria chose him as the Nigerian Male Athlete of the Year.
He won two gold medals at the 2007 All-Africa Games, winning in the 100 m and 4×100 m relay. However, the occasion was marred by calls for him to be banned from the Nigerian team following a misunderstanding: Fasuba had planned to celebrate with the Nigerian flag but he had to abandon the celebration after he was called to take a drugs test.
On 26 August 2007, he finished fourth in the 100 m at the 2007 World Championships with 10.07 s. Fasuba won the World Indoor Championships 60 m sprint on 8 March 2008 in a time of 6.51 s.
Having beaten Frank Fredericks' previous mark, Fasuba is the 100 m African record holder with 9.85 s which places him as the ninth fastest 100 m runner ever.
He also has the fourth fastest time by an African runner in the 60 metres with 6.49 s; only Leonard Myles-Mills, fellow Nigerian Deji Aliu, and Morne Nagel have run faster.
Chioma Ajunwa: She is Nigeria's first individual gold medallist at the Olympics. She specialized in the long-jump event and was a police officer before venturing into Olympics. She is still Nigeria's only individual gold medalist at the Olympics.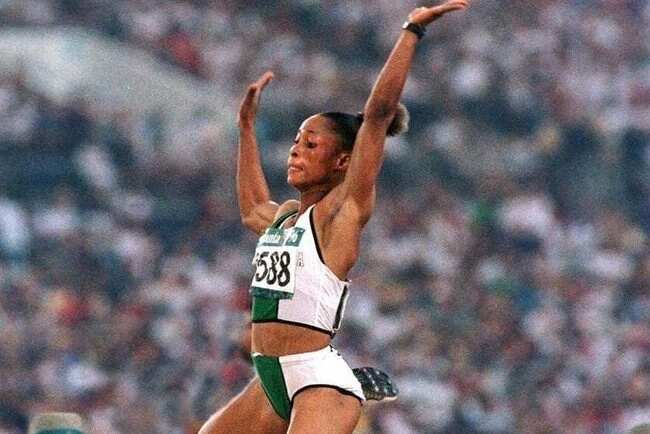 The last of nine children, with six brothers and two sisters. Her father died while she was still young, leaving his wife to solely support a large family.
At eighteen Ajunwa, who had been a keen athletics participant during her school years, gained admission into university but was unable to register due to her mother's inability to pay the fees. She later decided to become a motor mechanic, but abandoned the idea following her mother's disapproval.
Ajunwa went on to become the first West-African woman, as well as the first Nigerian, to win an Olympic gold medal in a track and field event when she emerged victorious in the women's long jump event at the 1996 Olympics in Atlanta, with a jump length of 7.12 meters (on her first attempt) during the final.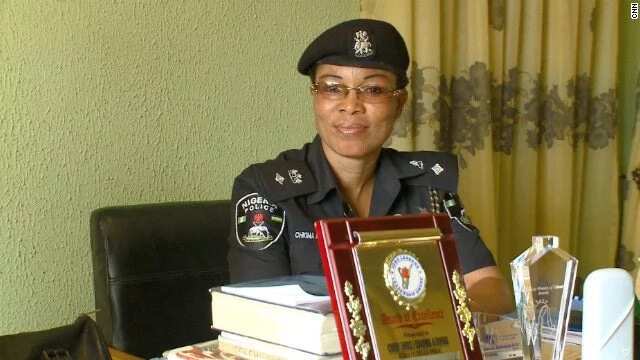 In 2003 she stated in an interview with The Vanguard: "I toiled so much for this country, but then I was dumped. So many people wanted me out of the way. Sports directors, chairmen and their deputies and secretaries all wanted me out. It was a galling experience. That I could be the only individual gold medal winner for Nigeria in over half- a-century of participation in the Olympics and I could still be treated like a scourge, I couldn't believe it.
READ ALSO: Mourinho Under Fire As Chelsea Players Express Rage Over Scapegoating Mindset
Falilat Ogunkoya: Ogunkoya retired in 2004 and won a number of national championships, including a gold medal in 1996 in the 400 metres, gold in the 200 metres and 400 m in 1998, and gold again in 1999 and 2001 in the 400 m.
At the 1987 All Africa Games in Kenya she won the silver medal in the 200 m. In 1995 at the Zimbabwe Games she won the silver in the 400 m, and at the 1999 Games in South Africa she won a gold medal in the 400 m.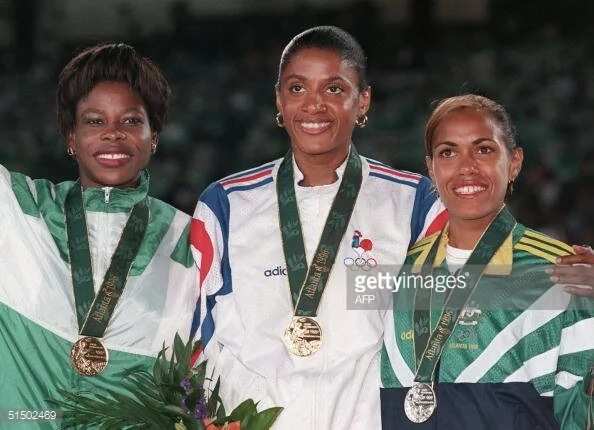 At the 1996 Summer Olympics she won a bronze medal in the 400 m in a personal best and African record of 49.10, which is currently the twelfth fastest of all time.
Mary Onyeali-Omagbemi: This list would be incomplete without Mary Onyeali's name. She added Omagbemi to name after she married fellow sprinter Victor Omagbemi.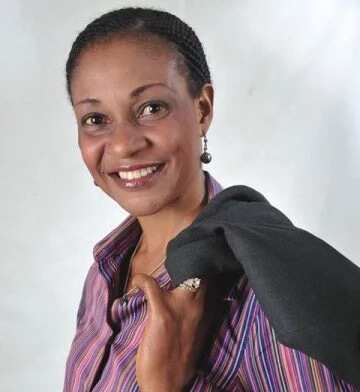 Her consecutive Olympic appearances from 1988 to 2004 made her the first Nigerian to compete at five Olympics. This feat was equalled by table tennis players Bose Kaffo and Segun Toriola four years later in Beijing, PR China.
Blessing Okagbare: Sapele born Okagbare is a Nigerian track and field athlete who specializes in long jumping and short sprints. She is an Olympic and World Championships medalist in the long jump, and a world medallist in the 200 metres.
She is presently the leading light in Nigerian athletics.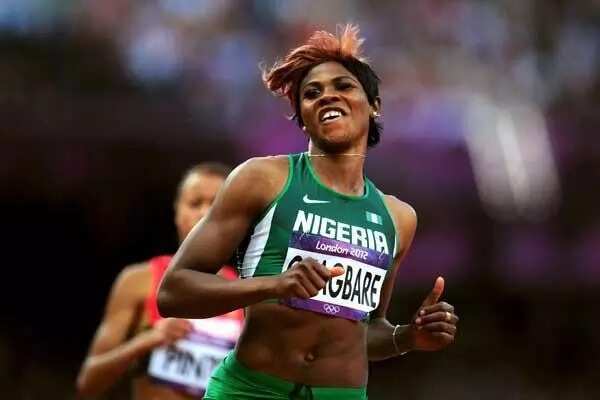 The 27 also holds the Women's 100 metres Commonwealth Games record for the fastest time at 10.85 seconds. Her 100 m best of 10.79 makes her the African record holder for the event.
Regina George: US born Regina George chose to represent the land of her parents. Her father Phillips, is Nigerian, and moved to the US on an athletic scholarship. Her paternal grandfather was from Onitsha while her grandmother is from Rivers State, Nigeria.
Her mother is former Venezuelan 400 m athlete, Florencia Chilberry. George's parents were both scholarship track and field athletes at Wichita State.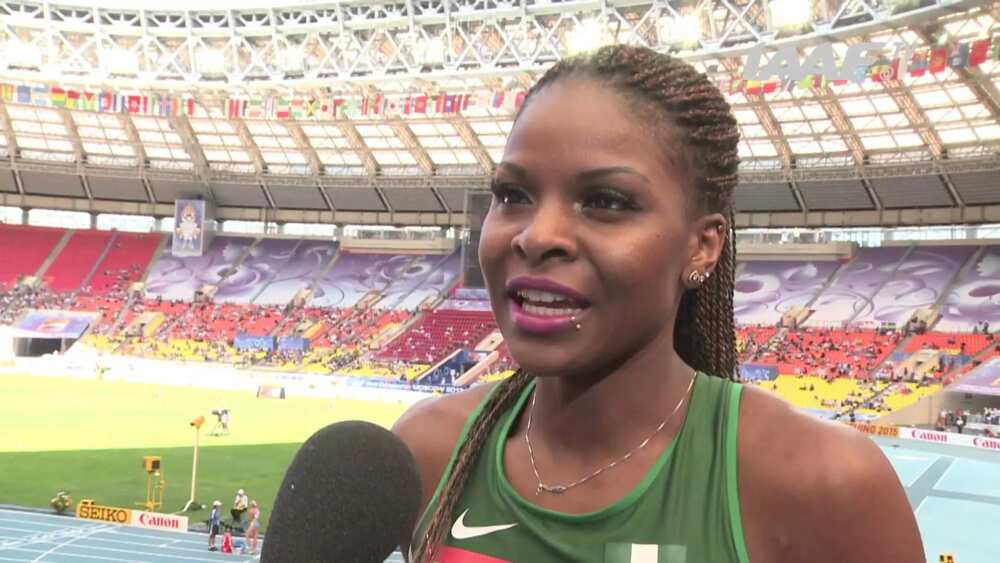 Along with Blessing Okagbare, George is Nigeria's best hope at winning medals at athletics championships.  Mary Onyali-Omagbemi currently serves as the Special Adviser (Technical) to the Director General of the National Sports Commission in Nigeria
Fatima Yusuf: Born in Owo, Ondo state, Fatima competed mainly in the 400 metres during her career.
At the 1991 All-Africa Games, she won the 400 metres race and came second in the 200 metres race.
She is also the first African woman to run under 50 secs in the 400 meters. She ran 49.43 at the 1995 African Championship.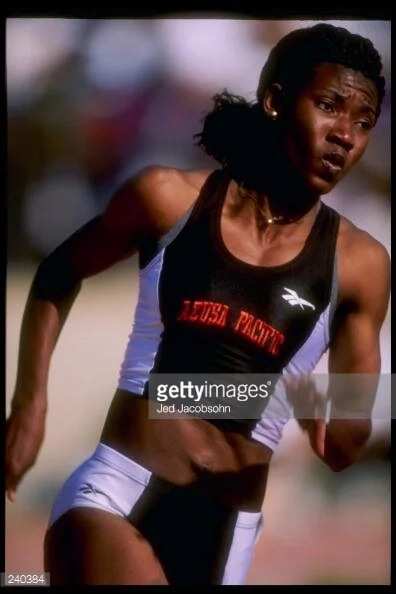 Her crowning moment came in the 1996 Olympics when she won silver in the the 4 X 100m race with teammates Bisi Afolabi, Charity Opara and Falilat Ogunkoya
Adewale Olukoju: Fatima Yusuf's husband. Born in Kaduna state Olukoju specialized in the discus throw and shot put. He won four medals in total at the All Africa games.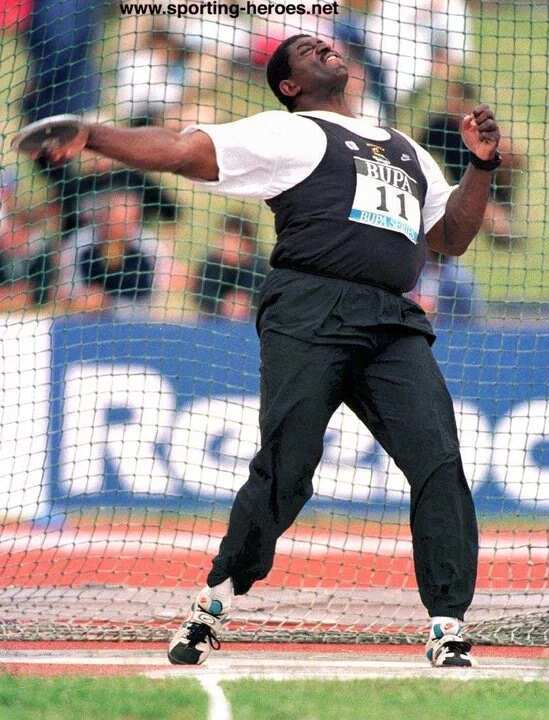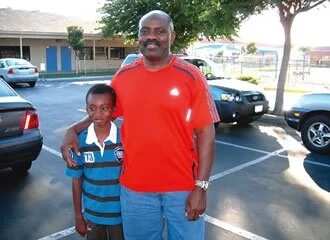 Deji Aliu: His name is synonymous with Nigerian athletics. He was part of a new wave of male athletes alongside Patrick Obikwelu, Olusoji Fasuba and Samuel Francis who looked set to dominate African and world athletics.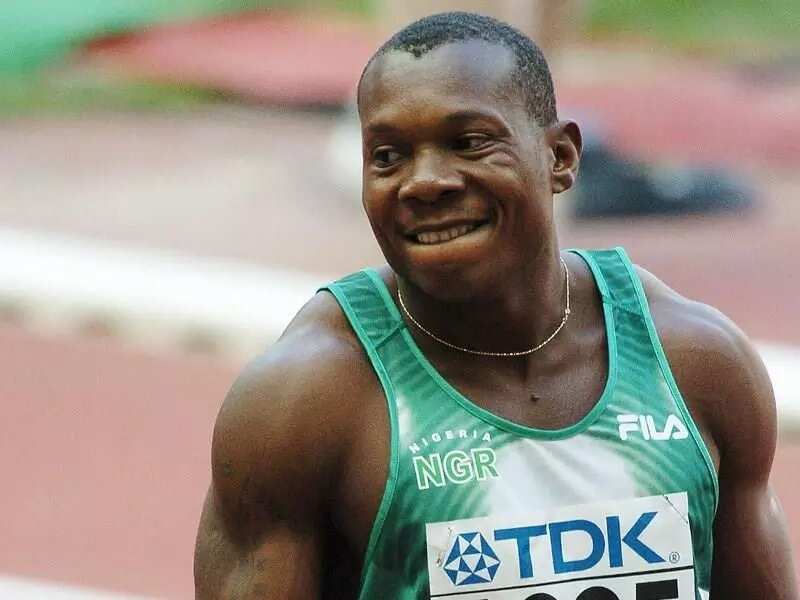 He won the 100 metres event at the 2003 All-Africa Games. He also took fourth place in the event at the 2002 Commonwealth Games.
READ ALSO: #NigeriaAt55: How Corruption Crippled Other Sports – Bash Ali
Uchenna Emedolu: In 100 metres his personal best time is 9.97 seconds, achieved at the 2003 All-Africa Games where he finished second ranks him sixth in Nigeria, behind Olusoji Fasuba, Davidson Ezinwa, Olapade Adeniken, Francis Obikwelu and Deji Aliu.
Emedolu participated in the 2000, 2004 and 2008 Summer Olympics. In 2004 he achieved a semi-final place in the individual 100 metres.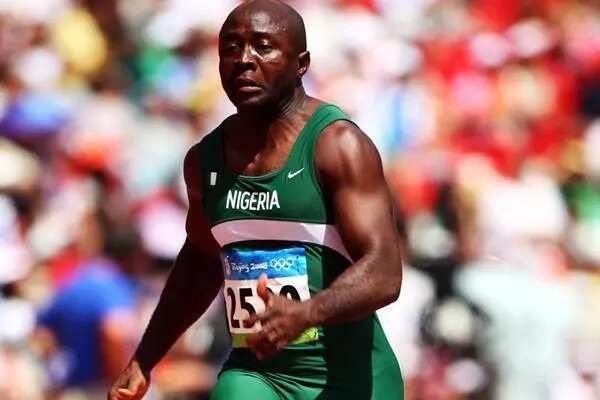 Together with Olusoji Fasuba, Aaron Egbele and Deji Aliu he won the bronze medal in the 4x100 metres relay in the 2004 Olympics.
Davidson Ezinwa: This list will be incomplete without Ezinwa's name.  He won a silver medal at the 1992 Summer Olympics as well as a silver medal at the 1997 World Championships, both in 4 x 100 metres relay. He also won a 60 metres silver medal at the 1997 World Indoor Championships.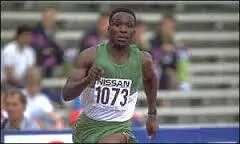 In 100 metres his personal best time is 9.94 seconds, although he has recorded 9.91 s, albeit with a doubtful wind reading of -2.3 m/s which is an unlikely weather condition for records. In any case his result ranks him second in Nigeria, behind Olusoji Fasuba, and third in Africa, behind Fasuba and Frankie Fredericks
Source: Legit.ng