NOUN Students Threaten VC, Give Him 7-Day Ultimatum
Students of the National Open University of Nigeria (NOUN) have issued a seven-day warning to the Vice Chancellor of the institution, Professor Vincent Ado Tenebe, over some demands or face damning consequences.
In a letter made available to Legit.ng and signed by the students' representative, Abdulrazaq Hamzat, the students discussed series of issues, asking the school head to take actions as soon as possible or face the unpleasant events that might follow his negligence.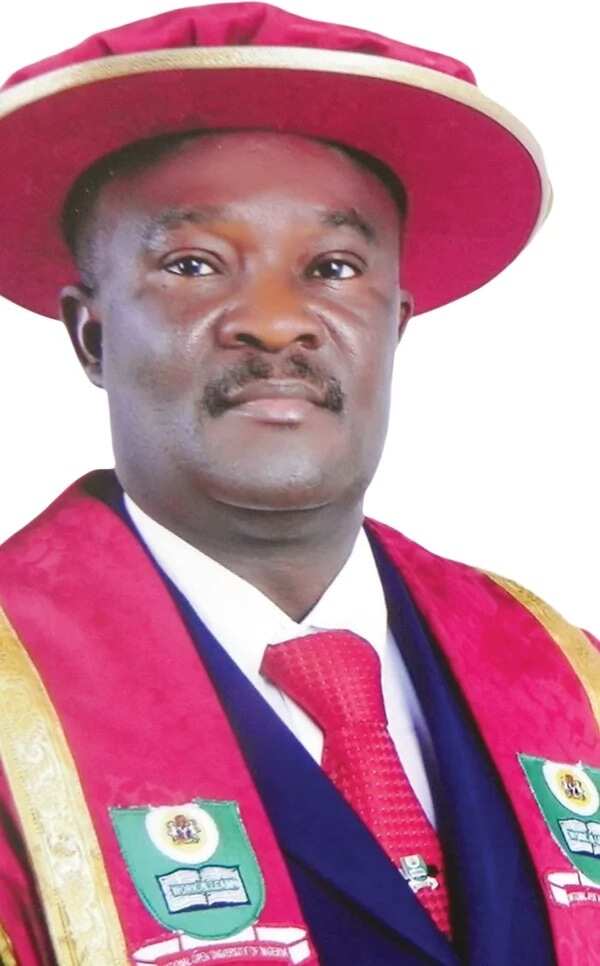 READ ALSO: Nigeria Will Always Have High Malpractice Incidents - WAEC
[article_adwert]
The letter reads:
The Vice Chancellor
National Open University of Nigeria,
14/16 Murtala Muhammed Way,
Victoria Island, Lagos.
Sir,
STUDENTS HAVE RIGHT
It is with deep respect and all sense of honor, duty and responsibility that we write to your most respected office, on the deliberate and calculated attempt to deny students of National Open University of Nigeria the right to develop their leadership, analytical, social and administrative skills through a well coordinated student association.
Since the establishment of the National Open University of Nigeria (NOUN), the management has thwarted several moves by students to form a student union like it is prevalent in other universities across the world. You have done so without providing any reason as a defense for this unlawful decision. We say it is unlawful because, it violates section 40 of the 1999 Constitution of the Federal Republic of Nigeria which clearly states that:
'Every person shall be entitled to assemble freely and associate with other persons, and in particular he may form or belong to any political party, trade union or any other association for the protection of his interests'.
As a result of lack of Student Union in the Open University, the students of this noble University has been looked down upon by the society and their voice lost among comity of students. They have been disregarded, disrespected and looked down upon as less students among both academic and none academics alike. We have been denied a chance to speak for our institution when other students are speaking. This is a grave injustice against the students of this institution.
While students are yet to fully understand the rationale behind the decision of the management, we are not unaware that one of the cogent reason that birthed this discouragement of student union is the fear that a Union of Students will vigorously checkmate perceived injustice and abuse of students' rights in the University, but that is not enough justification. We wish to remind the management that, it is a well known fact that, a university is a place to acquire knowledge. One of the major skills to acquire in the university is the academic skills. But beyond academic skill, there are others skills that must be developed in the university which if properly acquired, would go a long way in helping students after graduation to properly connect with the society and possess all relevant skills to excel in life.
Those other skills cannot be developed by reading books, they can only be developed through a vibrant student association, where students are required to formulate ideas, engage in intellectual discuss, lead, socialize, develop both political and administrative skills as well as communicate and interact with student leaders from other institutions.
That the management of Open University fails to understand that a Student Union will advance and enhance students' managerial, analytical, intellectual, political and administrative skills remains a puzzle.
Furthermore, it should be recalled that, the idea of establishing an Open University in Nigeria was strongly influenced by the success of other Open Universities across the world, but it appears suspicious to us why the management of Nigeria's Open University copied all but deliberately ignored the idea of a Student Union.
The UK's Open University has what it calls Open University Students Association (OUSA). According to the evidence contained in the documents at our disposal, the UK Open University Students Association played a vital role by popularizing the university through its numerous events, brand items, magazines, advocacy on media and many other activities.
In addition, there exist Students Association in India and China Open Universities. They followed the path of UK Open University, having realized the outstanding role played by their Students Association in ensuring student awareness and shaping public perception about the institution, plus adding value to the quality of management's policies.
These are facts that the management will struggle to crumple into the waste basket since evidence on this abound.
Consequently, we demand that the management of NOUN provides cogent reasons for their violation of the Nigerian constitution in whose territory the university operates. We are disturbed that a group of learned people who ought to be advocates of the Rule of Law have resorted to all forms of efforts in their quest to cripple justice in their favor.
We must therefore inform that, this is a new era at the university in which justice, transparency and accountability will be our guiding principles.
It is an era of change, and this change will not leave without paying a visit to NOUN. We demand that the management of NOUN reverses its illegal policy of no-students union within 7 days or we shall be left with no alternative but to seek other peaceful means of asserting our rights as Nigerians citizens. It must be noted that, students have right, not one conferred on them by the university, but one which they posses as humans, conferred on them through the universal declaration of human rights and then the Nigerian constitution.
Should the management fail to follow the path of honor, the students shall not hesitate to ensure fairness and justice for itself through all peaceful means.
Finally, we are the major stake holder in this university and as such, we owe ourselves the duty to protect its image through all legal means. We shall not continue to keep silent in face of abuse of our fundamental human rights.
Thank you.
Abdulrazaq O Hamzat
President
Congress of Noun Students.
Only recently, some students of the Lagos State University (LASU), pleaded with governor Akinwunmi Ambode of Lagos state, to come to their aide following the unending crisis in the institution.
Source: Legit.ng