FFK Reveals Why Igbos Will Break Away From Nigeria Soon
Chief Femi Fani-Kayode, has explained why the Igbos are most likely to break away from Nigeria in no distant future.
The former director of publicity, Peoples Democratic Presidential Campaign Organisation (PDPPCO), who made his statement on Monday, carpeted Dr Junaid Mohammed, convener of the Coalition of Northern Politicians, Academics, Professionals and Businessmen, for saying that president Muhammadu Buhari owes Igbos nothing.
According to Vanguard, FFK, as the politician is fondly called, described Dr Junaid's comments as most insensitive, cruel and puerile, adding that the statement, asking the Igbos to break away if they felt marginalised, was most uncharitable and careless.
The former aviation minister also warned that if there was any attempt to butcher the Ibos or a repeat of what happened in 1966, it would be resisted by not only the Ibos, but by all Nigerians.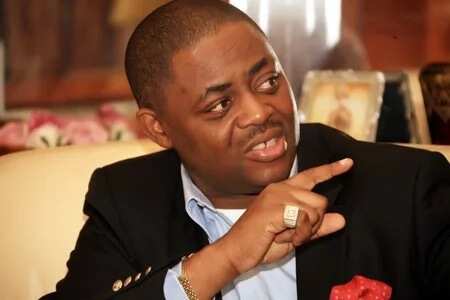 READ ALSO: Toni Payne Criticizes Femi Fani-Kayode For Disowning Kids
[article_adwert]
While reacting to a statement titled, 'if the igbo feel marginalised, they should attempt to break away again', Fani- Kayode said: "given the immense suffering that the igbo were subjected to both before, during and after the civil war this is one of most insensitive, cruel and puerile comments that I have heard in recent times.
"I daresay that if Junaid Mohammed's Nigeria ever butchers over 100,000 innocent igbo civilians again, as they did in the north in 1966 just before the civil war, there will indeed be another attempt to secede, but this time it will not only be successful, but they will also take many others with them.
"Rather than boast and beat our chests, we must learn from our history and we must never repeat its mistakes."
Junaid had in an interview with a national daily, noted that people of the Igbo nation have enjoyed favourable treatment, explaining vehemently that it was wrong to reward the Igbos simply on the basis of the Nigerian Civil War, which lasted between 1967 and 1970.
READ ALSO: Fani-Kayode Disowns Three Children From Ex-Wife
"If it is about Buhari making the appointments based on merit, I have no problems with it. I don't believe Buhari or Nigeria owes any Igbo anything. I don't care what Ezeife says; if they had seceded, there would have been no Nigeria today. As people who acted outside the interest of Nigeria as a country, to expect compensation is a very odd logic.
"If the Igbo don't like it, they can attempt secession again. If they do, they must be prepared to live with the consequences. Nobody owes them anything and nobody is out to compensate them for anything," he was quoted to have said.
The Peoples Democratic Party (PDP) stalwart was recently enmeshed in a paternity scandal, where he was said to have disowned the children born t him by his ex-wife.
Source: Legit.ng